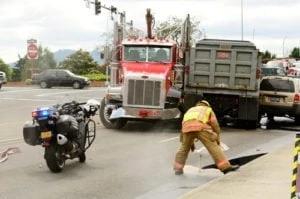 If you or a loved one was injured in a truck accident, do you know how to negotiate a settlement, calculate the cost of your damages, and fight for fair compensation? If you answered "no" to even one of these questions, you could face problems getting the money you deserve. Our team understands how serious truck accidents are. The cost of your damages, the severity of your injuries, and the financial recovery process itself can be very stressful. A Galena Park truck accident lawyer can recoup compensation for your extensive expenses.
Blass Law is here to help. We are not afraid of aggressive insurance companies or the parties they represent. The first step is to reach out to our team and give us a call. Dial (713) 225-1900 to connect with Blass Law today.
Explaining the Financial Recovery Process
From the beginning of our partnership, we want you to understand what the financial recovery process entails.
To resolve your case, we will first need to:
Calculate the Cost of Your Damages
We want your insurance settlement or court award to compensate you for your losses fully. To accomplish this goal, we will first need to learn about what happened, then take a look at your invoices, medical bills, and billing statements as they pertain to your accident.
While calculating the value of your case, we can look at the following economic damages:
Medical bills
Lost wages
Loss of future earning capacity
Property damage costs
Additionally, we can also factor in the value of non-economic damages, such as:
Disability
Disfigurement
Loss of enjoyment of life
Loss of consortium
Pain and suffering
After we learn about the cost of your damages, we can negotiate a settlement on your behalf.
Determine the At-Fault and Liable Parties
After being struck by a negligent trucker, you may assume that liability for your losses will rest on them. That may not necessarily be true. While a truck driver may have caused your accident, another party could be responsible for paying for your damages. For instance, if you were struck by a commercial truck driver, their employer may have to pay for your losses.
Prove Negligence
To resolve your case, we will need to prove how the at-fault party acted negligently. This is not an easy task, but Blass Law can do it for you.
We can prove:
Duty of care, meaning that the at-fault party had an obligation to drive carefully
Breach of duty of care, meaning that the at-fault party failed in this obligation
Causation, which involves showing how the other party caused your accident
Damages, which means showing that you incurred financial losses because of another party's negligence
Call (713) 225-1900 to learn more about how Blass Law can establish negligence in your personal injury case.
Negotiate a Settlement
Once we determine who is liable and the cost of your damages, we can begin negotiating a settlement. We are not afraid of uncooperative claims adjusters. We know that some insurance companies do not care about paying injured people what they are owed. By allowing Blass Law to negotiate a settlement on your behalf, you get the chance to recover from your injuries.
File a Lawsuit in Civil Court
Many prospective clients call us and ask, "Will I have to go to court for a truck accident case?" While we cannot answer this question without reviewing a client's situation, it is more likely that you will not need to go to court. According to the American Bar Association (ABA), most truck accident cases are resolved through insurance settlements.
However, if we do need to file a lawsuit, that is not a problem. In addition to serving personal injury claimants, Blass Law also helps people who are facing criminal charges. We know the litigation system inside and out. If we need to file a lawsuit to recover compensation for your losses, we can manage your case's paperwork, negotiate an out-of-court settlement (if possible), and file your lawsuit in court and try it to a jury.
For a legal consultation with a truck accident lawyer serving Galena Park, call 713-225-1900
Potential Causes of Your Galena Park Truck Accident
Your Galena Park truck accident lawyer will need to determine how your accident happened to pursue compensation. Our legal team can use traffic camera footage, the police report, and witness testimony to prove what happened.
Some possible reasons for your truck accident may include:
Speeding
Distracted driving
Drowsy driving
Drunk driving
Tailgating
Failing to obey traffic signals
Improper lane changes
Even if you believe that you may have contributed to your own accident, that is not a problem. As long as you are less at fault than the other driver, you can still recover compensation.
Galena Park Truck Accident Attorney 713-225-1900
Injured Parties Generally Have Two Years to Take Action
Texas Civil Practice and Remedies Code § 16.003 is otherwise known as Texas's statute of limitations. Most injured claimants have two years to file their lawsuits. However, some parties may have a longer time to act based on certain aspects of their cases. For instance, if the at-fault trucker left the state or hid their identity from law enforcement, you could be granted an extension. The time you have to act could be limited, so do not hesitate to call Blass Law now.
Click to contact our Galena Park Lawyer today
Start Your Journey to Financial Recovery with a Galena Park Truck Accident Lawyer
A Galena Park truck accident lawyer from Blass Law can work on your case today. With our team on your side, pursuing compensation does not have to be an arduous, time-consuming process. Holding the at-fault and liable parties accountable for your losses could begin with a simple phone call.
Our personal injury team works on a contingency-fee basis, which means we finance the entirety of your case until it is resolved. You do not have to pay hourly fees or retainers during our partnership.
To talk to a representative at Blass Law, call (713) 225-1900.
Call or text 713-225-1900 or complete a Case Evaluation form