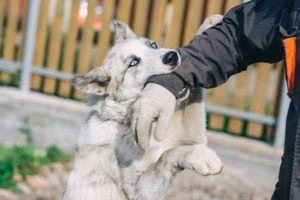 The American Veterinary Medical Association (AVMA) reports that dogs bite approximately 4.5 million people in the U.S. annually. Nearly 800,000 of those dog attacks require serious medical attention or emergency treatment. Dog bite victims may have lasting scars, permanent disfigurement, and emotional trauma. If you or your child has been the victim of a dog attack, contact the Houston dog bite lawyers at Blass Law. Texas dog bite laws vary from city to city, so it is imperative to hire a dog bite injury lawyer that knows Houston's dog bite ordinances.
Call (713) 225-1900 for a confidential case evaluation or request a consultation online.
Texas Dog Bite Law
Texas does not have just one specific dog bite statute. Recovery of damages under the law depends on different statutes and different theories of recovery.
The One Bite Rule
The "One Free Bite Theory" is not found in any Texas statute. Instead, this theory relies on the principle of premises liability. This requires an owner or manager to warn about known dangerous conditions on their property. So, if their dog attacks someone unprovoked, the owner knows they have a dangerous dog and therefore is obligated to warn or protect others. However, if the dog has never bitten, then the law assumes the owner did not know of the danger and therefore may not be liable.
The one free bite rule gives the benefit of the doubt to dog owners. It requires that the dog bite victim prove that the owner had knowledge of the dog's propensity to attack. Proving someone else's knowledge can be complicated. Unless there is a record of a previous attack, the owner can claim ignorance. The qualified dog bite injury attorneys at Blass Law know how to investigate dog attack claims.
Negligence Theory
This theory applies to situations in which the dog's owner behaved irresponsibly. If a dog's owner failed to properly control the dog, and the lack of control contributed to the dog bite, then the owner acted negligently. This theory applies to situations where an owner allows their dog to roam the neighborhood in areas that require leashes.
Strict Liability and the "Dangerous Dog" Law
If the dog has attacked someone unprovoked before, the owner may be liable for damages caused by the attack. This is why it is so important to report dog bites, even if the injury seems minor at the time. The record of an unprovoked attack will enable any future victims of the same dog to prove the owner knew about the dangerous condition. It will also deter owners from letting their dog roam free when that dog has a history of attacking adults and/or children.
If the law determines that the dog is indeed dangerous, then the owner will be notified. The law then requires the owner to register the dog as a dangerous dog with animal control, keep the dog restrained at all times, and carry specific insurance.
For a legal consultation with a dog bites lawyer serving Houston, call 713-225-1900
Houston Dog Bite Ordinance
Texas law allows municipalities to enact their own codes regarding the confinement of dogs. Houston has its own ordinance which requires dog owners to keep their animals confined on their own property. It also has regulations about when a dog can be chained, how long the chain must be and other leash laws.
Houston Dog Bite Attorney 713-225-1900
Does Homeowners' Insurance Cover Dog Bites?
In most cases, yes. Both homeowner's insurance and renters' insurance typically cover dog bite liability. According to the Insurance Information Institute, Texas ranked 3rd in the nation for the number of dog bite injury insurance claims in 2018.
Some insurance policies may not cover specific dog breeds. Dog breeds with reputations considered dangerous include pit bull terriers, German shepherds, and Rottweilers. Some insurance policies may not cover these breeds while others may charge a higher premium for coverage. If a dog has been declared dangerous, insurance companies may not offer liability coverage. In these cases, you would have to sue the owner directly for your injuries. Claiming for dog bites will be easier with the help of a Houston personal injury lawyer.
Click to contact our Houston Personal Injury Lawyer today
Common Dog Bite Injuries
Even minor dog bites can cause bleeding and emotional trauma. More serious dog attacks may lead to permanent disfigurement, or require surgery. Though uncommon, severe dog attacks may even cause wrongful death. Dog bites that break the skin put the victim at risk of serious infection and can expose them to diseases like rabies or tetanus. Some of the most common injuries suffered by dog attack victims include:
Puncture wounds
Scarring
Broken bones
Nerve damage
Injury to hands and fingers
Facial injuries
Many dog bite injuries do not cause bleeding. A dog's strong jaw and rounded teeth can exert a tremendous amount of pressure that may not break the skin. A dog bite that does not look serious initially may cause injuries under the skin that result in bone fractures, nerve and tendon damage, and broken blood vessels. That is why it is important to report every dog bite and seek medical treatment for dog attack injuries.
Complete a Dog Bites Case Evaluation form now
Steps to Take if You Suffer a Dog Bite
If a dog attacks you, you need to protect yourself, get to safety, and try to preserve any evidence you may need to recover compensation for your damages.
Seek Medical Treatment for Dog Bite Injuries

You should get immediate medical attention for any dog bite that breaks the skin. Even if you think the wound is not serious, dog bite wounds often become infected. With proper medical care, infections may be prevented. Additionally, you may need a tetanus shot if it has been more than five years since your last tetanus shot. If it turns out the dog is not up to date on its rabies vaccination, rabies treatment may be considered.

Get Contact Information for the Dog's Owner and Any Witnesses

If you are able to, or someone with you can do this, get contact information for the dog owner, including name, address, telephone number. Take a photo of their driver's license or identification card if possible. Find out the name of their home insurance carrier.

Photograph and Document the Dog Attack

If possible, get a photo of the dog and the scene where the incident occurred. Also, take photographs of your wound. As soon as possible, write down everything you can about the incident. If there were witnesses, get their statements or at least their names. Our investigators can find the people.

Report the Dog Bite

The bite must be reported to law enforcement who will determine if the dog's vaccinations are current. If not, the dog will need to be quarantined to determine if it has rabies or another contagious disease.
Contact a Dog Bite Attorney
If a dog attacked you or your child, you may have medical expenses and lost wages in addition to feeling traumatized. Let the Houston dog attack lawyers at Blass Law investigate your claim to get you the compensation you deserve. We have the experience required to navigate complex dog bite liability issues and negotiate with insurance companies.
We will fight to get the best possible settlement for your claim. Call (713) 225-1900 to speak to an experienced dog bite attorney in Houston, TX or request a confidential consultation online.
---
Sources
https://www.avma.org/public/Pages/Dog-Bite-Prevention.aspx
https://www.iii.org/article/spotlight-on-dog-bite-liability
https://www.cdc.gov/features/dog-bite-prevention/index.html
Call or text 713-225-1900 or complete a Case Evaluation form