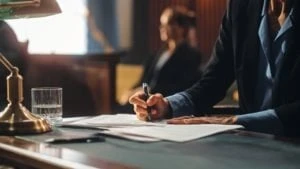 If you're convicted of driving while intoxicated (DWI) in Richmond, Texas, you could face serious legal penalties and challenges in your personal and professional life. Finding work may become harder, and your insurer may require you to pay higher premiums. However, as a Richmond resident, you have the right to a fair trial. During the legal process, you can fight the charges and prove your innocence.
At Blass Law, we proudly provide legal representation to those in need. Continue reading to learn more about working with a Richmond DWI attorney from our firm.
DWI Penalties in Richmond, Texas
The penalties associated with a DWI depend on the number of DWIs you've already been charged with that resulted in a conviction:
First DWI offense:

You could face up to $2,000 in fines, from three days to 180 days in jail.

Second DWI offense:

You could face up to $4,000 in fines, between one month and one year in jail.

Third DWI offense:

You could face up to $10,000 in fines, between two and 10 years in prison. This is a felony conviction.
These penalties can be more severe if:
If there was an open container of alcohol in your vehicle at the time of your arrest

Your blood alcohol concentration when tested after the arrest was 0.15 or above.
If you're over the age of 18, you can be convicted of a DWI in Richmond. The legal limit for blood alcohol concentration is 0.08 for drivers over the age of 21 and 0.00 for drivers below the age of 21.
Relevant Crimes
Several more crimes in Richmond are relevant to DWI convictions, including:
Endangering a child:

Driving drunk with a passenger under the age of 15 is a unique crime punishable by a state jail felony.

Open container possession:

Carrying an open alcoholic beverage in the passenger area of a vehicle is a Class C misdemeanor in Richmond, TX. Glove compartments and trunks do not qualify as passenger areas.

Intoxication assault:

Injuring another person while drunk driving is intoxication assault, a crime that warrants a third-degree felony.

Intoxication manslaughter:

Intoxication manslaughter is like intoxication assault, although it involves an accidental fatality. This crime is a second-degree felony.
How Does Law Enforcement Determine if You're Drunk?
Law enforcement uses several techniques to make a DWI arrest, including:
Examining behavior:

A person's behavior after being pulled over can indicate if they are drunk or under the influence of drugs. Bloodshot eyes, fumbling with keys, and disorganized speech are all clues that police look for.

Field sobriety tests:

In addition to examining behavior, officers will conduct various field sobriety tests.

One field sobriety test involves asking the driver to follow a small object, like a pen, with their eyes. If the driver's eyes jerk involuntarily during this test, officers believe they're likely drunk.

Breathalyzer tests:

Breathalyzer tests are the most straightforward way to determine whether an individual has been drinking. When it comes to measuring a specific alcohol concentration, they aren't the most accurate. However, if law enforcement administers these tests incorrectly or uses a faulty device, they can produce inaccurate results.
Will a DWI Charge Ruin My Life?
Remember, a DWI charge is not the same as a conviction. If you've been charged, you can still prove your innocence and avoid the negative fallout of a conviction.
However, you may face several challenges if you are ultimately convicted of a DWI:
Difficulty finding a job – if your employer conducts a background, your DWI conviction will appear.

Your friends and family may perceive you in a different, perhaps damaging, light.

You could pay higher rates on your car insurance for several years after your conviction.
For a legal consultation with a dwi lawyer serving Richmond, call 713-225-1900
Working With a Richmond DWI Lawyer
A DWI attorney serving Richmond from Blass Law can provide you with the following services:
Taking your case to trial:

At Blass Law, we're not afraid of going to trial. We see trials as an excellent opportunity to stand up for clients. During the trial, we can point out the issues in the State's case, argue for your innocence and challenge assumptions the prosecution makes.

Negotiate the terms of your sentencing:

Throughout your case, we can negotiate with prosecutors to work toward reducing your sentence duration. We can advise you to enter a plea if it makes sense for your unique case.

Gathering evidence:

Evidence is vital in Richmond DWI cases. Our team can subpoena relevant parties and gather the details of your arrest.

Listening to your side of the story:

Blass Law is a judgment-free zone, we've heard it all. We will provide you with a confidential case evaluation and listen to your story.
Richmond DWI Attorney 713-225-1900
Why Choose a DWI Attorney Serving Richmond From Our Texas Firm?
Consider the following benefits of working with Blass Law:
Our Case Results
We've settled many DWI casessince the founding of our firm. Highlights include:
DWI misdemeanor – Not Guilty:

This client was found asleep at the wheel of his vehicle. He failed field sobriety tests and had numerous drugs in his system. After our intervention, he walked free.

Second DWI offense –Not Guilty:

This client was a lawyer and was pulled over because his headlights were out. He refused field sobriety tests after admitting to drinking. We argued his case in court, and he was found not guilty.

DWI misdemeanor –Case Dismissal:

Law enforcement pulled this client over because he exceeded the speed limit. He failed multiple field sobriety tests miserably and was arrested. We managed to have his case dismissed in the middle of the trial.
We Understand DWI Cases
Jay Cohen, our lead attorney, has several professional accreditations relevant to DWI cases, including:
Certified Practitioner in Standardized Field Sobriety Testing

Certified as a Drug Recognition Expert (DRE)

Trained in Driving Under the Influence of Drugs
Attorney Cohen can utilize these accreditations during your case. He'll review the field sobriety tests officers used and look for evidence of misconduct or improper test administration.
Challenging DWI Charges
As a DWI law firm serving Richmond, we have several standard defenses we use during DWI cases, including:
Proving that law enforcement administered the Breathalyzer test incorrectly.

Argue that you were pulled over without probable cause or reasonable suspicion.

Challenge the validity of the prosecution's evidence.
These are only a few examples. While every DWI case is different, we are ready to fight every step of the way. As a law firm, our mantra is this: Keeping Innocent People Innocent®.
Click to contact our Richmond Lawyer today
Start Fighting Your Richmond DWI Charges Today
Call Blass Law today for a confidential case evaluation today. You don't need to face your charges alone. Our Richmond DWI lawyer can walk you through your options and help you take your next steps. The sooner we hear from you, the sooner we can start working on your case.
Call or text 713-225-1900 or complete a Case Evaluation form