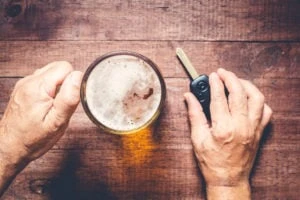 Facing a DWI charge in Conroe, TX is frightening, as a conviction might keep you from getting a job, buying a house, or being with your family. Don't fight this legal battle alone. Our Conroe DWI lawyer, attorney Jay Blass Cohen, can defend you in court to protect your future and well-being.
As your DWI legal team, we can use our resources, experience, and time to fight for a win in your case. Jay is an ACS-CHAL certified Forensic Lawyer-Scientist who also holds certifications in chromatology for alcohol and drugs and as a practitioner and instructor of Field Sobriety Tests. He knows how evidence is collected and processed. With this knowledge, he will craft your individualized science-backed defense.
Our DWI Lawyer in Conroe, TX Will Fight to Win Your Case
As your legal representative, Jay and the rest of our team will work hard to get you the best possible outcome. Our Conroe criminal defense lawyer will make this happen by:
Hearing your side of the story: After we listen to your side of the story, Jay can determine your legal options and start building your defense.

Conducting an investigation: We can review the incident report and video evidence, talk to witnesses, and examine the blood alcohol concentration (BAC) testing results. Jay will use his knowledge of drug and alcohol blood and breath testing to make sure the evidence against you wasn't obtained illegally, handled improperly, or to prove that it doesn't stand up to scrutiny.

Negotiating: We always search for a legal reason to have your charges dismissed. We might be able to argue for a reduction in the charges against you depending on your situation. In either case, we will fight for a win and a second chance at a better future.

Taking your case to trial: We are always ready for a jury trial when it might get you the best outcome possible. We will cross-examine witnesses, possibly present evidence in your favor, and shut down the prosecutor.
We understand that the legal system is often confusing, especially if this is your first time with a DWI charge. Jay or another member of the team will be available if you have any questions or concerns about your case. After all, we are here to work for you.
Blass Law's Former Clients' Success Stories
Our lead attorney has represented many individuals who were charged with DWIs and had successful results in court.
For example, clients in the following situation were found not guilty:
2

nd

DWI misdemeanor: Drove with one headlight and refused to take a sobriety test after admitting to drinking. Not guilty.

1

st

DWI misdemeanor: Fell asleep in a moving traffic lane, failed the breath test with a 0.242 BAC. Not guilty.

1

st

DWI misdemeanor: Fell asleep on the road, and the sobriety test showed there were multiple drugs in our client's system, including Xanax. Not guilty.
Our firm has helped many more clients with their DWI charges. We have obtained successful outcomes for even the most challenging of cases. Now, it's time to fight for a win in your case, too.
For a legal consultation with a dwi lawyer serving Conroe, call 713-225-1900
Penalties for a DWI Conviction in Conroe
Should a judge convict you of a DWI, you could face an array of penalties, according to the Texas Department of Transportation (TxDOT).
A first offense DWI is punishable by:
A fine of up to $2,000

A maximum of 180 days in jail

Up to one year driver's license suspension
A second offense is punishable by:
A fine of up to $4,000

A maximum of one year in jail

A maximum of two years of driver's license suspension
A third offense is punishable by:
A fine of $10,000

A minimum of two years in jail

A maximum of 10 years in jail

A maximum of two years of driver's license suspension
You might be fined up to $6,000 after your sentencing. In addition, your license could be suspended even before your conviction, depending on the circumstances of your case.
Conroe DWI Attorney 713-225-1900
Penalties for Charges in Connection With a DWI Charge
Instead of DWI, the officer might have charged you with something else, such as:
Driving Drunk with a Child in the Vehicle
If this situation applies to your case, then the TxDOT and Texas Law states:
If the child was 15 or younger, you could be charged with

child endangerment

.

You might be fined up to $10,000 in addition to other fines.

You might have to serve up to two years in jail.

Your license will be suspended for another 180 days in addition to your DWI-related license suspension.
Having an Open Container in the Car
Under Texas Penal Code § 49.031, it is illegal to have an open container of alcohol in your car—even if it's closed but unsealed. You don't have to have any alcohol in your system to be charged with this crime.
However, the container must be near the driver's seat. If it is in the glove compartment or the trunk of the car, then you should not be charged. Driving with an open container is a Class C misdemeanor in Texas.
Click to contact our Conroe Lawyer today
A DWI Conviction Can Come With Lifelong Consequences
The penalties that come with a DWI can turn your life upside down. Not only can the fines put you in debt, but if you are in jail, you cannot support your family. You may also suffer reputational damage upon a conviction, resulting in familial strain or difficulties with friendships.
Even after you get out of jail, the consequences will continue. Potential employers might choose to hire someone else instead of you due to your criminal record.
In addition to these personal and financial consequences, you could:
Have trouble buying a house

Lose your right to vote

Lose custody of your children
Complete a DWI Case Evaluation form now
What To Expect When You Get Pulled Over on Suspicion of Drunk Driving in Conroe
When a police officer pulls you over for drunk driving, they will typically:
Ask to see your driver's license and vehicle insurance: If you get pulled over, you should hand the officer your license and insurance. Failing to comply with the officer may make them more suspicious, and you do not want to add any additional charges to your case.

Ask you questions about how much you drank: If the law enforcement officer asks you questions about how much you drank, you do not have to answer them. You have the right to remain silent and can avoid questions until you partner with a criminal defense lawyer.

Try to get you to take a Blood Alcohol Content (BAC) test: The officer may ask you to take a Breathalyzer test. You do not have to agree to do this; however, they may secure a warrant for a blood test while you are still detained.
Remember that you have legal rights when you are pulled over. You do not have to just accept your criminal charges. Our Conroe DWI lawyer can defend you and protect you from jail time and hefty fines.
Call the Team at Blass Law Today for Help With Your Conroe DWI Case
If you have been charged with a DWI in Conroe, TX, remember that does not mean a conviction. Let our DWI law firm and lead attorney in Conroe be your advocate as we fight to win your case. Call Blass Law today for more information. We offer initial consultations and will keep the details of your case confidential.
Call or text 713-225-1900 or complete a Case Evaluation form