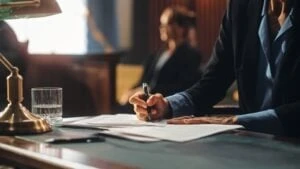 You already faced the legal system once. That's why the court put you on probation. Yet, this is not the same thing as an acquittal. You still must abide by the terms of your probation. If you violate this agreement, you could lose custody of your children, go to jail, and have to pay fines.
Meet Attorney Jay Blass Cohen. He's lived in the Houston area for most of his life, and in the years he's served clients, he's gotten countless cases dropped, reduced, or dismissed. A Houston criminal defense lawyer from our firm can fight to protect your good name and preserve your future.
You can call today to explore your options and learn about partnering with our criminal defense law firm.
What Constitutes a Probation Violation?
There are several reasons why you could be charged with a probation violation, including:
Failure to show up to visit your probation officer

Failure of a drug or alcohol test

Failure to complete your community service duties

Failure to pay a fine

Getting charged with a new criminal offense
If a motion for revocation is filed, our Houston probation violation defense lawyer will fight aggressively to keep you from going to jail. You have a right to a hearing, and you have a right to stand up and fight these criminal charges.
For a legal consultation with a probation violation lawyer serving Houston, call 713-225-1900
How Could I Benefit from Working With a Houston Probation Lawyer?
The last thing you want is to face the court system alone. Let Jay Blass Cohen be by your side for this fight. He'll examine all of the details of your case and will use sound fundamentals to guide you through this often confusing and scary process.
With Jay Blass Cohen's advocacy, we will:
Keep you informed throughout your case

Fight as hard as we can to get a favorable outcome for you

Provide the best legal services

Gather evidence to support your case

Explain your next steps

Outline your legal options

Defend you in

court
Your future's on the line. You can't afford to take chances or put your case in the hands of an unqualified individual. You want someone who puts your future first, and that's exactly what you can expect from our Texas law firm.
Houston Probation Violation Attorney 713-225-1900
Begin Your Initial Consultation With Our Criminal Defense Lawyer
If you're accused of violating your probation, or you just have questions about a potential probation offense, call Blass Law. With our advocacy, you can get much-needed peace of mind and focus on what comes next. Legal representation could make a huge difference in your case's outcome.
Call or text 713-225-1900 or complete a Case Evaluation form