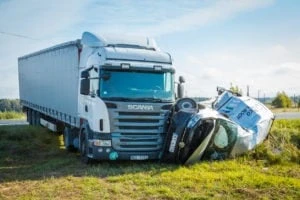 Tractor trailers, semi-trucks, diesel trucks, 18-wheelers, big rigs—no matter what you call them, accidents involving commercial trucks can have devastating consequences for Houston motorists. If you or a loved one sustained injuries in an accident involving a commercial or semi-truck, you need to contact the Houston truck accident lawyer at Blass Law.
We can navigate the complicated legal process for you and hold the truck driver's employer accountable for your injuries and property damage. If you were hit by a truck, call Blass Law at (713) 225-1900 or request a consultation online.
Our Lawyers Will Demand Compensation for You
The compensation you can collect will depend on your specific injuries and losses, whether they are financial, physical, emotional or psychological. Texas law allows for truck accident victims in Houston and around the state to recover economic and non-economic damages. Your economic losses are the monetary expenses you incur due to the motor vehicle accident.
On the other hand, non-economic damages refer to the ways your life was negatively impacted by the accident that are not financial. For example, this could be the loss of a limb, the inability to enjoy life because you're missing a limb, or the psychological trauma you experienced when you lost the limb. None of these things are tangibly related to money, but you can still be compensated for them.
Examples of overall compensatory damages you could receive include:
Lost wages or income

Diminished future earning capacity

Current medical expenses

Future medical expenses

Property damage

Emotional distress

Severe physical pain

Physical impairments

Loss of companionship

Loss of enjoyment of life

Reduced quality of life

Lost reputation
For a legal consultation with a truck accident lawyer serving Houston, call 713-225-1900
Common Causes of 18-Wheeler Accidents
Accidents involving commercial trucks, 18-wheel semi-tractor-trailers, garbage trucks, and postal/parcel delivery trucks can involve many different issues. Truck drivers travel many consecutive hours at a time, dealing with factors such as unfamiliar terrain, distracted drivers, and mechanical breakdowns.
In addition to all of the factors that contribute to passenger vehicle accidents, truck drivers often struggle against sleep deprivation or road weariness. The Federal Motor Carrier Safety Administration (FMCSA) lists the following 10 elements as the most common contributing factors when it comes to truck accidents:
Fatigue

Brake problems

Traffic flow interruptions (such as congestion or coming upon a prior crash)

Traveling too fast for the environmental or weather conditions

Roadway problems

Unfamiliarity with a roadway

Having to make unexpected or sudden stops to prevent a crash (at a crosswalk for pedestrians, stoplight, or other traffic control device)

Prescription drug use

Over-the-counter drug use

Inadequate surveillance
Fatigue Is a Major Cause of Truck Collisions
According to the National Transportation and Safety Board (NTSB), nearly a third of trucking accidents are due to fatigue. Fatigue itself can be influenced by:
Irregular schedules with limited routine

Long stretches of night driving

Lack of sufficient nutrition when eating on the go

Loading and unloading heavy cargo between trips
Federal Hours of Service (HOS) regulations are designed to govern how long a driver is supposed to travel during a single stretch, how many hours of driving they can log per week, and how much time they are required to rest between shifts. However, drivers can sometimes falsify records in order to make extra deliveries, as a way of directly increasing their profits, and to deal with strenuous or even unrealistic scheduling demands.
Houston Truck Accident Attorney 713-225-1900
How Our Attorneys Will Determine the Cause of Your Houston Truck Accident
Commercial truck accidents often require extensive investigation and fact-finding to determine fault in an incident and build a case with corroborating evidence. When investigating a potential claim, a Houston 18-wheeler accident lawyer can look at various documents to see if the driver or trucking company cut corners or did not adhere to important safety regulations, including:
Employment records

Certifications of the driver

Trucking logs

Inspection records

Maintenance records

Citations for past driving violations
While investigating your truck accident, we search for evidence of the other party's negligence.
Elements of Negligence in a Truck Accident Case
Every driver has a duty to act with reasonable care while navigating the road. Any evidence that suggests otherwise could mean they were negligent. Most of the driver-related causes of truck accidents lead to a finding of negligence.
Causes involving road conditions and equipment or parts failure will likely result in another party being found negligent. This could be something like the city not filling in potholes in the road or an electrical failure in the truck. Our truck accident lawyers will apply the four elements of negligence to the liable party in order to legally demonstrate your entitlement to compensation. We will work to show that:
The driver or other at-fault party had a duty to act with care or safety.

They failed to live up to that duty.

Their actions led to the collision.

You suffered injuries or damages.
If the driver's actions violated the law, they could be found automatically negligent or negligent per se. In the latter case, there would be no need to prove any of the elements of negligence except that you suffered injuries due to his actions.
Click to contact our Houston Personal Injury Lawyer today
You Have a Limited Time to File a Lawsuit
Personal injury cases in Texas have a two-year filing deadline, per Texas Civil Practice and Remedies Code § 16.003. This means you have no more than 2 years from the date of your truck accident to file a lawsuit in court. Many things happen before a lawsuit is filed, doctors must determine the extent of your injuries and what treatment is necessary.
Do not delay in seeking legal help. Your insurance claims process should begin as soon as you are able to do it following your accident.
Failing to get the ball rolling on your case means you could lose your right to collect compensation from the liable party. Our Houston personal injury lawyers will move decisively to get your case filed in court if settlement negotiations with the insurance companies or other liable party do not work out.
Complete a Truck Accidents Case Evaluation form now
Common Injuries Caused By 18-Wheeler Accidents
When a passenger vehicle gets hit by a truck, the consequences can be devastating. In accidents involving an 18-wheeler, the sheer size and weight of the semi increase the risk of serious bodily injury or fatality to the people involved in the accident, including the truck driver and driver and/or passengers of the other vehicle(s). Common injuries resulting from a commercial truck accident include:
Traumatic brain injuries

Broken appendages

Bone fractures

Serious neck and back damage, including fractures and disc herniations

Shoulder and leg injuries

Neurological damage

Wrongful death
Having to handle complicated legal issues while also suffering a severe injury or dealing with an injury that affects a child, sibling, or other loved one can prove equally challenging for victims of an 18-wheeler accident.
Who Is Responsible for a Commercial Truck Accident?
Like other commercial vehicle and rideshare accidents, truck accidents are inherently complicated. One or more of several parties can potentially be held liable for the accident, including the truck driver, the truck manufacturer, the driver's employer, or the company who owns or loaded the cargo.
For example, truck driving companies can be held responsible if they didn't provide proper training to the individuals operating the commercial truck or 18-wheeler. Facing a shortage of truck drivers, companies are highly susceptible to hiring individuals who are not properly qualified to operate a large 80,000-pound vehicle. If companies did not adhere to important safety provisions when hiring and training truck drivers, they can face significant liability.
Multiple Parties Can Share Liability
Several state and federal laws can impact a case and which parties can be held liable. For instance, Texas' proportionate responsibility law, found in Chapter 33 of the Texas Civil Practice and Remedies Code, factors into the equation. This law allows multiple parties to share fault and liability for an accident.
It also states that a plaintiff may share partial responsibility but still recover a portion of their damages, so long as their portion of responsibility does not exceed 51 percent. This is the state's modified comparative negligence law.
Insurance is another complicating issue that can cause frustration when a person is hit by a truck. Sometimes the truck and trailer involved in an accident are owned by different corporations and, therefore, insured separately. A Houston truck accident lawyer will identify the various lines of insurance coverage at play and, when possible, investigate negligence on the part of both parties, pursuing various avenues of financial compensation for the victim.
When to Hire a Truck Accident Attorney in Houston
After an accident occurs and is reported, the insurance agency or agencies providing coverage to the driver and/or trucking company will investigate the incident. They will gather their own evidence to defend any potential claim that may come against their clients. Victims of truck wrecks must resist the urge to accept low settlement offers from insurance companies that are only focused on paying out as little as possible and closing the case as quickly as possible.
The first steps to counteract that effort include seeking necessary medical treatment and contacting an experienced Houston truck accident attorney at Blass Law. We will work diligently with you to take the necessary course of action until the insurance carrier and/or trucking companies are sufficiently held responsible and make a fair offer.
In the meantime, the people involved or injured in the accident should not provide a written or recorded statement to the insurance companies or adjusters investigating the claim. You can let a Houston truck accident lawyer at Blass Law handle the insurance companies for you.
Contact a Houston 18-Wheeler Accident Lawyer
If you or a loved one was hit by a truck, don't try to deal with the insurance companies alone. Let the Houston truck accident lawyers at Blass Law investigate your claim and hold the trucking company and their insurance carriers responsible.
You need compensation for your injuries, and your time away from work, and we know how to get it. Let us get you the recovery you need and deserve. Call Blass Law today at (713) 225-1900 or request a consultation online.
Call or text 713-225-1900 or complete a Case Evaluation form