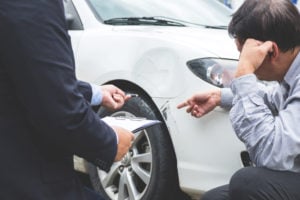 After being injured in a car accident, you may have many questions about the financial recovery process. For instance, you may be unsure of what your economic and non-economic damages are worth. You may have concerns about what to do if the insurance company denies your claim. A Galena Park, TX car accident lawyer from Blass Law can answer these questions and more.
Connect with our Texas law firm by dialing (713) 225-1900. We can start building your case as soon as you call us.
Compensable Losses in a Galena Park, TX Car Accident Case
Blass Law's top priority is to secure compensation for your collision-related damages. By reviewing your hospital bills, property damage invoices, and other documentation, we can determine the cost of your losses.
We are prepared to build a case and help you recover compensation for the following:
Pain and suffering
Loss of consortium
Medical bills
Loss of future earning capacity
Lost wages
Property damage costs
Disability
Depending on the circumstances of your situation, you could be entitled to compensation for additional types of damages.
For a legal consultation with a car accident lawyer serving Galena Park, call 713-225-1900
How a Car Accident Lawyer Can Help Following a Car Accident in Galena Park, TX
We understand that the claims process can be confusing, especially if this is your first time filing a claim. Blass Law can answer all of your questions in regard to recovering compensation in Galena Park, TX.
As you consider your legal options, you may ask yourself:
Whether You Can Sue the At-Fault Driver
It is within your legal rights to sue the at-fault driver in your collision. However, before doing so, you should know that most car accidents claims end with insurance companies paying a settlement. While litigation may be at the forefront of your mind, it will likely not be necessary. You will likely only need to file a lawsuit if the insurance company does not agree to pay you fairly. Even then, Blass Law can keep negotiating for a settlement.
How Your Lawyer Will Calculate Pain and Suffering
Pain and suffering is a non-economic damage that is intended to pay for your emotional and physical anguish following an accident. There is no unified approach to calculating this expense. Many aspects of your case, including the severity of your injuries, will play a role in how much you can recover.
How Long Your Case Will Take To Resolve
We understand that you want your case to be resolved as soon as possible. However, there is no telling how long it will take for your car accident case to be resolved. Ideally, it would be settled within a matter of weeks. However, if the insurer refuses to extend a fair offer, liability is unclear, or your health condition is still evolving, it may take longer for your case to settle.
It is important to note that all car accident cases in the state of Texas must adhere to the statute of limitations. Texas Civil Practice and Remedies Code § 16.003 says that you have a two-year window to file a lawsuit. This deadline may change based on various circumstances. For instance, if your car accident happened between yourself and a government-owned vehicle, you could have a shorter period to act.
How Your Lawyer Will Deal with the Liable Driver's Insurer
Even if the liable insurance company knows that their client caused the accident, they still may impede the progression of your claim. Blass Law does not play games. We will not tolerate the insurer's attempts to deny you compensation. To resolve your case, we will write your demand letter (which will include the cost of your damages), review the involved coverage options, and negotiate a settlement. Still, if the insurer does not play fair, we can file a lawsuit against the at-fault party.
We can answer any other questions that you may have when you call Blass Law at (713) 225-1900.
Galena Park Car Accident Attorney 713-225-1900
Evidence that Can Help with Your Car Accident Case
You may not fully understand the details of your collision, but that is not a problem. Blass Law can gather evidence to determine why the accident occurred.
We can prove the cause of your accident by:
Interviewing Witnesses
This does not just involve speaking to bystanders who saw the accident happen. This also involves talking to accident reconstruction specialists and healthcare providers. Your family members may also provide useful information about the severity of your condition.
Reading the Accident Report
Law enforcement is required to investigate any accident that results in injuries, death, or apparent property damage that exceeds $1,000, as explained under Texas Transportation Code § 550.021.
The accident report will contain:
The names of the involved parties
The point of impact on each vehicle
The date, time, and location of the incident
Whether anybody was issued a traffic citation or arrested
Whether emergency transportation services were called
The police report may also contain statements from the police officer regarding the cause of the crash.
Viewing Traffic Camera Footage
Some major streets and intersections are equipped with traffic cameras. One of these devices may have captured your accident on tape. If so, your car accident lawyer in Galena Park, TX can secure this footage and view it.
Blass Law may be able to prove the cause of your car accident through means other than those listed here. You can call our Texas law firm today to learn more.
Click to contact our Galena Park Lawyer today
Call Blass Law for Help with Your Car Accident Case
You can begin exploring your legal options today during a no-obligation case review with our team. Not only can we address your questions and concerns, but we can also share our previous results and provide more insight into how we can help you.
A car accident lawyer in Galena Park, Texas can negotiate a settlement, calculate the cost of your damages, and fight for your legal rights. Let us help you deal with the aftermath of your car accident. To talk with our team, call (713) 225-1900.
Call or text 713-225-1900 or complete a Case Evaluation form