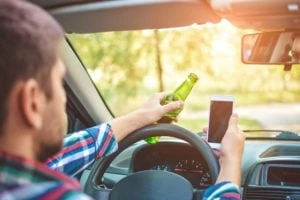 The aftermath of a DWI charge can be stressful, but you have the right to retain legal representation. With a Stafford DWI lawyer from the Blass Law team, you do not have to navigate your charges alone.
We can work to minimize the charges you face after driving while intoxicated, helping you chart a future after this incident.
What Does a Stafford DWI Attorney from Our Firm Do?
People tend to always picture lawyers in court, but your legal representation does a whole lot more behind the scenes to work on your case. Our team:
Helps with issues related to bail

Interviews witnesses

Examines the state's evidence

Gathers additional evidence

Files necessary paperwork

Crafts a defense strategy

Keeps you updated on your case

Remains accessible for questions
Attorney Jay Blass Cohen can work to reduce or drop the charges against you. He can also work to get you out on bail or reduce your bail amount.
That's just the beginning. As your DWI representation, we craft a plan for your defense with the goal of minimizing the consequences. We analyze the evidence against you while compiling our own, such as test results and witness statements.
Above all, we keep you in the loop. You are already facing a stressful situation; we don't want to add to it by being inaccessible. Our team remains available to answer questions or address concerns, providing regular updates on the case's progress.
Check Out Our Law Firm's Track Record
When confronted with the possibility of fines and jail time, you want to know your case is in the hands of a DWI lawyer who gets results. Blass Law has handled cases in Stafford and the surrounding areas, obtaining dismissals and non-guilty verdicts, including:
A commercial driver involved in an accident – not guilty

A lawyer who refused field sobriety tests – not guilty

A city of Houston employee – case dismissed
More details on these clients and others can be found on our case resultspage.
Ways We Support You
As our track record shows, we have experience in defending clients like you against drunk driving charges. Your case may even boil down to small details of how you were tested, arrested, or treated. We can investigate whether:
An officer had probable cause

An officer had reasonable suspicion

Breathalyzer results were accurate

Tests were administered properly

Evidence was properly stored or cataloged

You were told your Miranda rights
These are just some of the common defenses used in DWI cases, but each scenario is different. Our team listens to the details of your unique situation to determine how to best support you.
In other words, with Blass Law, you don't just get representation, you get an investigation team that evaluates every step of your case, from the events of the arrest to the way evidence was stored.
For a legal consultation with a dwi lawyer serving Stafford, call 713-225-1900
What Are the Penalties for a DWI?
The punishment for drunk driving in Stafford depends on some circumstances surrounding your case. DWI attorney Jay Blass Cohen will need to know if this was your first offense and if you're facing additional charges, such as for intoxicated assault or causing an accident.
Generally, for a first DWI offense, you may contend with:
Fines up to $2,000

Jail time ranging from three to 180 days

Driver's license suspension for up to a year
There are other potential penalties, according to the Texas Department of Public Safety. The court may require you to attend a 12-hour DWI intervention program, put you on probation, or order an ignition interlock device installed in your vehicle, and potentially require a separate driver's license.
A suspended license has other costs. You will need to obtain transportation from friends or family, rideshares, or public transport. Reinstating your license requires paying a fee.
If You've had More Than One Offense
If this is your second or third time facing drunk driving charges, the consequences naturally could be more severe. For instance, you could have your charge upgraded to a Class A misdemeanor or a felony.
If this is your second offense, you typically face:
Fines up to $4,000

Jail time ranging from one month to one year

Driver's license suspension up to two years
Your experience may be dictated by what caused you to be pulled over, how high your blood alcohol content was, and how you behaved during the arrest.
If this is your third offense, you could face:
$10,000 in fines

Jail time ranging from two to ten years

Driver's license suspended up to two years
Much like with your first offense, you may need to attend an alcohol education program. However, rather than 12 hours, the course is a 32-hour repeat offender program. An ignition interlock device may be installed in your vehicle.
Penalties for Commercial Drivers
Drivers with a commercial license (CDL) can have their license disqualified if they are convicted of a DWI. Possible penalties include:
DWI, first offense: one year

DWI, second offense: lifetime

DWI while carrying hazardous material, first offense: three years minimum

DWI while carrying hazardous material, second offense: lifetime
Obviously, these consequences may affect your future livelihood. Blass Law's DWI attorney will work hard to protect that future and obtain the best possible outcome.
Other Scenarios
Causing a wreck while under the influence could carry more serious consequences, especially if the crash resulted in a death; you could be charged with intoxication manslaughter. Additionally, you may face repercussions in civil court for causing injury, damage, or wrongful death.
Likewise, as the Texas Department of Transportation (TXDOT)points out, driving while intoxicated with a child in the car leads to more penalties. A child passenger is defined as someone under the age of 15 (Texas Penal Code § 49.045).
Consequences include:
Possible child endangerment charges

Extra fines up to $10,000

Jail time up to two years

Driver's license suspended an extra 180 days
These may be on top of the typical DWI penalties.
Stafford DWI Attorney 713-225-1900
Call Today to Gain an Advocate for Your Defense
Blass Law's DWI lawyers serve Stafford residents like you by looking out for your future. We are committed to working on your case to achieve optimal results for you. You do not have to handle your case alone. Call at (713) 225-1900.
Call or text 713-225-1900 or complete a Case Evaluation form