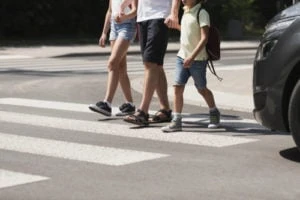 While you may think that being injured as a pedestrian will put your plans for the future on hold, this does not have to be the case. As you recover from your injuries and rebuild your life, Blass Law can help you seek compensation from the at-fault party. During this challenging time, a Galena Park, TX pedestrian accident lawyer could be your advocate.
Explore your financial recovery options today by calling (713) 225-1900.
Explaining Texas's Proportionate Responsibility Laws
First, even if you were partially responsible for your pedestrian accident, you can still pursue compensation. This is discussed in more detail under Texas Civil Practice and Remedies Code § 33.001.
The at-fault driver in your accident may argue that you did not use the crosswalk or look both ways before crossing. Their accusations have little bearing on your case because fault for your accident will be determined by law enforcement, the insurer, the lawyers and ultimately the jurors in your case.
As long as you are less than 50% responsible for the crash, you can pursue compensation. Do not make any assumptions regarding your case. Let Blass Law determine whether you can take legal action against the negligent driver. Even if you fear that you cannot recover compensation because of your role in the accident, we can make that determination for you. Call us today to learn more.
For a legal consultation with a pedestrian accident lawyer serving Galena Park, call 713-225-1900
Possible Causes of Your Pedestrian Accident
The Centers for Disease Control and Prevention (CDC) says that many pedestrian accidents result from speeding or driver intoxication. Your pedestrian accident lawyer in Galena Park, TX will need to determine how your accident happened to build your case.
Aside from drunk driving and speeding, other causes of your pedestrian accident may include:
Failing to Yield to the Right-of-Way
Texas Transportation Code § 552.003 says that all motor vehicles must yield to pedestrians that are in a crosswalk with no traffic signals present.
If a motorist did not yield to the right-of-way and hit you, they could be held accountable for your collision-related losses.
Failing to Obey Traffic Signals
Red means stop and green means go. All motorists should know this. However, when motorists intentionally or unintentionally disregard traffic signals, in addition to receiving a citation, they can also be held responsible for pedestrian accident victims' damages.
Distracted Driving
The CDC notes that distracted driving is becoming a growing concern on the nation's roadways. To determine whether distracted driving caused your accident, your car accident lawyer in Galena Park, TX will need to review traffic camera footage, subpoena the at-fault driver's phone records, interview witnesses, and examine the accident report.
Your accident may have been caused by other circumstances not included here. If so, do not worry; Blass Law can determine who or what caused your accident. To begin a no-obligation case review, call (713) 225-1900 today.
Galena Park Pedestrian Accident Attorney 713-225-1900
Examples of Injuries in Pedestrian Accidents
By now, you have likely realized how devastating pedestrian accident injuries can be. Your injuries and their necessary medical care are compensable.
Some injuries that you may be dealing with right now include:
Broken or crushed bones
Cuts, abrasions, and lacerations
Internal bleeding
Organ damage
Paralysis
A traumatic brain injury
The documents you receive throughout the course of your medical care could help your Galena Park pedestrian accident lawyer recover compensation for you. Keep track of your imaging scans, prescriptions, appointment dates, and surgical procedures. By proving the extent of your injuries, your legal team will be in a better position to negotiate a settlement.
Click to contact our Galena Park Lawyer today
Blass Law Can Help You Recover Compensation
At Blass Law, we are committed to doing everything in our power to recover compensation for your losses. We believe that if another party's negligence resulted in your injuries and damages, they should be held accountable.
In the demand letter that we send to the insurance company, we can request compensation for the following:
Pain and suffering
Medical bills
Loss of consortium
Property damage expenses (if applicable)
Reduced future earning capacity
Disability
Disfigurement
If the insurer does not agree to compensate you fairly, we can file a lawsuit in civil court. Per Texas Civil Practice and Remedies Code § 16.003, you generally have two years to do this. The subject of your lawsuit will be the at-fault driver, although their insurer may hire a lawyer to represent them.
Blass Law's goal is to resolve your case. Call us today so we can get into more detail about the types of damages you can get. Your first case review is no obligation.
Complete a Pedestrian Accidents Case Evaluation form now
Take Action After Being Hit by a Negligent Driver
After being struck by a motorist, you may feel powerless and out of options. This could not be any further from the truth. Blass Law is ready to advocate for your right to compensation. We want to share some considerations that could make the claims process smoother.
You should consider:
Staying off social media. By posting about the accident to a public forum, you give the claims adjuster the chance to twist your posts and dispute some aspect of your claim.
Getting medical attention. Only a healthcare provider can diagnose your condition and render treatment. By getting medical care, a medical professional will document the severity of your impairments and this information can be used as evidence for the insurance company.
Refraining from giving a recorded statement. The liable insurance company does not work for you. They work to serve their own interests. By providing a recorded statement, you risk saying something that could be taken out of context by the insurer. Insurers try to get a recorded statement early on in the process, before you may know the extent of your injuries or damages.
Blass Law can give more information about what you can do to protect your right to compensation.
Call Our Texas Law Firm Today
If you are interested in pursuing compensation after a pedestrian accident, call Blass Law. A representative from our team can talk to you about hiring a Galena Park pedestrian accident lawyer. Call (713) 225-1900 to get started today.
Call or text 713-225-1900 or complete a Case Evaluation form