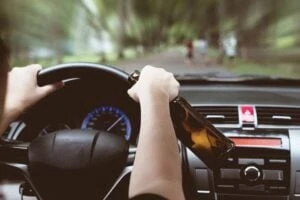 If you or someone you love was injured in a collision involving an intoxicated driver, you could be entitled to recover financial compensation. You do not have to fight to hold the at-fault driver accountable on your own, though. Our law firm represents injured victims and the surviving family members of fatally injured DWI victims. When we handle your case, a Sugar Land DWI lawyer will strive to settle or win your case. 
At Blass Law, we conduct our own thorough investigation, collect evidence that proves who and what caused the crash, and negotiate with the at-fault driver and their insurance company. Our law firm can file your case on time and will not stop fighting for the best possible outcome for you and your family.
Drunk Driving Accident Costs and Statistics in Texas
According to the Centers for Disease Control and Prevention (CDC), an intoxicated driver can have delayed reaction times, impaired decision-making abilities, and decreased coordination. Their research also cites drunk driving accidents caused up to $123.3 billion in economic damages in 2020.
Additional CDCresearch cites:
2.2% of Texas drivers admit to driving while intoxicated

13,592 DWI-related fatalities in Texas between 2009 and 2018
Our personal injury law firmwill document the cause and costs of the accident you were involved in and pursue financial recovery so you can start putting your life back together.
Financial Recovery After a Drunk Driving Accident in Sugar Land, Texas
If you or a family member was injured by a drunk driver, our legal team will stop at nothing to recover fair and appropriate financial compensation for you.
We can assign a monetary value to your case based on the following recoverable economic and non-economic damages:
Current and future medical bills

Current and future lost income

Treatment-related travel expenses

Property damage or destruction

Diminished property value

Disability and disfigurement

Physical pain and suffering

Mental and emotional distress

Loss of enjoyment of life
If your family lost a loved one in a drunk driving accident, we also help you recover wrongful death damages. These losses can include your loved one's funeral and burial costs and your family's loss of their income and familial contributions, as well as your loss of consortium, companionship, guidance, and support.
Do Not Wait to Get Our Drunk Driving Accident Lawyer on Your Side
Our law firm understands that recovering from the physical and emotional impact of a drunk driving crash takes time. We also know the state of Texas limits the amount of time you have to file a lawsuit against the at-fault driver.
In general, the personal injury and wrongful death statutes of limitations are two years, according to Texas Civil Practice and Remedies Code § 16.003. Failure to file your lawsuit on time could leave you with no legal recourse that compels the negligent driver to compensate you.
When our law firm handles your case, we will not let you run out of time to seek compensation. With enough notice, we will interview witnesses while their memories are vivid, canvass the area for supporting photos and videos, and make sure we file suit on time.
For a legal consultation with a drunk driving accident lawyer serving Sugar Land, call 713-225-1900
What to Expect From Our Sugar Land Drunk Driving Accident Lawyer
At Blass Law, our drunk driving accident lawyer is passionate about helping injured clients in Sugar Land recover the compensation they need and deserve. When we handle your case, you can expect us to take all the following steps on your behalf:
Obtain your

car accident

and medical reports

Calculate the financial value of your case

Create and organize a compelling evidence file

Review your case to identify the liable party

Speak with all respective parties on your behalf

Complete and submit the required paperwork

Answer your legal questions and concerns

Update you on how your case progresses
We fight hard to negotiate a favorable monetary settlement. If we cannot reach one, we will not hesitate to represent you in court and keep pursuing compensation.
How We Prove DWI Was the Cause of Your Car Accident
On your own, it could be difficult to demonstrate the driver who caused your accident was drunk at the time it occurred, but our investigative team can collect the evidence that substantiates your claim.
We can prove the at-fault driver breached their responsibility to provide you with a duty of reasonable care and that their actions caused the accident and your financial damages. By showing these legally required elements of negligence, we can establish financial liability and your right to seek personal injury compensation.
Evidence We Collect to Bolster Your DWI Accident Case in Sugar Land, TX
Your personal injury case will rely on the physical evidence and documents that tell the story of the collision. When our law firm represents you, we can collect the following evidence for your case file:
The car accident report

BAC results

Your medical records and bills

Proof of income

Injury photos

Accident scene photos

Witness statements
Searching for evidence after an accident can be difficult, stressful, and emotionally challenging. Let us handle it for you. Our drunk driving attorney will collect, organize, and submit your evidence while you focus on getting better.
Sugar Land Drunk Driving Accident Attorney 713-225-1900
Call Our Firm for Your Confidential Consultation Today
Were you or a loved one injured by an intoxicated driver in Sugar Land? If so, you can hold that driver responsible for the financial aftermath of the accident. Our Sugar Land drunk driving accident lawyer will evaluate your case, answer your questions, and fight hard for the financial compensation you are entitled to recover.
Learn more about how hard our law firm fights for you by contacting our consultation team at Blass Law today.
Call or text 713-225-1900 or complete a Case Evaluation form