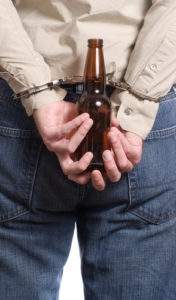 Getting convicted of drinking and driving can change your life for the worse. This is especially true if you hold a job where upholding the law is extremely important, such as a teacher or police officer. Former house representative and general counsel for Texas Health and Human Services, Jack Stick, can probably speak to this; Mr. Stick was convicted of a drunk driving charge on Monday, September 21st.
A 2012 Arrest, a 2015 Conviction
Jack Stick's drinking and driving charge dates all the way back to September 11, 2012, when he was arrested by police officers in Austin after he refused to take a field sobriety test when pulled over by officers. At the time of arrest, Stick's blood alcohol content (BAC) level was .096 percent, an amount far above the legal limit of .08 percent.
Stick's Lawyer Says He Wasn't Drunk
For a legal consultation, call 713-225-1900
Despite the incriminating evidence against Stick, such as Stick's confession at the time of arrest that performing a field sobriety test would incriminate him, as well as the BAC level revealed above, Stick's lawyer, Brian Roarke, told the jurythat Stick was "as sober as you and I are here today" at the time of his arrest. He also said that blood alcohol tests are extremely fallible.
Despite the plea, the jury found Stick to be guilty.
Penalties Stick Faces
While the prosecutor pushed for harsh penalties for stick—jail time or an 18-month probationary period andcommunity service and counseling—the judge presiding over the case, Nancy Hohengarten, said she believed a lighter sentence was fair. As such, she sentenced Stick to six days in jail, and a 90-day driver's license suspension for driving while intoxicated.
How a DUI/DWI Conviction Can Change Your Life
Click to contact our Houston lawyer today
Being convicted of a DUI or a DWI in Texas is embarrassing. What's more, it can be financially costly, and result in jail time. Perhaps worst of all, it can affect your ability to get hired for a job, find housing, or participate in certain programs or opportunities.
What to Do if Facing DWI Charges in Houston
Complete a Case Evaluation form now
If you are facing DWI charges in Houston, you need an attorney who can negotiate a plea deal on your behalf to have your sentence reduced, or advocate for you to prove your innocence. At Jay Cohen Attorney at Law, we're ready to do what's right for you. Call us today to schedule a consultationand learn more at (713) 225-1900.
Call or text 713-225-1900 or complete a Case Evaluation form