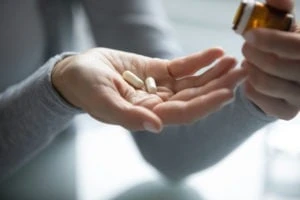 After getting charged with a drug offense, you may not know what awaits you in the courtroom. However, our drug defense lawyer in Bellaire, TX, at Blass Law does. We have over a decade of experience in criminal defense law. Thismaybe one of the most daunting times of your life, but you can count on our law firm to help bring you through it.
Let us put your mind at ease in a confidential case evaluation. In this meeting, we will explain the rights and options that you have and what you can expect in a drug case like this.
Attorney Jay Cohen is a Drug Defense Lawyer on Your Side
Our founding drug defense attorney, Jay Blass Cohen, has dedicated his entire career to providing top-line legal defense for those facing criminal charges. He has never been a prosecutor, fighting against people like you. His credentials speak for themselves. He has been:
Given the ACS Forensic Lawyer-Scientist Designation as recognized by the Chemistry and the Law Division of the American Chemical Society

Certified as a practitioner and instructor in field standardized sobriety testing

Certified as a drug recognition expert (DRE)

Trained in forensic chromatography, a scientific process used to detect drugs in a person's system

Trained in drug analysis
Attorney Cohen is also a member of several lawyers associations, including the Texas Criminal Defense Lawyers Association, the Harris County Criminal Lawyers Association, the National Association of Criminal Defense Lawyers, and the Houston Bar Association, among others.
We Know How to Build a Strong Defense
What a strong defense means for your drug case in Bellaire, Texas, is that you will receive robust legal representation when you work with our law firm. Once we evaluate your case, we will build a defense strategy to help get your charges or bail reduced or dismissed. Examples of defenses we can employ include:
Lack of probable cause

Lack of reasonable suspicion

Entrapment

False reports

No Miranda rights read

Unlawful search and seizure

Faulty breathalyzer results

Alibi

Mistaken identity

Failure to maintain chain of custody
We can analyze evidence and examine witnesses to protect you while you go through the justice system.
For a legal consultation with a drug defense lawyer serving Bellaire, call 713-225-1900
You Can Trust Our Case Results
Our legal team has accomplished victory after victory for clients all over the state. We work with people facing a variety of criminal charges. Some of our case victoriesinclude:
A client charged with possession with intent to deliver cocaine after being found with 46 kilos of the illicit drug. –

Case dismissed

A city of Houston employee, asleep on the side of Beltway 8, was arrested with a breath alcohol level of 0.179 (well above the legal limit). Failed all field sobriety tests.-

Case dismissed

A client was pulled over leaving White Oak Music Hall after police said he struck a pedestrian. Client was in possession of marijuana, had a blood alcohol level of 0.086, tested positive for THC and cocaine, admitted drinking and smoking marijuana all day, and failed all field sobriety tests. Charged with DWI.-

Case dismissed

A lawyer pulled over for driving with only one headlight, admitted to drinking but refused field sobriety tests. Charged with DWI 2nd-

Not guilty
Although we cannot promise a specific outcome for your case, you can count on our drug defense lawyer to fight for the best possible outcome.
Bellaire Drug Defense Attorney 713-225-1900
A Drug Conviction Can Have a Long-Lasting Negative Impact on Your Life
A drug conviction can have a devastating and long-lasting impact on your life that is difficult to overcome. Some of the legal ramifications of a drug crime include:
Jail time

Long-term prison sentences

Probation

Mandatory drug treatment

Community service

Excessive fines

A permanent mark on your criminal record
Not only are there serious legal consequences for drug offenses but personal implications as well. A criminal conviction could cause damage to your reputation and erode your relationships, leading people you work with or hold dear to mistrust you, lose faith in you, or distance themselves from you.
It will also make it more difficult to obtain employment, and Texas does not prohibit an employer from considering your criminal record when hiring.
Click to contact our Bellaire Lawyer today
Work with Our Lawyer in Bellaire Who Will Work for the Best Possible Outcome
A drug defense attorney at our firm understands the consequences you face if your drug charges result in a conviction. You cannot risk your freedom or your future. We will work to give you a favorable outcome in court.
Regardless of the drugs you were involved with, we will fight hard for you. We deal with drug defense cases for:
Marijuana

Cocaine

Ecstasy

Heroine

Methamphetamine

Prescription drugs

Any other illicit or designer drugs
Additionally, our legal defense team will defend you against all major drug charges. We have represented clients facing misdemeanor and felony charges. Our drug defense practice areas include:
Drug possession

Drug manufacturing or growing

Drug distribution and sales

Other drug-related charges—just ask
Complete a Drug Defense Case Evaluation form now
Preserve Your Freedom with a Bellaire Drug Defense Laywer
A criminal charge does not mean you are guilty, and you should never give up hope. Our law firm is dedicated to giving you your life back. Our responsive legal team will fight to have your case won or dismissed, your sentence reduced, and/or your record expunged. If we don't reach a favorable outcome, your lawyer will negotiate with the prosecutor for a plea bargain.
Let our drug defense lawyer in Bellaire, Texas, help protect your rights and preserve your freedom. Get in touch with Blass Law at (713) 225-1900 immediately to start your case evaluation.
Call or text 713-225-1900 or complete a Case Evaluation form