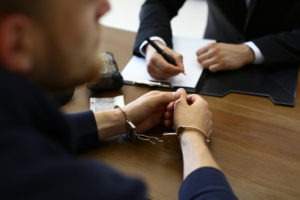 Getting charged with a criminal offense could have a drastic negative impact on your life, your career, and your family. Our criminal defense lawyerin Conroe, Texas, will work hard to get you the best possible outcome. Having legal representation from the very beginning can give you the most options and protect your legal rights. At Blass Law, we fight for your future.
You do not want to procrastinate hiring a criminal defense lawyer to handle your case. Depending on your situation, sometimes it is possible to prevent charges from getting filed in the first place, get the case dismissed or negotiate less serious charges. Some legal options are only available early in the process.
How Blass Law Can Serve You in a Conroe Criminal Defense Case
With Blass Law on your side, we will handle different aspects of your criminal defense case, including:
Gathering evidence that would help your defense

Working to get your charges reduced or dismissed

Working to reduce your bail amount or get a bond set

Interviewing witnesses

Collecting and analyzing evidence

Negotiating a plea bargain with the prosecution

Figuring out which laws apply to your situation
We will strive to secure the best possible result for you.
We Will Formulate a Defense Strategy
Our investigation can tell us which defense strategy we can apply to your case. Some examples include:
Lying cops

Alibi

False reports

Faulty breathalyzer tests

Lack of reasonable suspicion

Mistaken identity

Entrapment

Unlawful search and seizure

Lack of probable cause

Failure to maintain chain of custody

No Miranda rights read
For a legal consultation with a criminal defense lawyer serving Conroe, call 713-225-1900
How Criminal Convictions Can Affect Your Life
Many people do not realize the wide net that a criminal record can cast over your entire life. Here are a few examples of the potential impact of a conviction:
A college-age student might never get accepted into the university they had been working toward for years because of something that might have to be disclosed in a college application. All of their friends might get to go away for school while they have to settle for a less prestigious college.

When a person tries to rent an apartment, they have to disclose their criminal past or agree to a background check. Many people find it difficult to get an apartment in a decent neighborhood with a criminal record.

Most job applications require people to disclose criminal convictions and submit to a criminal records check and background investigation. An employer is unlikely to be willing to risk the liability they might face if they hire someone with a criminal record.

Your current employer could fire you for getting arrested, charged, or convicted of a crime.

Your reputation might never be the same once word gets around that you got arrested or convicted. Some people relocate to another city or even a different state to try to make a fresh start, but their criminal record can catch up with them.

If you get convicted and sentenced to time in jail or prison, it could cost you thousands of dollars in lost income. Also, you might have to pay fines and court costs.
With so much at stake, you can see why getting a criminal defense lawyer on board immediately makes sense.
Conroe Criminal Defense Attorney 713-225-1900
Types of Criminal Defense Cases We Handle in Conroe, Texas
We have you covered with representation in these criminal defense practice areas, among others:
Assault, Including Assault on a Family Member
Often, the charge is assault family violence. When there is an argument in the family, someone might call the police and make accusations of assault with little or no evidence.
Drug Possession
It does not take a large amount of an illegal substance to get sentenced to many years in prison in Texas.
Driving While Intoxicated (DWI)
A police officer might testify that you failed a field sobriety test even if your blood alcohol concentration (BAC) did not exceed the legal limit. In Texas, it is possible to get convicted of driving while intoxicated even if you are below the legal limit.
Records Sealing and Criminal Record Expunctions
Texas law sets the guidelines for whether we can get records sealed or have items removed from your criminal record. If you can satisfy the necessary legal factors, these actions could help you avoid years of unwanted consequences.
Probation Violations
Getting a suspended imposition of sentence and going on probation does not mean that the original sentence disappeared. All it takes is for one judge to decide that you violated one term of your probation, and you could get arrested and go to jail on the spot. Whatever the original sentence was could be your reality unless you can successfully disprove the violation or have the original conditions of probation modified.
Unlawful Carrying of a Weapon
Carrying a weapon might be an honest mistake, like forgetting that you had a knife or firearm on you when you entered a location. Being absent-minded does not mean that you are a violent person, but other people might assume that you are dangerous if you have a weapons violation conviction on your record.
Our criminal defense lawyer is not afraid to take on the system and will work to protect your constitutional rights.
Click to contact our Conroe Lawyer today
Start Working With Blass Law After Conroe Criminal Defense Charge Today
You do not have to take our word for the great results we get when defending our clients. You can take a look at our results pageto see one example after another of the not guilty verdicts and dismissals we achieved for our clients on both misdemeanor and felony charges.
We understand that you might feel afraid right now and worried about your future. Take action today before it is too late. Reach out to Blass Law at (713) 225-1900 to get started.
Call or text 713-225-1900 or complete a Case Evaluation form