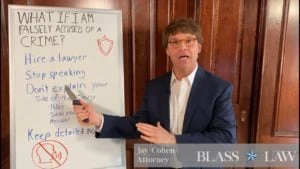 We all dread the nightmare scenario of being falsely accused of a crime. Being wrongly accused of a crime is damaging and can lead to the breakdown of relationships with family, friends, and work colleagues. Therefore, it is vital to know how to protect yourself if you ever find yourself in this unenviable position. Here are three essential steps to take:
Remain silent about the situation to the accuser, the police, or on social media – you may say something that harms you and can be used against you later

Hire a lawyer from our firm to communicate with any involved parties on your behalf, and protect your rights

Gather witness information and evidence – keep detailed notes about who is contacting you and what they are saying
Try to remain calm. Cool heads will prevail here. Whether you are accused of or charged with a crime, working with a legal representative can help get you in front of the situation before it develops into something far more daunting and complex.
Take Immediate Steps to Protect Yourself if You are Falsely Accused of a Crime
You should always realize the gravity of the situation and the potential penalties you could face, no matter how ridiculous you think the allegation is. Bear in mind, law enforcement officers have a duty to protect the citizens they serve and will investigate accusations made against you.
Do not just assume that explaining your innocence will be enough to make them see the situation your way. Any interview will be recorded and could be used against you, so it is vital you receive the right advice on how to deal with this.
How We Will Help
Having our team in your corner early on can save you time and money in the long run. The goal of your lawyer is to intervene while you are still a suspect and take proactive measures to prevent you from being arrested or charged with a crime in the first place. This varies greatly from situation to situation, sometimes the police have already made up their minds.
If you are charged with a crime, it means the police believe they have enough evidence to prove that you committed an offense. Your lawyer will be able to get the appropriate level of information at this early stage and quickly identify any weaknesses or inconsistencies with the evidence against you.
Your attorney will investigate your case and the prosecutor's evidence to evaluate strengths and weaknesses. From the investigation, your lawyer will prepare your defense and advise you about protecting your best interests moving forward.
For a legal consultation, call 713-225-1900
Remain Silent
If you are under investigation or called in for police questioning, it is better to remain silent and request a lawyer from our firm. You may feel that communicating your side of the story openly (as you have nothing to hide) is the simplest way to resolve things. Unfortunately, this is rarely the case, as anything you do or say can be used against you.
Investigators may attempt to intimidate or convince you of your guilt

Your words may be taken out of context
You should also avoid contacting the accuser in any form and discussing the situation on social media. Your attempt to smooth things over will likely backfire and could lead to additional charges being brought against you.
Gather Witnesses and Evidence
To fight back against the false accusations, you and your lawyer should begin collecting evidence to support your defense as soon as possible. Gathering the following can help your case:
Witness interviews

Physical evidence

Background records of your accuser

Checking information about the credibility of your accuser and the integrity of their allegations

Keep detailed notes about who is contacting you and what they say

Keep records of the negative impacts on your life, work, personal, and professional relationships
What NOT to Do If Someone Accuses You of a Crime
After taking steps to protect yourself, it is vital to ensure you do not undo your efforts by trying to take matters into your own hands in the hope of resolving the situation quickly. Doing any of the following can have a negative impact on your case:
Confronting your accuser, if you cannot avoid them (you work with them, for example), make sure you always have a witness with you during any interactions

Destroying any evidence that you think could hurt you or raise suspicion

Talking to the police, prosecutor, or criminal investigator without your attorney

Consenting to any DNA tests or other tests without your lawyer present
Click to contact our Houston lawyer today
Can I Sue for False Accusations?
Possibly. A person making false allegations could face criminal charges in Texas. A false report to a police officer is a misdemeanor offense in Texas. Suppose you find yourself on the wrong side of a false accusation that caused damage to your reputation.
In that case, Texas law also allows you to pursue a civil defamation lawsuit against the person responsible for the wrongful allegations. Slander (spoken defamation) and libel (written defamation) are two legal bases you can sue for.
Compensatory Damages Available in a Defamation Lawsuit
To pursue a civil lawsuit, you will need to prove the other party wrote or spoke false statements about you to a third party. If successful, you can receive compensation for:
Property, business, trade, profession, or occupation

Pain and suffering experienced such as mental anguish

Damage to reputation
Leading Reasons for Being Wrongfully Accused of a Crime
Mistaken identity

Malicious false accusations

Misrecollection

Incorrect forensics

Official misconduct
Complete a Case Evaluation form now
Blass Law Is the Shield Between You and Your Accuser
While it is a reasonably uncommon situation, it is impossible to be prepared for the upheaval being falsely accused of a crime can have on your work and home life. The team at Blass Law understands the stress and emotional turmoil you are going through because we help other clientsin your situation.
By recognizing what you face, how your life is affected, and what it means for your future, we will quickly intervene to take steps towards clearing your name and protecting your best interests. To discuss your situation, call our team in confidence to learn about your legal options.
Call or text 713-225-1900 or complete a Case Evaluation form