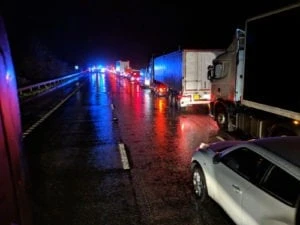 If a truck driver's negligence led to your injuries, the legal team at Blass Law can help you pursue compensation. Even if you are unsure of who may be responsible for your losses, we will work hard to assign fault and pursue a favorable outcome. We are prepared to analyze the evidence connected to your case to determine the responsible person, company, or organization.
Call the truck accident lawyers of Blass Law team at (713) 225-1900 to get started today.
How a Law Firm Can Help You
A law firm like Blass Law can help you analyze all available evidence and figure out who you can pursue for damages.
We can also:
Answer all your questions
Negotiate with insurance companies on your behalf
Represent your interests in court, if the insurance company will not settle
Provide you with updates throughout your claim
Travel to speak with you wherever it is most convenient for you
Valuate your losses
Gather and analyze all available evidence relevant to your case
Our team can walk you through this difficult time by providing responsive, reliable legal care.
For a legal consultation with a truck accident lawyer serving League City, call 713-225-1900
How Blass Law Can Determine the Liable Party in Your Case
Our firm will utilize our network of resources to formulate your case and determine the party responsible for your injuries and losses. The negligent driver who harmed you collided with your vehicle for a reason, and we intend to find out what that reason is.
Call a truck accident lawyer at Blass Law today at (713) 225-1900 for more information about how we intend to do this.
We Can Prove the Negligent Driver's Reckless Actions
If a truck driver operated their rig in a way that put you at risk, like tailgating or changing lanes without signaling, we will utilize the accident report to support your testimony of the driver's actions.
Additionally, we can access their phone records to affirm or deny whether they were texting while driving—a reckless and dangerous choice.
We Can Help You Prove That the Liable Driver Was Intoxicated
For instance, if a truck driver was intoxicated and caused your accident, we will work to prove their negligence. One of the first ways we can do this is by examining the police report made at the accident scene. In your situation, the attending law enforcement official may have detailed certain behaviors that may have been characteristic of driving under the influence. We may even be able to review the trucker's criminal driving record to see if they had any previous DWI charges.
We Can Hold the Trucker's Employer Responsible
The trucking company could be found negligent if they encouraged the driver to ignore safety precautions or to violate the Hours of Service Regulations of the Federal Motor Carrier Safety Administration. By reviewing the trucker's logbook, we may be able to determine if their employer was imposing unreasonable scheduling demands or encouraging otherwise negligent behaviors to promote productivity.
We Can Pursue the Entity That Built the Truck
The organization responsible for the truck's construction may be held partly liable for your injuries. Similarly, a mechanic who we can prove worked on the truck and incorrectly reassembled a part could potentially be liable for your accident. Here, we will likely consult with experts who specialize in automotive construction and repair to determine if this was a relevant factor in your accident.
League City Truck Accident Attorney 713-225-1900
The Statute of Limitations May Affect Your Case
There is a timeline imposed by Sec. 16.003 of the Civil Practice and Remedies Code of the Texas Statutes that limits the time a person has to file a lawsuit against another party that harmed them. In Texas, you have two years from the date of your injuries to move forward with a civil action. Failing to operate within this timeframe may forfeit your ability to seek compensation.
Click to contact our League City Personal Injury Lawyer today
We Can Help You Even if You Are Partially At-Fault
Even if you were partially at-fault for your accident, we can help you pursue the cost of your expenses. According to Sec. 33 of the Civil Practice and Remedies Code of the Texas Statutes, you could recover some level of damages if your portion of fault is less than 50%. Do not let guilt or assumption keep you from pursuing compensation.
Complete a Truck Accidents Case Evaluation form now
Blass Law is Ready to Take on Your Case
Call our team today so we can begin formulating an effective strategy for moving forward. Dialing (713) 225-1900 can put you in touch with a member of the Blass Law team who can guide you through your initial case review.
To ensure your case's success, we must prove that the defendant owed you a duty of care (and violated this duty) and that their violation ultimately resulted in your financial losses. We can do this with your help. Be ready to provide us with any information that we could use to build your case, including your written testimony of the events before, during, and after the accident and any medical or insurance documents you have collected since you were first treated for your injuries.
Do not delay.
Call or text 713-225-1900 or complete a Case Evaluation form