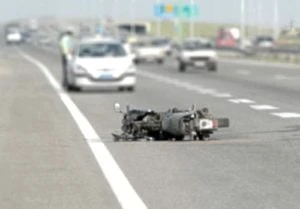 While riding a motorcycle allows you to experience the freedom of the open road, it also places you at risk for harm by negligent drivers.
When another driver fails to share the road, causing an accident that results in serious injuries for you, we can help. You may be entitled to compensation for your damages, including medical costs, lost wages, and pain and suffering.
At Blass Law, our motorcycle accident lawyer in League City works hard to secure fair compensation for our clients. Call Blass Law at 713-225-1900 today to learn your options for pursuing justice.
Common Causes of Motorcycle Accidents
A study by the National Transportation Safety Board found that 53 percent of motorcycle accidents involved errors or failures caused by other drivers. There are several common causes of how driver actions result in serious injuries for motorcycle riders, including:
Failure to yield the right-of-way: Drivers turn left in front of motorcycles.
Failure to wait: Drivers improperly judge the speed and distance of an approaching motorcycle.
Failure to maintain control of their vehicle: Drivers engage in dangerous behaviors behind the wheel, such as distracted driving, texting and driving or drunk driving.
Failure to adjust mirrors: Drivers fail to see motorcycles in blind spots surrounding their vehicles.
These are not the only examples of negligence that may have contributed to your accident. If you experienced a motorcycle accident due to a negligent driver, you do not need to bear this burden alone. Blass Law will fight for the compensation you are entitled to receive.
For a legal consultation with a motorcycle accident lawyer serving League City, call 713-225-1900
Types of Motorcycle Accident Injuries
No matter how much protective gear you wear, a motorcycle accident places you at risk for serious injuries. It is common knowledge that a motorcycle lacks the same protection as other vehicles.
The impact of a crash changes your life forever if you experience any of the following injuries:
Traumatic brain injury (TBI), including concussions
Spinal cord injury
Broken bones
Road rash involving scrapes and abrasions
Internal injuries
And possibly other injuries
The medical costs of spinal cord injury and other injuries can range into the thousands, if not millions, of dollars each year. Hospitalization, surgeries, and medical equipment are all expenses known to escalate as medical costs continue to rise. Replacing equipment and the need for ongoing personal care could climb far beyond your finances.
Your motorcycle accident was not your fault. No one should experience physical, financial, and emotional stress due to a negligent driver. If you suffered serious injuries in a motorcycle accident caused by another driver in or around League City, our motorcycle accident lawyer can help. Contact Blass Law today at 713-225-1900.
League City Motorcycle Accident Attorney 713-225-1900
Wrongful Death
Some motorcyclists never recover from their injuries, or they die upon impact. Losing your loved one in such a manner is extremely difficult. The realization that their death might have been preventable had the other driver shared the road is frustrating.
Depending upon your relationship with the decedent, you may be entitled to a wrongful death claim. Texas law regarding wrongful death is very complex and specific when it comes to who may file on behalf of your loved one's estate.
While no amount of money can replace your loved one, it can help ease your financial burden during this difficult time. Wrongful death claims may include compensation for funeral and burial costs and final medical expenses.
Click to contact our League City Personal Injury Lawyer today
Let Blass Law Protect Your Rights and Interests
It is not uncommon for insurance companies to contact you soon after the accident. There are several reasons why you should not speak with them but instead contact a motorcycle accident lawyer.
One reason to avoid talking to the insurance company representatives is they may try to assign blame to you for the accident. For another reason, the insurance company may offer a low dollar settlement in an effort to close the case quickly. While their initial offer may seem like a lot of money to you and your family, chances are it isn't enough to cover your future medical needs.
Accepting a settlement offer will likely prevent you from pursuing a civil claim later should your medical condition worsen. Leave dealing with insurance representatives to our legal team so you can focus on your health and your family.
Complete a Motorcycle Accidents Case Evaluation form now
Blass Law Is Your League City Motorcycle Accident Lawyer
While each case is different, you may be entitled to compensation for your medical bills, lost wages, pain and suffering, and property damage for the loss of your motorcycle. At Blass Law, our Texas motorcycle accident lawyer will work hard to secure a fair settlement out-of-court, and if necessary, he is ready to go to trial. We keep you informed throughout the process of your case, so you are never left wondering about the status of your claim.
You have every right to enjoy your motorcycle as a fun and economical form of travel. When another driver fails to share the road, resulting in life-changing injuries for you, we can help.
After carefully reviewing your case, Blass Law can provide you with your options for moving forward. If the responsible driver is charged criminally, their criminal case has no bearing on your civil action.
Time for filing your personal injury or wrongful death claim is limited, though. The Texas statute of limitations is two years, and while 24 months may seem like a long time, it can pass quickly when you are injured or grieving.
Do not miss the opportunity to pursue your compensation. If you sustained injuries in a motorcycle accident due to a negligent driver, you have a right to recover those losses. Call Blass Law now to connect with our legal team: 713-225-1900.
Call or text 713-225-1900 or complete a Case Evaluation form