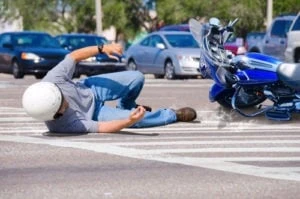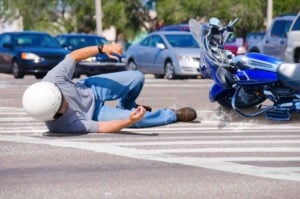 According to the National Highway Traffic Safety Administration (NHTSA), the anatomy of a motorcycle crash most often involves passenger vehicles failing to detect riders while on the road, and subsequently striking them. Motorcycles are smaller than passenger vehicles and are more prone to being caught in blind spots. The NHTSA also reported that critical reasons for crashes investigated in the National Motor Vehicle Crash Causation Survey include 94% of all collisions being the result of driver error. What this means is that when assigning liability, negligence will usually rest on the driver who breached their duty of care.
After an impact, a motorcyclist is usually ejected from their bike, resulting in severe injuries, and in some cases, death. The Texas Department of Transportation (TDOT) mandates that drivers regard motorcycles on the road the same way they would regard a passenger vehicle. The organization notes that intersections and merging lanes are the two most common areas for a motorcycle accident to occur.
Drivers Have a Duty to Look Out for Motorcyclists
Drivers of passenger vehicles have an obligation to take reasonable precautions to not harm others while on the road. There are certain behaviors that almost certainly qualify as negligence if they lead to an accident with a motorcyclist.
Some of these dangerous behaviors include:
Driving while under the influence of drugs or alcohol
Cutting in front of a motorcyclist, whether it is while turning or changing lanes
Driving too closely behind a motorcycle, which can lead to a rear-end accident
Engaging in any other activity other than driving, including texting, eating, drinking, or restraining an animal
To pursue civil action, your legal team identify what act of negligence contributed to your accident.
For a legal consultation, call 713-225-1900
Compensation May Cover Your Various Expenses
If you or a loved one has sustained injuries due to a motorcycle accident, the party responsible for your damages should pay for your financial losses. There is no reason why you should be paying out of pocket for undeserved expenses and should hire a motorcycle accident lawyer from Houston, TX.
Should you make the right decision and hire Blass Law, we will seek to recover money to cover:
Property damage caused by the accident
Emergency care, including surgeries, medical intervention, or any other procedures
Follow-up care, such as physical therapy, additional medical testing, or assistive equipment should you find your mobility limited
Damages inflicted by long-term disability, including lost wages, reduced earning capacity, or loss of career advancement
Pain and suffering, which may cover the emotional, physical, and psychological distress that the accident has caused you and your family
Any expenses following a loved one's passing, such as funeral and burial costs
The specific details of your accident will be important in determining what compensation you may be entitled to.
A Legal Team Can Investigate Your Claim
By hiring Blass Law, your legal team will be able to determine what caused your accident and assign liability. They will do this by investigating the details surrounding your collision.
This may include:
Interviewing witnesses present at the accident
Reviewing the police report, traffic surveillance footage, and your medical records
Working with accident reconstruction experts to determine fault
Checking the timestamps of text messages, phone calls, and social media activity to figure out if there is a claim for distracted driving
While recovering from your injuries, acting as your own detective should be the furthest thing from your mind. Allow a team of dedicated legal experts to examine the cause of your accident and then work toward financial recovery.
Allow Our Team to Take on Your Case
Our team at Blass Law will fight for you as you put all your focus toward healing. When you work with us, our goal is to get you the financial recovery you need to move on with your life.
Some of the services that we can provide include:
Protecting your rights from our initial meeting to the completion of your case
Filing your case before any deadlines pass that could limit your recovery
Serving as your legal representative, should it be in your best interest to file in court
Negotiating the best possible settlement offer from the other party's insurance company or defense lawyers
Providing a vigorous pursuit of any recovery that is available
You may have a limited time to act under Texas's statute of limitations. Who was involved in the collision may also play a role in how much time you have to file a civil action.
Call Our Team at Blass Law Today
No matter what your circumstances are, we want to get you the compensation you need. If you were told that the cause of a motorcycle accident was your fault, Texas is a comparative fault state, meaning that you can still pursue damages even if you were assigned a certain percentage of the blame.
We will do everything in our power to get you the best financial settlement possible after your collision. To discuss your case, call our team at Blass Law today at (713) 225-1900.
Call or text 713-225-1900 or complete a Case Evaluation form