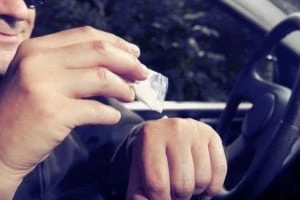 When you face charges related to drug possession or other drug-related activities, you can count on our drug defense lawyer in Jacinto City, Texas, to work hard to defend you in court.
The team at Blass Law understands that facing jail or prison time, financial penalties, and other consequences of a drug-related conviction can change your life forever. You should do everything you can to defend yourself against these charges and the penalties that come with them. We'll fight hard to get you the best possible outcome.
We Deliver the Attention Your Case Needs
Our Jacinto City drug defense attorneys have represented many clients on drug charges in the past. As a result, we understand how to tailor our defense strategy to fit the facts in your case. We cannot fully rely on the same technique we used in a previous case.
To help us develop the defense strategy that makes the most sense for your case, we will take the time to review all the facts in the case. We may speak to witnesses, study the police report, scrutinize forensic evidence, and deploy other techniques to learn as much as we can about the circumstances of your case.
We Will Take the Time to Listen to Your Concerns
Most important, we will spend time with you to learn your side of the story. We need to understand every detail of the case to develop a defense strategy that precisely fits the situation.
We also will listen to any concerns you have about the potential outcomes in the case. By listening to you, we will have a better chance of developing a defense strategy that places us on the same page as you. We need to operate as a team to fight the charges you face.
For a legal consultation with a drug defense lawyer serving Jacinto City, call 713-225-1900
Blass Law Will Be Honest With You
We will not lie to you about what could happen in your case to make you feel better. Rest assured, we will be completely honest with you because that is the only way to represent you properly.
Don't settle for a drug defense attorney in Jacinto City, Texas, who pretends that the charges you face aren't all that serious, or if they present a false sense of what may happen, you will not receive the level of defense that your case deserves. Come to Blass Law where we will always be honest with you.
Jacinto City Drug Defense Attorney 713-225-1900
How Long Is the Jail Sentence I Could Face?
Title 6 of the Texas Health and Safety Code spells out the many drug-related offenses (including possession) you could face and their associated penalties. We have excellent results and will get you the best outcome possible. Anypotential drug-related jail sentence will depend on several factors, including:
The quantity of drugs in your possession

Whether there is an intent to deliver

Any past convictions for drug-related offenses
Marijuana Drug Charges Remain Serious in Texas
Although the Texas State Law Library notes that many states have relaxed their marijuana laws, this drug remains illegal in Texas. Our team is ready to help you if you face a potential jail sentence for marijuana possession.
Felony Drug Convictions Are Most Serious
If a jury convicts you of a felony drug charge, this is a severe charge that can affect your life in numerous ways well into the future.
Felony convictions can result in a multiyear prison sentence and fines up to $10,000. In addition, you may struggle to get hired for specific jobs after serving your jail time. As a result, you should fight hard to defend yourself to avoid a felony conviction, and we will work hard to ensure the best possible outcome.
Click to contact our Jacinto City Criminal Defense Lawyer today
How Blass Law Can Help You in Your Drug Case
It can be intimidating to face a drug-related charge in Texas. Law enforcement officers and prosecutors may act as if they want to help you when they actually are only seeking a conviction. After all, the police and prosecutors have already decided you are guilty.
You have the right to have our team represent you and be present with you any time law enforcement or prosecutors attempt to question you about the charges or the situation.
We Will Protect Your Rights
When we represent you, the police rarely want to question you because they can't use their tricks. We ensure that police do not violate your legal rights. Police cannot do whatever they want to find evidence against you or attempt to convince you to admit to the charges. They know we won't let them walk all over you.
Other ways our team can assist in your case include:
Fully explaining the charges

Studying the evidence to ensure police collected it legally

Determining which parts of your side of the story should be presented

Seeking evidence that proves your version of events

Analyzing case law to find ways to it applies to your defense

Always standing by your side
We aim to help you receive the best possible outcome in the case. If the state can't prove the case, we go for a dismissal. We won't try to get a reduction when the case should be dismissed.
Complete a Drug Defense Case Evaluation form now
We Provide Advice While Preparing for a Trial
If we believe the state can't make the case we will advise you to plead not guilty to the charges and we will have a jury trial. The primary factors that will determine the outcome of your trial are whether or not the jurors like us, the evidence the police provide to the jury, and possibly any evidence we decide to present to the jury. However, there are other factors to consider.
To give yourself a better chance of a favorable outcome in a trial, we would suggest:
Dress like you care, we suggest wearing clothes like a librarian

Don't get arrested while on bond

Don't use any drugs or alcohol while on bond

Avoiding discussing the case or charges on your social media accounts

Not speaking to other people about your charges without asking us (even family and friends)

Not speaking to law enforcement or prosecutors without asking us
Keep in mind that you have a Fifth Amendment right not to testify during the trial. However, if our trial strategy suggests it would benefit you to do so, we will prepare you to take the stand in your defense by running practice sessions in our mock courtroom that mimic an actual trial.
Let the Team at Blass Law Represent You
If you face drug charges in Jacinto City, Texas, consider hiring our drug defense lawyer to fight on your behalf. You should not sit back and hope for the best. Give it to Jay. An aggressive defense strategy gives you the best chance at a desirable outcome.
Contact Blass Law today at (713) 225-1900 to discuss your case and learn what we can do for you.
Call or text 713-225-1900 or complete a Case Evaluation form