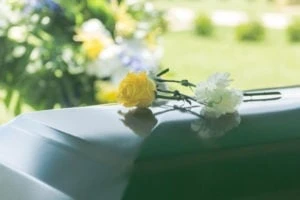 If you lost a family member in a Conroe, TX accident, you could retain a wrongful death lawyer to secure compensation to help you pay for losses that your loved one's passing created.
Losses You Could Recover After Losing a Loved One
You could recover any of the following damages:
Your loved one's medical bills prior to their passing

Your loved one's expected future wages

Loss of care and comfort

Mental anguish and pain and suffering

Loss of household services
Blass Law Can Help You Fight for You and Your Family
You are likely focused on carrying on your normal life while grieving your lost loved one. Adding proving your claim and arguing with the liable party to your plate could make things unbelievably difficult. Don't go through this alone. Lean on your family and community at this time. A Conroe, TX wrongful death lawyer from our team can get to work for you.
We Want to Secure a Fair Result for You
The insurance company is not on your side. Their business model is built on profit, secured by underpaying their claimants. You deserve a fair settlement for covered losses. Let a lawyer from our team take on all negotiating and communicating with the adjusters and the other party's legal team.
We Could Bring Our Resources and Knowledge to Your Situation
Our team wants to support you in any way we can. This will involve bringing the information about state law and how these cases progress that we have gained from our past clients' cases. You do not have to pore over legal documents all by yourself; pass them on to a wrongful death lawyer in Conroe, TX who knows tort jargon.
We are also used to recruiting medical expert witnesses and accident reconstructionists to support our clients' case evidence. You might want help securing this kind of testimony.
We Can Perform Duties to Move Your Case Along
The daily tasks a wrongful death case can add to your life might not be things you have the time for right now. A lawyer from our team can do these for you and give you hours in your week back. You might not be able to even take time off from work to cope with your loss. Not every person who has lost someone has the ability to devote a large chunk of their energy and attention to the resulting legal case.
This way, your case might not violate the statute of limitations imposed by Texas Civil Practice and Remedies Code §16.003. A Conroe, TX wrongful death lawyer from our team who is familiar with wrongful death will do what they can to keep you within this time frame, so you do not lose your right to pursue damages.
Evidence That Could Help Your Wrongful Death Case
You cannot just claim losses without any evidence to back it up. We have to show the insurance company, another party, and judge/jury supportive information that affirms your eligibility for a compensatory award.
The information we could gather might include:
The weather report on the day of your loved one's accident

The police or accident report

Any previous reports against the other party's past negligence

Video footage of the accident taken from traffic cameras, security cameras, or dashboard cameras

Eyewitness testimony

Your testimony, if you were involved in or witnessed the accident

Photo proof of damage to any vehicles involved in the accident

Photos of your loved one's injuries

Medical bills prior to your loved one's passing

Notes or audio recordings of the other party admitting fault

Your loved one's death certificate
Causes of Wrongful Death in Conroe That We Can Help You Sue for
Wrongful death can occur in a number of ways. These are some of the most common cases we see.
Vehicle Accidents
Another driver could have been distracted, intoxicated, drowsy, or aggressive while behind the wheel and crashed into your loved one was a result. The other driver could have been in a truck, as opposed to your loved one's smaller and lighter passenger vehicle.
A broken traffic light, debris in the road, or a defaced traffic sign could have also contributed to the accident. In this situation, a municipality could be partially liable for your loved one's passing. This could also be the case if a city bus was involved in the accident.
A Slip-and-Fall Injury
Hazards on another person's property could have harmed your loved one, like:
Loose floorboards

Unmaintained stairwells and elevators

Sinkholes that are not paired with signs or a barrier of some kind

Live wires

Lack of a fence around "attractive nuisances" that could catch the attention of a child, like a swimming pool

Improper security, such as broken light fixtures or locks

A dangerous dog that was not properly leashed or restrained
A Blass Law PLLC personal injury lawyer serving Conroe, TX could help you determine whether the hazard that caused or contributed to your loved one's death qualifies you to file a wrongful death lawsuit.
Work Injuries Caused by Gross Negligence
In Texas, you can sue your loved one's employer if you can prove "gross negligence" was the cause of their fatal injuries under Texas Labor Code §408.001. Your family member could have been harmed by exposed live wires that caused a resulting fatal shock. Such an occurrence could entitle you to seek damages.
Contact the Attorneys at Blass Law for Help Handling Your Wrongful Death Case
Our firm is ready to lend a hand to your family in your time of need. You do not have to keep your pain to yourself or cope with the costs your family member's passing has caused. We can work hard for the best outcome for you.
Call today at (713) 225-1900 to talk to a team member from Blass Law.
Call or text 713-225-1900 or complete a Case Evaluation form