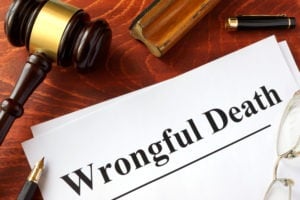 Texas Civil Practice and Remedies Code §71.002 notes that any death that results from a wrongful act, carelessness, neglect, unskillfulness, or default constitutes a wrongful death. The death itself does not have to be intentional.
Texas Civil Practice and Remedies Code §71.004 notes that the decedent's spouse, children, or parents have the right to initiate legal action and recover compensation. However, if these parties do not initiate action within three months of the decedent's passing, then the decedent's estate executor or administrator may bring forth action.
After losing a loved one in a wrongful death situation, many bereaved families seek legal support to handle the obligations involved with recovering compensation.
Common Causes of Wrongful Death
Under Texas Civil Practice and Remedies Code §16.003, a wrongful death lawsuit must generally be filed within two years from the decedent's death. Some elements may grant plaintiffs additional time to take action.
If you are interested in filing a Texas wrongful death claim or lawsuit, you may have lost a loved one in any one of the following circumstances:
For a legal consultation, call 713-225-1900
Car Accidents
According to the Centers for Disease Control and Prevention (CDC), around 90 people die each day in the U.S. due to auto collisions. One of the leading causes of auto accidents is drunk driving. The CDC reports that the rate of drunk driving in Texas is higher than the national average. Other factors in many collisions include speeding, distracted driving, and vehicular malfunction.
Motorcycle Accidents
The National Highway Traffic Safety Administration (NHTSA) reports that motorcyclists are 28 times more likely to die in a collision when compared to those involved in passenger vehicle accidents. In the event of a crash, motorcyclists have less protection than other motorists. If they are hit at speed, the consequences can be fatal.
Click to contact our Houston lawyer today
Slip and Fall Incidents
The CDC reports that slip and fall accidents disproportionately affect seniors. Brittle bones, impaired vision, and limited mobility make an elderly person at risk of suffering serious injuries upon falling. Falls account for nearly 800,000 hospitalizations each year.
Complete a Case Evaluation form now
Dog Bites
Animal owners have a legal obligation to keep their pets from harming others. The Children's Hospital of Pittsburgh (CHP) notes that more than 50% of dog bite victims are children. Sometimes, the dog bite is not enough to kill a victim, but rather, the infections that follow.
There are many other reasons why your loved one's life may have been cut short. Pedestrian accidents, work-related accidents, and criminal acts cause thousands of fatal injuries each year.
Legal Elements that Constitute a Wrongful Death Case
You may be able to file a wrongful death claim or lawsuit if you lost a loved one under preventable circumstances. You may partner with a Houston, Texas wrongful death lawyer who can investigate the circumstances in accordance with how the Texas law and the American Bar Association define negligence.
To claim damages, the following elements must be established:
Duty of Care
The other party owed a duty of care to the decedent, such as driving a vehicle safely and responsibly.
Breach of Duty of Care
In short, this means that the responsible party failed to take reasonable steps to comply with their duty of care. For instance, if a driver chose to operate a motor vehicle while impaired by drugs, they effectively breached their duty of care.
Causation
You must prove that because the at-fault party breached their duty of care, they caused the accident in which your loved one passed away.
Financial Losses
Finally, you must have financial losses for your case to be successful. The cost of your loved one's burial, health care bills, and lost income could satisfy this requirement.
Possible Recoverable Damages in Wrongful Death Cases
While dealing with the loss of a loved one, it can be overwhelming to consider your legal options. Bills can quickly mount as life continues to unfold, along with its inevitable financial responsibilities. A lawyer can help shoulder the obligations that go into recovering compensation for your expenses.
You and other beneficiaries may be able to recover the cost of the following expenses:
Loss of care, comfort, companionship, and emotional support and guidance
Lost benefits such as retirement, pension, medical, or health insurance coverage
Lost earnings
Loss of inheritance
Funeral and burial expenses
Medical expenses for any treatment provided due to the accident before the decedent's death
Mental and emotional anguish
You may be able to recover the cost of other damages not included here.
Legal Representation When It Matters Most
If a loved one died due to circumstances caused by another party, with the utmost compassion and care for your situation, Blass Law can pursue the compensation you need for your various expenses.
Contact our team today for legal support and advice at (713) 225-1900. A member of our team can also explain what constitutes a wrongful death.
Call or text 713-225-1900 or complete a Case Evaluation form