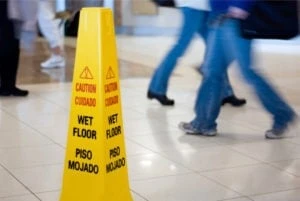 Injuries can upend your life. You don't have to be alone in putting together a compelling case against the person who caused your accident or fall. If you were harmed by the negligence of someone else a Conroe personal injury lawyer on our team will work hard to seek compensation for your resulting bills and losses. If you lost a loved one, we can also help you by pursuing a wrongful death case.
How Do You Know If You Have a Personal Injury Case?
Personal injury cases can range from slip and falls to dog bites to car accidents. What they all have in common is that they were caused by someone else's negligence—and this negligence directly led to your injuries and losses.
In short, if we can show that someone else should have shown you a reasonable level of care in a given situation and they failed to do so, you could have a personal injury case worth pursuing. Someone from our team can evaluate the details of your case before determining whether or not you have a case on your own.
Types of Personal Injury Cases We Can Help You with
Our personal injury lawyer in Conroe, TX can help you with many kinds of injury cases in Conroe, including:
Vehicle accidents (including car, 18-wheeler, drunk driving, Uber, and motorcycle accidents)
Pedestrian accidents
Dog bites
Wrongful death
Premises liability (slip and fall)
Maritime accidents
If you don't see your accident type on this list or you aren't sure how to categorize your accident, we're happy to tell you if we can represent you in the case.
How Much Your Case Could Be Worth
The value of every case is different based on factors, such as:
The severity of your injuries
The cost of your medical care and other losses
Who was liable for the accident and to what degree they are liable
Basically, the more serious your injuries and the more expensive your medical care was (or will be in the future), the more likely we can seek a higher settlement amount to cover your damages.
However, don't dismiss your chances of seeking compensation before receiving a case review. You may be able to get more from a settlement than you now realize.
Recoverable Costs and Losses in a Personal Injury Case
If your damages were related to the accident in any way, they could be included when we determine your case value. We will fight to include all possible losses in your settlement or award.
These losses could include non-financial damages such as:
Pain and suffering resulting from severe physical pain
Loss of companionship that could result in your close relationships
Emotional trauma related to scarring or disfigurement
Your financial damages could include:
Medical expenses including surgeries, emergency room care, visits to a doctor, testing, medications, and more
Property damage costs required to replace or repair your car or personal belongings
Lost wages or a reduced ability to earn a living in the future
In Texas, in some situations, it is possible to seek exemplary (or punitive) damages as part of your case. If you lost a loved one, wrongful death damages could help you pay for funeral and burial costs, medical expenses required before their passing, loss of earning capacity, and more.
Comparative Negligence in Texas
If you share some level of responsibility for your accident and injury, the good news is that you could still seek compensation. As long as your level of fault is found to be not greater than the other party's, you could still pursue a case per Texas Civil Practice and Remedies Code §33.001.
We can advise you on how this law could affect your case and your settlement.
Working with a Conroe Personal Injury Lawyer After Suffering an Injury
There is no law that says you have to work with a personal injury lawyer in a personal injury case. However, here are some of the top reasons why the team at Blass Law could prove a valuable asset during your case:
It can be hard to know if you're looking at a fair offer. You may be glad to receive an early insurance settlement from the other party—however, this offer might be on the lower end. Without experience valuing personal injury claims and an understanding of how to calculate their value, it can be hard to know what your case is actually worth and when to accept an offer.
If you want to fight for more money, negotiations can be challenging. Maybe you suspect that an early offer is too low. Negotiating for a fair settlement can be tricky, as you may need to have certain forms of evidence to prove your case's value. You also may not know when a lawsuit may make sense for your case.
You may be up against unfair insurance tactics. Your claim could be lowballed or denied outright. An insurer could also try to use your words against you to unfairly lower your claim. Defending yourself against these practices is not always easy.
Laws that affect personal injury cases can be complicated. Personal injury laws can affect everything from your settlement value to when you can file a lawsuit. You generally only have two years to file a lawsuit in Texas, per

Texas Civil Practice and Remedies Code §16.003

. We recommend getting started on your case as soon as you can.
Our personal injury lawyer can handle your Conroe, TX case for you, navigating all applicable laws and defending you against unfair insurance tactics. We can ensure your case is appropriately valued and that someone is fighting for every dollar available in your case.
You don't have to leave money on the table, wonder what damages you qualify for, or try to understand the law. We will be on your side through every step.
The Attorneys at Blass Law Can Get to Work for You Today
Jay Cohen, the founder of Blass Law, is a criminal defense lawyer in Houston, TX who is proud to speak for injured victims like you. We can go to work on your case with strategic, aggressive representation.
Call us today to learn how much your case could be worth and how we will fight for you. Our number is (713) 225-1900.
Call or text 713-225-1900 or complete a Case Evaluation form