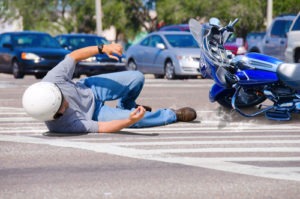 After suffering injuries in a Missouri City motorcycle accident, you may need money to help cover your medical bills, property repairs, and lost earnings. You may also be entitled to compensation for your pain and suffering and mental anguish.
A Missouri City motorcycle accident lawyer from Blass Law can fight for compensation on your behalf while also protecting your rights. Call our team today at (713) 225-1900 to learn more about how we can help you.
Possible Contributors to Your Motorcycle Accident
In Texas, a motorcyclist has the same rights and privileges on the road as any other road user. In the event of a crash, the injured motorcyclist has the right to pursue financial recovery for their injury-related expenses. However, they must prove how their accident happened and who is responsible. You should choose to work with a lawyer throughout this process.
Your Lawyer Can Prove How Your Accident Happened
The Texas Department of Transportation (TxDOT) reports that in 2019, 412 motorcyclists were killed in traffic accidents. That same year, more than 1,800 motorcyclists suffered serious injuries.
There are many reasons why your accident may have occurred.
Common causes of unsafe driving include:
Impaired driving
Distracted driving
Speeding
Disregarding traffic signals
Tailgating
Engaging in road rage
Motorcycles are smaller than other vehicles. Because of their size, they are more impacted by inclement weather conditions, unsafe roadway hazards, and other environmental factors. Motorcyclists may have to weave in and out of lanes to avoid potholes, icy patches, and debris.
Other drivers may have a difficult time seeing motorcycles due to their size. They may fail to check for motorcycles before changing lanes or misjudge the distance between themselves and a motorcycle. Failing to check for motorcyclists before executing a driving maneuver could put them at serious risk of harm.
For a legal consultation with a motorcycle accident lawyer serving Missouri City, call 713-225-1900
What to Do After a Motorcycle Accident
There are many potential causes of your motorcycle accident. However, no matter how the crash happened, there are some things that should be done after every motorcycle accident to ensure the best recovery possible.
You should consider:
Seeking Medical Aid
According to the National Highway Traffic Safety Administration (NHTSA), in the event of a crash, a motorcyclist is 28 times more likely to lose their life than a passenger vehicle occupant. Following an accident, you should seek medical attention for your injuries. Some hidden injuries, like internal bleeding, concussions, and spinal cord trauma, may not show symptoms right away. Seeking medical attention promotes not only your physical wellbeing but also ties your injuries to the accident.
Reporting the Accident
If you did not request the police create a crash report at the accident scene, you will need to notify the TxDOT of your collision. You will want to file this report within 10 days from the date of the accident. The information in this document could be used to assign fault and liability, name witnesses, and establish causation.
Collecting Evidence
Sometimes, the official crash report will omit or miss things that could have helped your case. It can be beneficial to collect evidence that could help your claim. If you are unable to gather evidence due to your injuries, then your lawyer can take on this obligation for you.
Evidence that could help your case include:
Photos of the crash site, your property's damage, and your injuries
Photos of the other vehicle, including the license plate
Information about the weather and present roadway conditions
Witness statements and contact information
The other driver's information, including their name, contact information, and insurance details
Traffic camera footage
The police report, if one was filed
Your lawyer can explain what other pieces of information could help your case.
Contacting a Lawyer
Insurance adjusters work for their companies. A Missouri City motorcycle accident lawyer works for you. When you hire a lawyer, you are gaining an advocate who will fight for your rights and keep your best interests in mind. They can handle all communications with the insurance companies while you focus on your injuries.
To learn more about the services our team provides, call Blass Law today at (713) 225-1900.
Missouri City Motorcycle Accident Attorney 713-225-1900
What Not to Do After a Motorcycle Accident
We mentioned earlier that there are some measures you can take to promote your case's success. However, there are also things you should not do following a motorcycle accident.
You should keep the following in mind while your case progresses:
Do Not Accept Money on the Spot
After getting into an accident, the other driver may try to offer you cash to cover your damages. First of all, immediately after being injured, you cannot possibly know what injuries you have or what monetary value covers your damages. Secondly, by accepting money at the crash site, you could jeopardize your right to move forward with an insurance claim or lawsuit. A lawyer can take all settlement offers into consideration before moving forward with your case.
Do Not Make Assumptions Regarding Fault
Even if you believe that you are partially at fault for the accident, you may still have financial recovery options. Texas Civil Practice and Remedies Code §33.001 lays out the principle of "proportionate responsibility." This means that you can still recover damages after an accident as long as the other party is more at fault than you.
Even if you think that you contributed to the crash, you still have rights. A Missouri City motorcycle accident lawyer from Blass Law can explain how Texas's negligence laws may affect your case.
Click to contact our Missouri City Lawyer today
Blass Law Can Fight for You After a Motorcycle Accident
Blass Law focuses on personal injury law. We represent clients who have suffered serious injuries and need help covering their expenses. We will work hard to secure the best possible outcome for your case. We will apply our experience and knowledge to build a case designed for success.
If you need an advocate following a motorcycle accident, call Blass Law now at (713) 225-1900. The sooner you call, the sooner a Missouri City motorcycle accident lawyer can get started working for you.
Call or text 713-225-1900 or complete a Case Evaluation form