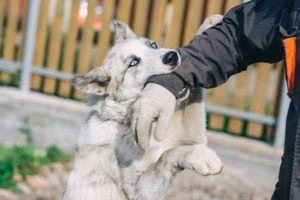 Dogs may be man's best friend, but that doesn't mean they are not potentially dangerous. While certain breeds are more prone to aggression than others, all dogs can do harm. Dog bites can cause severe injuries, including puncture wounds, fractures, disfigurement, and infection. Tragically, some people die from dog attacks in the United States. Many dog bite victims are children.
If you or your child was injured in a dog attack, turn to Blass Law. A Missouri City dog bite lawyer can help you determine your options for pursuing compensation. These monetary awards may help you to pay for costs such as medical bills, lost wages, and the pain and suffering caused by this traumatic experience.
Call (713) 225-1900 to speak with a team member to schedule a meeting.
We Can Figure Out Who Is at Fault for Your Dog Bite Injuries
Determining who is at fault for a dog bite injury is crucial. You must prove the dog owner's actions contributed to the incident to seek compensation from the owner for your injuries. The question of fault may seem like a black and white issue, but this is not always the case.
Texas has a "one free bite" rule, which shields dog owners from some liability until they have some indication their dog may be dangerous. If the dog owner knows (or should know) the dog has aggressive tendencies, they can be held strictly liable. The "one free bite" rule does not always prevent victims from receiving compensation for their injuries, even if the dog does not have a history of aggression.
Other factors that can come into play when determining fault include the incident's location and the victim's actions. If, for instance, the victim was trespassing on private property when they were injured, the homeowner may not be liable for the harm the victim suffered, per Texas Civil Practice and Remedies Code §75.002. If the victim was agitating the dog, they might be held responsible for their own injuries.
A Missouri City dog bite lawyer can help you determine the best course of action depending on your specific situation. If you think you may have a case, contact Blass Law. Attorney Jay Cohen is dedicated to helping victims seek fair compensation so they can rebuild and move forward.
Call (713) 225-1900 to speak with a team member for a one-on-one consultation to discuss your case.
For a legal consultation with a dog bite lawyer serving Missouri City, call 713-225-1900
How an Attorney Can Support You
Filing insurance claims and negotiating for a fair payout can be time-consuming and emotionally draining. Bringing a civil suit is even more complicated, involving an intricate legal process that requires extensive knowledge. In the days and weeks following a traumatic experience, recovery should be your priority.
You should not have to worry about finding a way to pay for your medical bills or make up for lost wages. A lawyer can help in your time of need.
First, your lawyer will discuss the details of your case with you. They'll establish the circumstances surrounding the incident and gather evidence of the sequence of events, the pet owner's actions or lack thereof, and the harm you suffered.
Some key factors they will look into include:
The location where the bite occurred
The owner and dog's residence at the time of the incident
Your location and direction of travel leading up to the incident
Whether any extenuating circumstances prompted the dog to attack
Next, the lawyer will research the applicable laws. Most cities have multiple ordinances requiring dog owners to act responsibly and take reasonable action to prevent their pet from harming people or property. In Missouri City, dogs must be on a leash at all times in public spaces, including parks within city limits, according to City Ordinances Chapter 10, Article III §10-62.
Based on the information they have compiled, your lawyer will build a case. In most cases, the basis of this case will be that the owner behaved negligently or carelessly, thus providing an opportunity for the dog to attack. The claim must also prove the dog harmed you and that the injuries were severe enough to cause substantial losses, such as medical bills and lost wages.
The attorney will then determine if the dog owner's homeowner's insurance policy may cover some or all of your losses. Some losses insurance policies can cover include emergency medical care, medical tests (such as rabies), medically necessary surgery, scar revision surgery, and mental health counseling related to the trauma. Homeowners insurance typically does not cover lost wages, reduced earning capacity, emotional pain and suffering, or long-term care costs.
Your lawyer can help you file an insurance claim and negotiate with the insurance company for a fair payment. You do not have to accept the first offer from the insurance company. You have a right to ask for more if you can provide evidence to justify it.
The insurance payment may not be sufficient to cover all of your losses, including lost income and emotional anguish. If you wish to pursue additional compensation, your lawyer can help you file a personal injury lawsuit. Most of the time, parties reach an agreement, or settlement, before these cases go to court. However, if you and the accused cannot reach an agreement, your lawyer can represent you in the courtroom to present your case before a judge.
Missouri City Dog Bite Attorney 713-225-1900
Get in Touch with Our Team Today
If you or a loved one have suffered severely from a dog bite injury, do not hesitate to reach out for help. A Missouri City dog bite lawyer from Blass Law can help you determine the best way to seek compensation for your losses. They will support you every step of the way, from filing an insurance claim to presenting your case before a judge, if necessary.
Call (713) 225-1900 to speak with someone in a free one-on-one consultation to discuss your situation and see if you have the grounds for a personal injury case.
Call or text 713-225-1900 or complete a Case Evaluation form