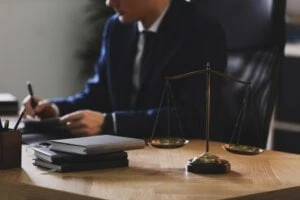 If you've been arrested for DWI, the penalties can be severe, even for a first offense. A Harris County first-offense DWI lawyer can help you fight to preserve your freedom and good name.
Blass Law has been serving the criminal defense needs of Harris County residents since 2009. We're firmly committed to giving our clients a thorough, comprehensive, and effective defense against criminal charges, including a first-time DWI. Our Harris County DWI lawyerwill use his extensive training and experience to give you the best chance at a positive outcome in your case.
How Can a First-Offense DWI Lawyer Help You in Harris County?
A first-offense DWI lawyer in Harris County can help you by being your advocate throughout the criminal justice process. They can dissect the state's evidence and craft a case that builds reasonable doubt in the jury's minds. At Blass Law, we also possess specific scientific and forensic training that helps us advocate more effectively for our clients.
Our firm's founding attorney, Jay Blass Cohen, is certified as an ACS-CHAL Forensic Lawyer-Scientist in forensic chromatography for alcohol and drugs. He's also a certified practitioner and instructor in standardized field sobriety testing, as well as a founding member of the DUI Defense Lawyers Association. This experience and training give Jay the background to challenge the science of the prosecution's case.
Why is this important? Because the backbone of the state's case against you in a DWI trial is often the scientific evidence collected from the breathalyzer or standardized field sobriety testing. In many cases, law enforcement does not administer these tests properly, or the equipment is not correctly used. Any mistake can be grounds for a case dismissal. An attorney who understands the science of DWI cases can help you find those mistakes.
Other Potential Defenses Your DWI Lawyer Can Mount
The forensic and scientific evidence in any DWI case is important, but so is the procedural evidence. The police must have probable cause to pull you over and reasonable suspicion that you're under the influence of drugs or alcohol before beginning sobriety field testing.

Your first-offense DWI lawyer will carefully review the police report and other evidence regarding the circumstances that led to your arrest. If we can prove the police lacked cause to pull you over or they didn't have reasonable suspicion to believe you were under the influence, we may be able to convince the court to throw the case out.
For a legal consultation with a first-offense lawyer serving Harris County, call 713-225-1900
What Are the Consequences of a First-Offense DWI in Harris County?
You can be arrested for DWI in Harris County if the police believe you are operating a motor vehicle with a blood alcohol concentration above .08. According to the Texas Department of Transportation (TXDOT), a first-offense DWI is generally a class B misdemeanor, which is punishable by 72 hours to 180 days in jail, a fine of up to $2,000, and a one-year suspension of your driver's license.
Per Texas Penal Code § 49.04, other circumstances can elevate the severity of the penalties for first-time DWI. For example, if you had an open container of alcoholin the vehicle at the time of your arrest, the minimum jail term after conviction is six days.
If you're charged with having a blood alcohol concentration (BAC) of .15 or more, a first-offense DWI can be charged as a class A misdemeanor, which is punishable by up to one year in jail and/or a $4,000 fine, per Texas Penal Code § 12.21.
A Harris County DWI Lawyer Can Fight for Your License
Losing your freedom and being forced to pay heavy fines are not the only potential consequences of a first-time DWI arrest in Harris County. The Texas Department of Public Safety (DPS) will also likely attempt to suspend your driver's license through a process known as Administrative License Revocation (ALR). They will notify you in writing of their intention to suspend your license regardless of the outcome of your criminal case.

If you don't respond to this notice and request a hearing, the DPS will suspend your license automatically. However, a Harris County first-time DWI attorney can help you navigate the ALR process. In some cases, the outcome of the ALR hearing is just as important as the outcome of your criminal case. That's why we'll fight for your license as hard as we'll fight for your freedom.
Harris County First-Offense Attorney 713-225-1900
Other Consequences of a First-Time DWI Conviction
Losing your freedom and paying fines are only two potential consequences of a first-time DWI conviction in Harris County. In addition to the standard legal penalties, you'll have a criminal record. This will likely make it more difficult to obtain housing, affordable car insurance, or even a loan.
Having a conviction on your record may reflect negatively on your fitness to have custody of your children. It may also be harder to maintain the presumption of innocence if you're arrested a second time. Furthermore, the punishment for subsequent convictions can often be harsher for people with criminal records.
This is why your Harris County first-time DWI lawyer will fight hard for an acquittal or case dismissal. In some cases, a pre-trial diversion programmay also be a viable option to help you avoid jail time.
Click to contact our Harris County DWI Lawyer today
Get a Confidential Case Evaluation with a DWI Lawyer
No one ever goes out for a fun evening thinking this is the night they'll be arrested for a first-time DWI. Unfortunately, it happens, and the arrest can turn your life upside down. However, we believe there is a crucial difference between a charge and a conviction. One mistake shouldn't ruin your life. You deserve a DWI attorney who will give you the best possible chance at walking away from your case with your freedom and reputation intact.
If you've been arrested for a first-offense DWI in Harris County, you must act fast. The Department of Public Safety may suspend your license, and the District Attorney will try to take your freedom. Our Harris County first-offense DWI lawyer at Blass Law can help you fight to stop both of those things from happening. Contact our office todayfor a confidential case evaluation and learn how we can help you.
Call or text 713-225-1900 or complete a Case Evaluation form