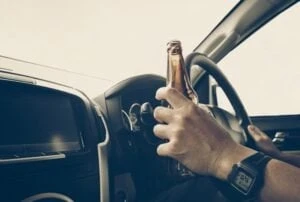 It can be frightening the first time a police officer pulls you over and administers a breathalyzer test. It's even more frightening if the officer arrests you on a DWI charge. But you are innocent unless and until proven guilty, and a criminal defense attorney who understands both the law and science can help – especially if it's your first offense.
A Fort Bend County first offense DWI lawyer from Blass Lawhas the legal and scientific knowledge to build a strong defense to prevent damage to your reputation and potentially secure a reduction or dismissal of the charges against you.
What Is a DWI in Texas?
DWI stands for "driving while intoxicated," and Texas has tough laws against driving under the influence of alcohol or drugs. The legal blood alcohol concentration (BAC) level in Texas is 0.08. Therefore, if the police pull you over and a breathalyzer test registers a 0.08 or higher, you will face a DWI charge.
It takes approximately four alcoholic drinks to register a 0.08. If you intend on drinking, we recommend having a designated driver or using public transportation. You can also pace yourself while drinking so your body has more time to process the alcohol. Pairing your drinks with food and plenty of water can also help absorb the alcohol more effectively.
A DWI – even a first offense – could impact your life for years to come. A first offense DWI lawyer from our firm can protect your legal rights and build a defense strategy to challenge the prosecution's case against you.
A First Offense DWI Lawyer Can Explain Potential Penalties in Fort Bend County
A first offense DWI is either a Class A or Class B misdemeanor, depending on the circumstances of your situation. In general, a Class B misdemeanor is punishable by up to 180 days in jail and a $2,000 fine. But there are certain nuances that could result in lighter or stiffer penalties, such as:
You could spend a minimum of six days in Fort Bend County jail if the police find an open alcohol container in the vehicle you were operating at the time of the stop. However, the classification will remain a Class B misdemeanor.

You can expect an elevation of the charge to a Class A misdemeanor if your blood alcohol level is 0.15 or more, which carries a penalty of up to one year in jail and a $4,000 fine.
For a legal consultation with a first offense lawyer serving Fort Bend County, call 713-225-1900
Not All Penalties Are Legal
It's not only jail time and other legal penalties you could face, but also societal consequences. You could have a permanent mark on your record, lose your professional license, suffer damage to your reputation, and more.
Our founding Attorney Jay Blass Cohenis an aggressive advocate for people facing first offense DWI charges in Fort Bend County. We will work to challenge the case against you, secure a reduction or dismissal of the charge, and mitigate the societal consequences you may experience.
Fort Bend County First Offense Attorney 713-225-1900
A First Offense DWI Lawyer Can Benefit Your Case in Fort Bend County
With over a decade of experience fighting on behalf of clients facing DWI charges, Jay not only understands Texas DWI laws, but he also understands the science of blood and breath alcohol testing. In fact, Jay is certified as an ACS-CHAL Forensic Lawyer-Scientist in forensic chromatography for alcohol and drugs.
Understanding both the law and the science involved in DWI charges provides you with a unique defender in court who can competently present your case to a jury and help the jurors understand both as well. If you hire Blass Law to handle your first offense DWI case, you can also expect us to:
Fully investigate the charges against you and the circumstances of your case

Gather evidence such as video surveillance, police cam footage, and breathalyzer test results

File a motion with the court arguing for low or no bail

Protect you against any legal violations by the police or the prosecution

Build an effective defense strategy and challenge the prosecution's case against you

Negotiate a plea deal with the prosecution

Prepare your case for trial and represent you in court if necessary
Click to contact our Fort Bend County DWI Lawyer today
First Offense DWI Defenses Your Lawyer Can Employ in Fort Bend County
There are many ways we can challenge a DWI charge in Fort Bend County. For example, we may employ one or more of the following as part of your defense:
Question the strength or validity of the evidence against you. We may be able to challenge the chain of evidence, the accuracy of the BAC testing methods used, or argue that the police did not administer the test(s) correctly.
Argue that the police did not have probable cause to pull you over. Police can only pull you over if they have reasonable suspicion that you are committing a crime.
Contend that the police violated your rights during the stop. If the police did not read your Miranda rights or have reasonable suspicion that you were intoxicated, the DWI charge may not be valid.
The prosecution will try to prove your guilt. By using our team's legal and scientific knowledge, we can challenge the prosecution's case to reach a plea bargain or get a dismissal. Our case resultsspeak to Jay's skills and experience with DWI cases.
Complete a First Offense Case Evaluation form now
Consult a First Offense DWI Lawyer in Fort Bend County Today
At Blass Law, we believe that our clients are innocent unless and until proven guilty. You have the right to obtain legal representation from a competent criminal defense attorney. Jay embodies this kind of attorney and more – he can present the scientific evidence in your DWI case more efficiently, because he actually understands it.
Our law firm will go above and beyond as we walk you through the legal process and fight to defend you. A DWI does not have to ruin your life. Our first offense DWI lawyer is ready to help and wants to talk to you about your case.
To schedule an initial consultation and learn how our firm can defend you against a first offense DWI charge in Fort Bend County, contact ustoday.
Call or text 713-225-1900 or complete a Case Evaluation form