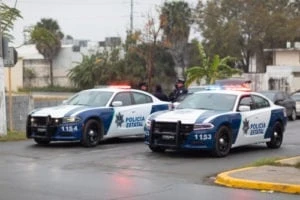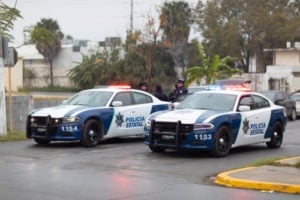 Mario Williams was the Texans' first draft pick in the 2006 NFL draft. If you follow the draft you'll remember that the Texans surprised the draft predictions by picking him over Reggie Bush, who speculators predicted would be their first pick. Mario Williams played for the Texans until 2011 when he then began playing defensive end for the Buffalo Bills, where he still remains an integral part of their team. However, Williams has not forgotten about Houston. The Houston Police Department announced yesterday that Mario Williams donated 5 stealth police cruisers to help them catch aggressive and dangerous drivers.
The slick black Dodge Chargers have low profile decals so that would be offenders do not notice them until it's too late. Stealth blue lights hidden inside the front grill and red lights hidden both inside the cabin and rear view mirrors give them a futuristic look worthy of a Hollywood action movie.
The 5 cars donated will no doubt be used to find drivers who are speeding, driving under the influence, and driving erratically or dangerously in general.
Houston Police Chief Charles McClelland gave Williams an HPD badge on Tuesday March 12, 2013 making him an honorary member of the squad. Mario jokingly said during the ceremony, "I guess one of these requires a ten car minimum".
Williams also donated 5 Chevrolet Camaros that were stocked to the gills with special gadgets to the Houston Police Department in 2011.
Williams donated his Ford F250 pickup truck to two US Marine Purple Heart recipients in 2012. Sergeants Justin and Cherie Hunter were chose from a long list of possible recipients by Williams, who found their story moving.
Houston is thankful for his generous donations that will help the police department keep our community safe. Mario Williams is a class act, and an honorable member of our society. He has the unique distinction of being a role model for our children not just for his athletic abilities and super star status, but also for his civic contributions that improve the safety of our community.
Check out this video to see the entire ceremony. Mario comes in at the three minute mark.
Related Houston Resources:
Call or text 713-225-1900 or complete a Case Evaluation form