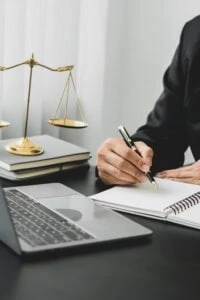 If you have been arrested on assault charges in Fort Bend, County, you are facing a challenging set of circumstances. A conviction could result in the loss of your freedom, your reputation and even cost you opportunities in employment and housing. When the stakes are this high, it makes sense to have legal counsel who will represent you and fight the charges. A Ford Bend County assault defense lawyer can help.
It doesn't matter whether you're facing charges of aggravated assault, sexual assault, or domestic assault, having a lawyer who will fight for a "not guilty" verdict is your constitutional right. Blass Law has been helping defendants in Ft. Bend County, and the Houston area since 2009. Our lead attorney, Jay Blass Cohen, is passionate about criminal defense. More importantly, he has gotten "not guilty" verdicts and case dismissals for defendants in many challenging assault cases.
How Can an Assault Defense Lawyer Help You?
The most important thing a defense lawyer can do for you is fight for your freedom. The prosecutor claims they speak for "the people" of the state of Texas, but not for you. We believe that everyone deserves a passionate advocate to defend them against criminal charges, and that's what we will do for you.
Jay Blass Cohen is an experienced criminal defense attorney who is a member of both the National Association of Criminal Defense Attorneys and the Harris County Criminal Lawyers Association. That means he is well-versed in the art of dismantling the prosecution's cases and building strong cases on behalf of his defendants.
As a certified ACS-CHAL Forensic Lawyer-Scientist, Mr. Cohen knows the science behind evidence collection and can challenge improper procedure. He uses this knowledge of the scientific process of evidence collection to the benefit of each of his clients. Here are some additional examples of what he and his team can do for your defense:
Challenge the State's evidence. The case against you is merely the state's version of the events that led to your arrest. We will challenge their fact pattern by looking for inconsistencies, errors, or false statements in the police reports and witness testimony. If we find any, the prosecutor may have to dismiss the charges and drop the case.
Look for witnesses on your behalf. The prosecutor's job is to present evidence and witnesses who will testify against you. In addition to trying to impeach their testimony, we will try to find witnesses who can testify in your defense and challenge the state's version of events. This is one way we instill reasonable doubt in the minds of the jury.
Handle all case-related paperwork and filings. In many assault cases, the quality of the paperwork and attention to detail makes an impact. We will make sure to answer any motions from the prosecutors, as well as properly file any briefs and paperwork required in your case.
How do We Build Defenses in Assault Cases?
There are several different ways to build a defense against an assault charge. Once we examine the state's evidence, we will formulate a defense that gives you the best chance at an acquittal or a case dismissal. Examples of the defenses we may employ on your behalf include:
Innocence. Even in cases where the state has eyewitnesses, our experience has shown us that eyewitness testimony can be unreliable. If we can provide an alibi (e.g., you were not at the scene when the crime took place) or present multiple witnesses who can testify on your behalf, the state's case may fall apart.
Self-Defense. There is no law on the books which requires you to submit to an attack or remain non-violent if someone is assaulting you. Texas law gives you an affirmative right to defend yourself against physical assaults. If we can demonstrate you were defending yourself, your family, or even a third party when the incident took place, it may result in a not-guilty verdict.
Improper Conduct. Police and prosecutors are public servants, but they are not infallible. All too often, the desire to win overrides ethics or leads to mistakes. We have had many cases where we were able to have major portions of the state's evidence suppressed due to misconduct or procedural errors. We will thoroughly review the case against you for any errors or impropriety. If we find it, we may be able to secure a case dismissal or an acquittal.
For a legal consultation with a assault defense lawyer serving Fort Bend County, call 713-225-1900
What Constitutes Assault in Texas?
The definitions and penalties associated with assault often come down to how much harm was inflicted on the victim.
Assault
Assault causing bodily injury is a Class A Misdemeanor punishable by up to one year in jail and a fine of up to $4,000. Texas law defines assault as intentionally or knowingly causing physical contact with another person when they know or should reasonably know that the other will regard that contact as offensive or provocative. Making threats of physical violence against a person can also be considered assault.
You can be charged with assault even when there is no serious injury done to the victim. Assault charges can also be upgraded to a third-degree felony charge in certain circumstances (e.g., domestic assault, assault against a peace officer or state employee in the discharge of their duties, and assaults involving choking the victim). This is punishable by up to 10 years in prison and a fine of up to $10,000.
Aggravated Assault
An aggravated assault charge applies when the victim suffers what the law refers to as "serious bodily injury," or the state is alleging you "used or exhibited a deadly weapon" during the assault. Aggravated assault can be charged as a second or a first-degree felony depending on the circumstances. Punishments range from two to 20 years in prison and a $10,000 fine for a second-degree felony. The penalty is from five years to life in prison for a first-degree felony assault.
Sexual Assault Charges in Fort Bend
You can be charged with sexual assault if the state believes you had unwanted sexual contact with another person against their will or sexual contact of any kind with a minor who had not reached the age of consent. This offense can also be charged as a second- or third-degree felony.
Fort Bend County Assault Defense Attorney 713-225-1900
Other Consequences of Assault Convictions
Felony convictions become part of your criminal record, which will impact your life even after you have completed your sentence and paid your fine. Examples of the complications you may face with felony convictions include:
Limited access to housing and employment opportunities
Loss of your reputation in the community
Loss of custody of your children or any minors in your care
Loss of any professional licenses or certifications you held prior to the conviction.
These are the kinds of outcomes an assault defense attorney from Blass Law will fight to help you avoid. We will never stop fighting for you.
Click to contact our Fort Bend County Criminal Defense Lawyer today
Talk to a Fort Bend Assault Lawyer Today
If you've been charged with assault in Fort Bend County, you are facing a legal situation that could cost you your freedom and your reputation. When the stakes are that high, the quality of your legal representation matters. You have a constitutional right to fight the charges against you, and Blass Law wants to help you fight for your freedom. Reach out to our office for a confidential consultation to find out how we can help.
Call or text 713-225-1900 or complete a Case Evaluation form