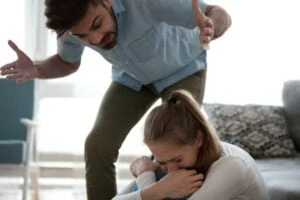 A Fort Bend County family member assault lawyer from Blass Law can protect your rights and aggressively seek the best possible outcome in your situation if you are facing family violence charges. You should not accept a conviction on these charges without fighting for your future.
Our firm's assault lawyer serving Fort Bend County, Texas, will work relentlessly for a better outcome for you on your assault family charges. A better result could be getting a prosecutor to dismiss the charges, negotiating a plea to a lesser offense, or winning a not-guilty verdict at trial. These outcomes could minimize or prevent adverse consequences to your life.
What Family Violence Means Under Texas Criminal Law
Texas Penal Code Chapter 71states that any conduct below could constitute the crime of family violence in our state:
"An act by a member of a family or household against another member of the family or household that is intended to result in physical harm, bodily injury, assault, or sexual assault or that is a threat that reasonably places the member in fear of imminent physical harm, bodily injury, assault, or sexual assault, but does not include defensive measures to protect oneself," OR

Actions that meet the factors of dating violence as explained in Texas Code Chapter Section 71.0021, OR

Abuse toward a child of the household or the family by someone who is a member of the household or the family.
Under the statute, the word "family" encompasses far more people than the public might realize. "Family" for purposes of assault against a family member can include any of the following:
People married to each other or are in-laws

People who used to be married to each other

Individuals who share a child, regardless of whether they were ever married

People currently dating or have dated each other

People who are or have been members of the same household

A foster child to a foster parent

Roommates
The family violence statute does not require the parties to live together at the time of the alleged offense.
An assault law firm in Fort Bend County, Texas, can help protect your future if you face accusations of family violence or have been arrested or charged with this offense.
For a legal consultation with a family member assault lawyer serving Fort Bend County, call 713-225-1900
Factors Required for an Assault Conviction in Fort Bend County, Texas
Now that we understand who "family" is for the purposes of family violence, we must learn about assault in Texas. According to Texas Penal Code Section 22.01, the prosecutor must prove you did all of the elements of at least one of these actions to get a conviction of assault:
Actually causing bodily harm to another person, including one's own spouse, through actions that were intentional, knowing, or reckless.

Threatening another person, including one's own spouse, with imminent bodily harm. The defendant must have made the threats intentionally or knowingly.

Causing offensive or provocative physical contact with another person even though the person committing such contact must have known or should have reasonably believed the individual who got contacted would find that contact provocative or offensive. Alternatively, the contact must have been done intentionally or knowingly.
You can contact our Fort Bend County assault attorney as soon as possible so that we can start investigating your case and working on your defense strategy. We need time to investigate and prepare your case, including crafting a defense strategy.
Fort Bend County Family Member Assault Attorney 713-225-1900
Possible Sentences for Convictions of Assault in Fort Bend, Texas
According to Texas Penal Code Chapter 12, a judge could sentence you to the following penalties, depending on the severity of the offense that was the subject of the conviction. Possible penalties for a conviction of assault on a family member in Texas include:
A conviction of a Class A misdemeanor carries a maximum one-year jail sentence and a fine of up to $4,000.

A conviction of a third-degree felony carries penalties between two and 10 years in prison and a fine of up to $10,000.

A conviction of a second-degree felony carries a maximum of between two and 20 years in prison and a fine of up to $10,000.

A conviction of a first-degree felony can come with five years or longer of incarceration and a $10,000 fine.
If you are convicted of additional charges you received at or around the same time as the family violence charges, you could receive more penalties for those charges on top of the assault on a family member offense.
Click to contact our Fort Bend County Assault Defense Lawyer today
Defense Strategies in Fort Bend County Assault, Texas, Cases
One way a Fort Bend County assault lawyer can raise reasonable doubt in the jury's mind is to show the accuser made their charges against you for an ulterior motive. Some of the defense strategies we could use, depending on your situation's circumstances, include:
Self-defense.

This can occur if the person who accused you actually assaulted you first before you took action to defend yourself. When a person initiates a confrontation and expects to be charged with assault, sometimes they contact law enforcement to file assault charges against the person they assaulted.

Extortion.

Some people will file false charges against another person to try to extort something of value from them. For example, let's say a member of your household with whom you share an apartment wanted you to pay their share of the rent this month, so they made false accusations against you and offered to drop them if you paid all the rent.

"Playing dirty" in divorce or child custody cases.

You might be surprised at how many times people falsely accuse the other side in a divorce or child custody dispute of assault. Divorce judges call this , "he said, she said." The alleged crimes usually take place in private, where it is challenging to prove if the incident happened, so it is one person's word against the other person's.
It can be a powerful defense if we can present evidence to the jury that these or other improper motivations were behind the charges of family violence that you face.
Complete a Family Member Assault Case Evaluation form now
How Jay Blass Can Defend You Against Fort Bend County, Texas, Assault Charges
When Jay Blass Cohenrepresents you in your assault against a family member's charges in Fort Bend County, Texas, you are getting someone with a unique background. He is a scientist as well as an attorney. He is certified in forensic chromatography for alcohol and drugs and is an ACS-CHAL Forensic Lawyer-Scientist.
Drugs and alcohol are often an issue in cases that allege family violence. Jay will fight relentlessly to get you the best result possible in your situation. You can reach out to Blass Law today to get started.
Call or text 713-225-1900 or complete a Case Evaluation form