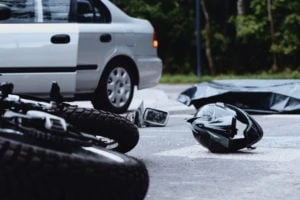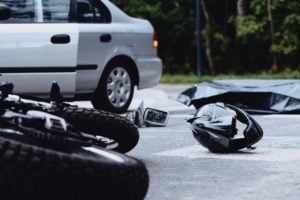 The at-fault party in a motorcycle accident is sometimes difficult to determine. Additionally, you may face difficulty working with the insurance company or gathering evidence of your damages. This is where a Cypress motorcycle accident lawyer from Blass Law can help you. Our law team can handle the details that go into building a successful civil case.
The National Highway Traffic Safety Administration (NHTSA) notes that motorcycle accidents are deadly. When compared to passenger vehicle occupants, motorcyclists are 28-fold more likely to die in collisions. Following a motorcycle accident, if you suffered serious injuries that resulted in medical bills and lost time from work, you may have the basis of a personal injury case.
To learn more about your legal options, dial (713) 225-1900.
Possible Reasons for Your Cypress Motorcycle Accident
According to the Texas Department of Public Safety (TxDPS), motorcyclists must complete a safety training course to obtain a Class M driver's license. This training provides operators with the tools they need to avoid a serious crash. Yet, despite this certification, some motorcyclists cannot prevent an accident from happening.
The NHTSA outlines some of the reasons for motorcycle accidents nationwide. The same source notes that in 2018, almost 5,000 motorcyclists lost their lives in collisions.
Some reasons for your motorcycle accident may include:
Poor visibility. Motorcycles are smaller than passenger vehicles. Some drivers do not notice a motorcyclist until it is too late.
Distracted driving. When a motorist engages in distracted driving, they may not be able to avoid certain hazards.
Driving under the influence. When a motorist drives while impaired, they may speed or employ other risky driving maneuvers.
Driver inexperience. Young drivers may not know how to respond when a motorcyclist is near them. They may brake suddenly to avoid hitting a motorcyclist or change lanes without signaling.
Speeding. The NHTSA notes that many car accidents are a result of speeding. When a driver does not operate their vehicle in accordance with the speed limit, they give themselves less reaction time when a hazard occurs.
At Blass Law, we believe that if another motorist caused your accident, they should be responsible for your resulting damages. When you team up with a Cypress motorcycle accident lawyer, they can review the information associated with your case. They can evaluate your medical bills, traffic camera footage, and the other driver's phone records to learn about why your accident happened.
You can learn more about your legal options by dialing (713) 225-1900.
For a legal consultation with a motorcycle accident lawyer serving Cypress, call 713-225-1900
Filing a Wrongful Death Claim or Lawsuit in Texas
Earlier, we mentioned that motorcycle accidents can result in serious injuries and even death. If you lost a loved one due to a motorcycle accident in Cypress, you may be entitled to file a wrongful death action. According to Texas Civil Practice and Remedies Code § 71.004, the parents, children, or spouse of the deceased can file a wrongful death claim or lawsuit.
At Blass Law, we negotiate for the compensation that grieving family members deserve. Wrongful death cases typically involve economic and non-economic damages. Economic damages relate to specific costs, like medical bills and lost income. Noneconomic damages involve losses that do not have an assigned monetary value, such as pain and suffering.
The types of damages you can recover will rest on the specifics of your case. For instance, wrongful death claimants usually recover different damages than non-fatal accident claimants.
By allowing a personal injury attorney in Cypress represent you, will take your legal burdens off your shoulders and put them onto ours. When you allow us to represent you, we can hold the negligent party accountable for the full scope of your collision-related damages.
Cypress Motorcycle Accident Attorney 713-225-1900
Texas Claimants Have Two Years to File a Motorcycle Accident Lawsuit
The nature of your personal injury case will determine how long you have to take action under Texas's statute of limitations. For instance, if your collision resulted in non-fatal injuries, you have two years from the date of the accident to file your lawsuit, per Texas Civil Practice and Remedies Code § 16.003. Per the same statute, you also have two years to file a lawsuit––except your window of action starts from the date of your loved one's passing.
At Blass Law, we understand that following a Cypress motorcycle accident, time can pass by quickly. We will file your case within the state's statute of limitations. You can call us today to learn more.
Click to contact our Cypress Personal Injury Lawyer today
Considerations Following a Cypress Motorcycle Accident
From the moment that your accident occurs, you will want to start setting the groundwork for your personal injury or wrongful death case. Sometimes, the things that happen early in your case's development affect its outcome.
After suffering injuries or losing a loved one due to a motorcycle accident, you should consider:
Seeking medical attention. You do not want to give the other party an opportunity to doubt the legitimacy of your injuries. By visiting with a doctor immediately, you can work to establish the severity of your condition.
Keeping records of your medical care. You will likely accumulate certain documents during the course of your medical care. The results of your imaging scans, lab test results, and prescribed medications provide evidence showing your injuries are related to the accident.
Staying off of social media. The things you say and post online could harm your case. You do not want to post anything publicly that could implicate yourself as being at fault for the collision.
A Cypress motorcycle accident lawyer can explain what other measures can work to promote the success of your case.
Complete a Motorcycle Accidents Case Evaluation form now
Blass Law: Hire a Cypress Motorcycle Accident Lawyer
At Blass Law, a Cypress motorcycle accident lawyer is ready to get to work for you. We acknowledge that right now, you may be facing a multitude of challenges due to your accident. We want to help you get your life back on track by securing both compensation and justice. Call us now to learn more about your legal options for recovering compensation. We can be reached at (713) 225-1900.
Call or text 713-225-1900 or complete a Case Evaluation form