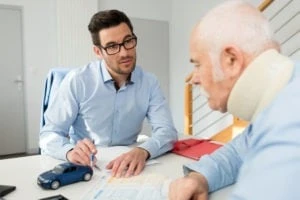 The traumatic event that left you with pain and suffering is not fair and, had the responsible party used care, might never have happened. Holding them liable for the harm they caused is possible with a personal injury claim and lawsuit. If you suffered serious injuries that prevent you from working, you may be entitled to compensation. A personal injury lawyer in Cypress, TX from Blass Law can help you pursue a civil case.
At Blass Law, we understand how experiencing a sudden and severe injury can turn your world upside down. We help accident victims after they were affected by negligence. Let a member of our team explain how we can help you. Call us now to learn more at (713) 225-1900.
The Types of Personal Injury Cases We Help People With in Cypress, TX
When another person fails to act responsibly and does not use the same type of care a reasonable person would in similar circumstances, they are often negligent for any harm that results.
Proving negligence is essential in personal injury cases. Some types of cases that involve negligence which we have handled include:
Car accidents
Dog bites
Motorcycle accidents
Truck accidents
Slip and fall accidents
Rideshare accidents
Drunk driving accidents
Maritime accidents
This is a partial list of the dangers that can turn your day tragic in a second due to another person's careless actions. The type of accident or injury you experienced is unique to your case, so the result of your case will also be.
Securing legal representation can help protect your best interests. Contact Blass Law as soon as possible, to start pursuing compensation by working with a Cypress, TX personal injury lawyer.
For a legal consultation with a personal injury lawyer serving Cypress, call 713-225-1900
How the Civil Process Works
The first step your lawyer will take is to negotiate with insurance companies for a settlement. Your case may settle out of court, as many personal injury cases do.
If your case is incredibly complex and working with the insurance company proves difficult, your case may proceed to trial. Either way, your lawyer will stand by your side throughout the process.
Personal injury law is complicated for those who have not studied it. Our work on behalf of accident victims gives us a sense of pride, especially when we secure fair compensation for our clients.
Call Blass Law at (713) 225-1900 to speak to a team representative about your case.
Cypress Personal Injury Attorney 713-225-1900
Tell Us What You Remember and Give Us What You Have
You may have substantial evidence regarding the accident among your belongings. Checking your smartphone for pictures of the accident scene or the contact information for witnesses can help us help you.
Gathering your medical records is another way you can contribute to your case. You have the most access to your records because of healthcare privacy laws. The evidence in your possession can save your lawyer valuable time.
One of the most important pieces of information is the police report detailing the accident. Some personal injury cases, however, do not involve the police. Examples of these types of accidents include a dog bite or a slip and fall accident. If you were in a car accident, Texas Transportation Code § 550.062 states that a report must be filed under certain conditions. We can help you secure a copy of this document.
Communicating with your personal injury lawyer in Cypress, TX regarding the details of your accident can make things easier for you. Blass Law will fight for justice on your behalf.
Use Caution if an Insurance Adjuster Contacts You
An aggressive insurance adjuster is the last thing you need as you recover from your injuries. Their approach may be to convince you to accept a settlement offer alone, without representation who could help you advocate for sufficient damages.
The amount they offer you may seem like a large sum. The reality is that the initial offer is typically not enough to cover any long term medical costs.
Insurance companies know this and may offer a low amount in an attempt to protect their costs. Their concern lies not with your wellbeing, but how your claim affects their company.
Do not speak with an insurance adjuster without legal representation. Secure the services of Blass Law and let a personal injury lawyer in Cypress, TX handle negotiations with insurance companies.
Click to contact our Cypress Lawyer today
Personal Injury Cases Require Quick Action
Texas Civil Practice and Remedies Code § 16.003 allows two years for personal injury and wrongful death lawsuits. If we go to trial, we must file before the deadline expires.
You may know you want a lawyer, but you just have not made the call. Putting off important tasks is easy to do when you are recovering from an accident. Missing the deadline for filing your case can leave you without the funds you need for your medical care.
The sooner you contact us, the faster we can get to work for you. Pursuing compensation takes time, yet the time allowed for doing so is short. Get started on your path toward justice by contacting us today.
Complete a Personal Injury Case Evaluation form now
A Personal Injury Lawyer in Cypress, TX Will Fight for Accident Victims
Whether a dangerous dog bit you, you fell in the grocery store, or you suffered injuries in a car accident, your life may never be the same. This kind of situation can be a lot to cope with.
Taking care of yourself during this challenging time requires rest. You most likely do not feel like reliving your case as you fight for compensation.
A personal injury lawyer in Cypress, TX from Blass Law PLLC can keep you informed throughout the process. If you have questions, your calls are always welcome. Our team takes personal injury cases very seriously. We believe those that are negligent in their actions and who cause harm to others must face accountability.
We will fight for you against insurance companies and, if necessary, in court. We are going to work hard to secure the best outcome possible for you. Blass Law stands ready to take on large insurance companies and complex civil cases on your behalf.
Contact us now at (713) 225-1900 for more information about how we can help you.
Call or text 713-225-1900 or complete a Case Evaluation form