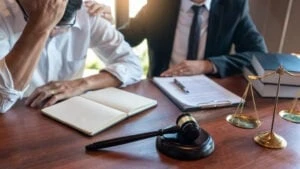 Getting convicted of assault in Texas could ruin your future prospects in more ways than one. Our Humble assault defense lawyer from Blass Law will fight for the best possible outcome for your case. We will investigate your case, review the evidence, build a defense strategy, and attack the charges against you.
The founder of our firm, Jay Cohen Blass, will use his years of courtroom experience to fight your legal battle. Jay is a certified forensic scientist in addition to his many years of experience working as a lawyer. As a Humble criminal defense lawyer, Jay is prepared to take on your case and build a solid argument in your defense.
What does Our Humble Assault Defense Lawyer Do?
When you retain Jay Blass and the team at Blass Law to work on your Humble assault case, we will handle tasks that include:
Listening to the details of your case during a confidential consultation
Explaining your legal options
Informing you on the laws that apply to your case
Speaking to any involved parties on your behalf
Preparing you for trial
Although you are legally allowed to defend yourself, you would be a fool to do so. Reach out to us for a consultation. We can explain more about how hiring our firm can benefit you.
For a legal consultation with a assault defense lawyer serving Humble, call 713-225-1900
How Jay Blass Defends Against Assault Charges in Humble, Texas
Our Humble assault defense attorney will perform a thorough investigation of all cases we take. Here are some of the things we look for in assault cases:
Problems With the Testimony
The prosecution might offer the testimony of three people who claim to be witnesses to the alleged assault. Taken independently, their testimony might look strong. However, when we analyze their statements carefully, multiple witnesses almost always have inherent conflicts or inconsistencies in what they said.
When we show the jury how much is spewing out of their mouths, that's when the fun starts! The jury will see just how weak the prosecutor's case is. We do not have to prove that you did not commit the charge of assault. Our criminal justice system does not require proof of innocence. We merely need to cause the jury to have a reasonable doubt about whether you did it.
Reviewing the Prosecution's Evidence
There are clear rules on how pieces of evidence must get obtained if those items are to get admitted at trial. If the police, the prosecutor, or law enforcement broke any of the rules, we will argue to the judge that the evidence is inadmissible and cannot be used against you.
If getting specific items of evidence ruled inadmissible by the judge means that the prosecutor cannot make a case against you, that's when we can sit back and watch the prosecutor fill out a dismissal.
Humble Assault Defense Attorney 713-225-1900
What Constitutes Assault Under Humble, Texas Law
The assault statute in Humble is Texas Penal Code § 22.01, which defines assault as harming another person or putting them in reasonable fear of imminent harm. The defendant's actions must have been knowing, reckless, or intentional.
Under this statute, you could be charged with a misdemeanor or a felony if you are found guilty of assault. Allow Jay Blass Cohen to defend you against these charges.
Click to contact our Humble Criminal Defense Lawyer today
Grounds for Defense Against Humble Assault Charges
There could be multiple grounds for defense against assault charges in Humble, Texas, depending on the circumstances of the event. Here are a few of the potential grounds for defense in cases involving alleged assault:
Self-Defense. Sometimes, the person who started the confrontation calls the police and lies about what happened to try to prevent getting charged with assault themselves. We can work to prove that you were defending yourself when you were charged with assault.
Mistaken identity. Sometimes, an innocent person gets misidentified because they look similar to the person who actually committed the assault. If the police did an improper lineup or just rushed to pick someone to charge, you could have been mistaken for someone else.
Consent. A person can consent to being assaulted. Some people are into that sort of thing. 🤷‍♂️
Alibi. If you have an alibi, we will leave no stone unturned to find proof of your alibi.
Every case is different, and your options will depend on your unique facts.
Complete a Assault Defense Case Evaluation form now
Sentencing for Assault Convictions in Humble
If you do not fight the assault charges against you, Texas law requires you are sentenced to consequences like these, according to the Attorney General of Texas:
First-degree felony: A conviction at this level could mean five years to life in prison. You may also receive a fine of no more than $10,000.
Second-degree felony: Imprisonment for two to 20 years, a maximum fine of $10,000, or both a fine and prison.
Third-degree felony: Spending up to 10 years in state prison, having to pay a fine of up to $10,000, or both.
Class A misdemeanor: Jail time for as long as one year, a fine up to $4,000, or both a fine and jail.
Class B misdemeanor: Up to 180 days in jail, a maximum fine of $2,000, or both.
Class C misdemeanor: A $500 fine.
Your possible sentence will depend on the charges against you and whether you get convicted.
Additional Fallout from Getting Convicted of Assault in Humble
You might think that after you serve your sentence and pay your fine, you can get your life back and things will go on as before. Unfortunately, the fallout from an assault conviction can damage your life for many years.
Even with a relatively light sentence, you could lose your job, lose your professional license, and have a harder time getting into a good college or training program. You might lose out on great job opportunities to other candidates who do not have criminal records. You would face stigma in your community.
One way to avoid such harsh consequences is to work with our assault attorney who serves Humble, Texas, to fight the charges.
Choose Jay Blass Cohen to Fight Your Humble Assault Charges
Our firm's founder, Jay Blass Cohen, has the experience needed to fight your assault charges in Humble, Texas. He can build a defense on your behalf so that you are not stuck facing the legal process on your own.
You can contact us to get started with our Humble assault defense lawyer. Call us today for your confidential consultation. Blass Law will fight hard for your future.
Call or text 713-225-1900 or complete a Case Evaluation form