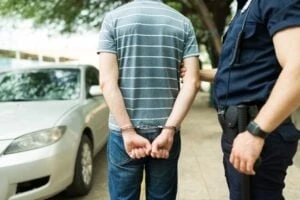 Being arrested for a crime in Humble, Texas is a serious matter because police and prosecutors in Humble take a serious approach to criminal charges. Although this approach can help keep communities safe, it can also result in criminal defendants being treated with a heavy hand after arrest. That's when a Humble criminal defense lawyer can fight for you.
Blass Law has been providing legal services to the Humble community since 2009. Jay Blass Cohenfounded this firm with an unshakable belief that defendants have the right to face their accusers and stand up for their rights. You deserve to be treated as innocent until proven guilty. Your attorney will mount the quality defense you deserve after being arrested.
How Can a Humble Criminal Defense Lawyer from Blass Law Help You?
A Humble defense attorney from Blass Law can represent you in a full range of misdemeanor or felony cases. Examples of the cases we can defend for you include, but are not limited to, the following:
Drug charges

Unlawful carrying of a weapon

Driving while intoxicated (DWI)

Intoxication assault

Intoxication manslaughter

Aggravated assault

Sexual assault

Statutory rape

Manslaughter

Probation violations
No matter what charges you face, our team can gather evidence to present the most effective criminal defense possible. We know how serious the consequences of even misdemeanor convictions can have on your life, which is why we will do everything possible to get an acquittal or a dismissal in your case. We may also explore options for alternatives to conviction, such as reduced charges or diversion programs for first-time offenders (if such options exist).
Potential Defenses Your Lawyer Can Mount
The defense your lawyer may raise will depend on the allegations and evidence in your case. That said, there is no such thing as an open and shut case. Whether you made a mistake or not, your criminal defense lawyer in Humble could raise numerous potential defenses, such as:
Innocence (e.g., you are wrongly accused, and you didn't commit the crime)

Entrapment (e.g., a state agent or police informant induced you into committing a crime you had no prior intention of committing)

Procedural violations (e.g., law enforcement officials made mistakes when arresting you or collecting evidence)

They don't have enough evidence
We will closely review your case's facts and thoroughly investigate to determine the most effective defense. We'll interview witnesses, make discovery motions to verify the prosecution's evidence independently, and review all the prosecution and police paperwork with a fine-toothed comb.
Once our evidence collection process is complete, we will strategize with you about your best possible defense and why we believe it will be effective.
For a legal consultation with a criminal defense lawyer serving Humble, call 713-225-1900
Misdemeanor and Felony Cases Both Have Serious Consequences
At Blass Law, we defend clients against both felony and misdemeanor cases because any criminal conviction can have serious consequences. Texas' criminal justice system punishes offenders harshly, and even a misdemeanor conviction can result in prison time and/or expensive fines.
Per Texas Penal Code § 12,examples of potential punishments for crimes in Humble include the following:
Class B Misdemeanor: Up to 180 days in jail and/or a $2,000 fine

Class A Misdemeanor: Up to one year in jail and/or a $4,000 fine

Third-degree felony: Two to 10 years in jail and/or a $10,000 fine

Second-degree felony: Two to 20 years in jail and/or a $10,000 fine

First-degree felony: Five to 99 years in jail and/or a $10,000 fine
According to the Texas Department of Transportation, DWI charges carry especially harsh penalties, such as:
First-offense DWI: Up to 180 days in jail, a $2,000 fine, and up to a one-year driver's license suspension

Second-offense DWI: One month to one year in jail, a $4,000 fine, and up to a two-year driver's license suspension

Third-offense DWI: Two to 10 years in prison, a $10,000 fine, and up to a two-year driver's license suspension.
A Criminal Conviction Can Upend Your Life
One of the most unfortunate aspects of being convicted of a crime in Humble is that your punishment does not end after you've paid your debt to society. Many defendants do their jail time and pay their fines, only to discover that having a criminal record will haunt them for years to come.
Criminal records are public, which means routine background checks will uncover any previous convictions. That means you may have trouble when applying for educational, employment, and financial opportunities after your conviction.
These punishments and consequences are why our Humble criminal defense attorney will fight to give you the best possible chance to move on from your trial with your good name and freedom intact.
Humble Criminal Defense Attorney 713-225-1900
Scientifically Based DWI Defense from a Lawyer in Humble
Texas' DWI penalties are harsh, and courts prosecute DWI cases aggressively. Unfortunately, this leads to many people being arrested for DWI who may not deserve it.
If you've been arrested for DWI, Blass Law can offer you a science-based defense to fight the state's case. Jay Blass Cohen is certified as an ACS-CHAL Forensic Lawyer-Scientist. He has built a significant portion of the firm's practice on DWI defense and has attained the following training and certifications to become a more effective defense lawyer:
Certified Practitioner in Standardized Field Sobriety Testing

Certified Instructor in Standardized Field Sobriety Testing

Certified as a Drug Recognition Expert (DRE)

Trained in Driving Under the Influence Of Drugs

Member of the National College for DUI Defense

Founding Member of the DUI Defense Lawyers Association
Attorney Jay Blass Cohen's scientific training has helped him secure acquittals and case dismissalsfor many defendants. If you're facing DWI charges, we may be able to do the same thing for you. At a minimum, we will ensure the state's evidence was properly collected and the police had probable cause to pull you over and arrest you.
Click to contact our Humble Lawyer today
Get Help from a Humble Criminal Defense Attorney
It's always a nightmare to be arrested and feel like you're at the mercy of the criminal justice system. But it doesn't have to be a bad dream you can't wake up from. Blass Law is here to help you fight any criminal charges you're facing in Humble, Texas.
If you have been charged with a crime in Humble, contact us for a confidential case evaluation. We will listen to you and tell you how we can help. You don't have to face this challenge by yourself. We will be right there by your side.
Call or text 713-225-1900 or complete a Case Evaluation form