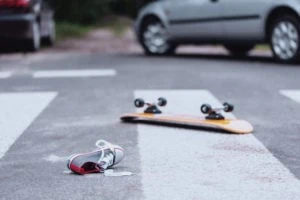 If a reckless driver struck you as you walked, crossed a city street, or any other time, you may be entitled to compensation. The injuries you suffered may have left you unable to work, with massive medical costs. At Blass Law, we help pedestrian accident victims with their fight for justice. A Deer Park pedestrian accident lawyer from our team is ready to go to work for you.
A vehicle of any kind and at any speed can cause a pedestrian life-changing and deadly harm. If this happened to you or someone you love, Blass Law is here to provide legal representation for your civil claim and lawsuit. To learn more about how we can help you, call us today at 713-225-1900.
Pedestrian Right-of-Way and Liability for Your Injuries
Texas Transportation Code § 552 protects the right-of-way of pedestrians in marked and unmarked crosswalks. A vehicle must yield to a pedestrian under the following circumstances:
A pedestrian control signal is present
The crosswalk is unmarked and the pedestrian is halfway across street
According to a report by the Governors Highway Safety Association (GHSA), Texas pedestrian fatalities in 2019 totaled 313—a 5 percent increase from 2018. Other alarming statistics included in the report demonstrate the reality of pedestrian accidents and the danger of SUVs in pedestrian fatalities:
2019 witnessed the largest number of pedestrian fatalities in the United States since 1988.
Pedestrians are twice as likely to die when struck by a SUV than those struck by a car.
If a driver failed to yield the right-of-way, causing you serious injuries or a loved one their life, a Deer Park pedestrian accident lawyer can assist you with civil action. Call Blass Law now to learn more: 713-225-1900.
Pedestrian Fatalities and Wrongful Death
A wrongful death claim and lawsuit are possible if you lost a close loved one due to a pedestrian accident. The driver who caused your loved one's death may be liable for your damages if your relationship to the victim is one of the following:
Surviving spouse
Children
Parents
In some cases, adoptive children and adoptive parents may qualify for civil action. Under Texas law (Texas Civil Practice and Remedies Code § 71) siblings are not allowed to pursue a wrongful death lawsuit.
The types of compensation possible in a case of this sort include:
Final medical expenses for your loved one
Funeral, burial, or memorial costs
Loss of income, care, and companionship
Loss of inheritance if the loved one had lived a full life
Mental anguish
Wrongful death cases are complex. You might not want to handle one on your own. At Blass Law, we provide legal representation, we acknowledge that no amount of money can replace the void left by your loss. Pursuing financial compensation can serve as a form of justice on behalf of your loved one and help ease your financial stress.
For a legal consultation with a pedestrian accident lawyer serving Deer Park, call 713-225-1900
Time is Short for Pursuing Compensation
At Blass Law, we understand that you most likely feel overwhelmed by your situation. It is imperative, however, that you not miss your chance to pursue your civil case.
In Texas, the statute of limitations regarding the time allowed to file a civil lawsuit is two years under Texas Civil Practice and Remedies Code § 16.003.
This two-year time period begins the moment you suffer injuries or your loved one dies. The whirlwind of details surrounding your adjustment to your new reality can consume you and cause you to miss the deadline for filing your case.
Missing the timeline for filing your case is not an option. By doing so, you may miss your chance for compensation forever.
The team at Blass Law can remove the burden of your case by handling aggressive insurance companies and ensuring that your case meets all court deadlines. Let us ease your mind regarding the legalities of your case. We keep our clients up to date regarding their case, allowing them to focus on their recovery or grief.
Deer Park Pedestrian Accident Attorney 713-225-1900
Types of Compensation Possible for Personal Injury Victims
Every personal injury case is different. The outcome of your case depends upon the details of your specific accident and injuries. The most common types of compensation we pursue are:
Medical expenses
Ongoing medical expenses due to extensive or permanent injuries
Missed time from work
Loss of potential future earnings if you are unable to return to the same job as before your injuries
Pain and suffering
Click to contact our Deer Park Lawyer today
Refer Insurance Companies to Us
Any attempt by an insurance company to settle your claim before you secure legal representation is to protect their best interests and not yours.
When you hire Blass Law, we are on your side. We know how insurance companies try to pay accident victims as little as possible. That is why we will negotiate for a fair settlement for you. If we are unable to secure the settlement you deserve out of court, we are ready to go to trial.
Accepting a settlement offer from an insurance company without legal representation is not a very good idea. In fact, such a decision on your part may prevent you from pursuing compensation later—should your medical condition worsen. Protect your best interests by reaching out to Blass Law today.
Complete a Pedestrian Accidents Case Evaluation form now
A Deer Park Pedestrian Accident Lawyer is Ready to Help with Your Pedestrian Accident Case
At Blass Law, we are ready to take on cases involving negligent drivers. No matter what dangerous behavior resulted in another driver harming you or to killing your loved one, we can hold them accountable for their reckless actions.
No one should pay out of pocket for expenses that result due to a distracted, drunk, speeding, or otherwise negligent driver. A Deer Park pedestrian accident lawyer is going to work hard to secure the best outcome for you.
To learn more about how Blass Law can help with your fight for justice and compensation for your damages, call us now: 713-225-1900.
Call or text 713-225-1900 or complete a Case Evaluation form