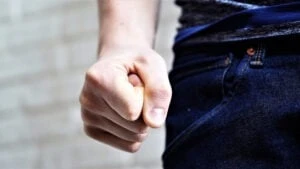 A La Porte family member assault lawyer can help you go after the best possible outcome in your situation if you find yourself facing family violence charges. A Blass Law assault lawyer who serves La Porte, Texas, can talk with you about your case and work on possible defenses that could apply to your circumstances.
Rather than accepting a conviction on the charges against you, we try to get the prosecutor to dismiss the charges, negotiate the charges to a reduced offense, or take the case to trial and go for a not-guilty verdict. These alternative results could help you immensely in your future as well as possibly bring a sentence down from years to months or no conviction at all.
What Family Violence Means Under Texas Law
Texas Penal Code Chapter 71 defines the offense of family violence as any one of these three actions:
"An act by a member of a family or household against another member of the family or household that is intended to result in physical harm, bodily injury, assault, or sexual assault or that is a threat that reasonably places the member in fear of imminent physical harm, bodily injury, assault, or sexual assault, but does not include defensive measures to protect oneself."
Dating violence, which Texas Code Chapter Section 71.0021 defines.
Abuse by a member of the family or a household toward a child of the family or household.
Within the context of family violence, a family member can be:
Former spouses
People who share a child
People related by blood or marriage
A foster parent to a foster child
People in a current or previous dating relationship
Individuals who live in the same household
There is no requirement under Texas law that the parties were living together at the time of the alleged incident.
For a legal consultation with a family member assault lawyer serving La Porte, call 713-225-1900
The Elements of Assault in La Porte, Texas
According to Texas Penal Code Section 22.01, a person can be convicted of assault if found guilty of committing any of these acts:
They cause physical harm to another person intentionally or through knowing or reckless actions. The injured person can be the defendant's spouse.
They threaten to cause imminent bodily harm to their spouse or any other person. They must make the threats knowingly and intentionally.
They cause provocative or offensive physical contact with another person intentionally and knowingly. If the person who committed the physical contact should reasonably have believed or must have known the person would find the contact offensive or provocative, the physical contact need not be intentional or knowing.
A La Porte assault attorney can talk to you about facts that could provide defenses to the assault charge. Since there are multiple elements of assault under Texas law, we might be able to find and build a successful defense to use in your case.
La Porte Family Member Assault Attorney 713-225-1900
Penalties for a Conviction of Assault on a Family Member in La Porte, Texas
If convicted of assault on a family member in La Porte, Texas, a person could face penalties set forth in Texas Penal Code Chapter 12, which include:
First-degree felonies carry penalties of five years or longer incarceration and fines of $10,000.
Second-degree felonies carry penalties of two to 20 years in prison and fines of no more than $10,000.
Third-degree felonies carry penalties of two to 10 years in prison and fines of no more than $10,000.
Class A misdemeanors carry penalties of up to one year in jail and fines of up to $4,000.
If you received charges for other offenses at or after the arrest, you could get additional penalties if convicted of those additional charges.
Click to contact our La Porte Assault Defense Lawyer today
Why People File Assault Charges Against Family Members
Sometimes, an individual finds themselves facing assault charges from family members who have an ulterior motive. Remember, a family member for purposes of domestic violence could be someone you are dating or used to date, your spouse or ex-spouse or someone with whom you have a child in common.
If the relationship went sour, the other party might file false charges against you and exaggerate the situation just to get an advantage in the divorce or child custody battle or to get revenge. Lawyers call these situations "nasty divorce games."
Sometimes, the accuser started the confrontation. In that situation, we could argue self-defense. As they say in sports, the best defense is a good offense. If the other party fears you will file assault charges, they may want to beat you to the punch.
Some people make false accusations to extort money or other things they want out of a relative or member of their household. They might hint that they will drop the charges if you make it worth their while. Proof of extortion can be a powerful defense.
Blass Law can look for these and other possible defenses for your case. A La Porte conviction of assault on a family member could prevent you from living the kind of life in Texas that you have envisioned for so long. You could lose your job and professional license. You might not be able to work in education, law enforcement, the legal field, or healthcare.
You do not want to discount the misery of living under the social stigma of a conviction for assault on a family member. With all these possible consequences, our firm encourages you to avoid getting a domestic violence conviction.
Complete a Family Member Assault Case Evaluation form now
Jay Blass Is More Than Just a Criminal Defense Attorney – Get Legal Help Today
A quick online search will show many criminal defense lawyers you can choose from to handle your La Porte assault on a family member case. But why should you choose Jay Blass Cohen? Jay Blass Cohen is not only a lawyer; he is also a scientist. He is certified as an ACS-CHAL Forensic Lawyer-Scientist and in forensic chromatography for alcohol and drugs.
In situations in which domestic violence accusations arise, these substances are usually present. It can be an advantage to have a scientist on your side as your legal counsel. Jay will be relentless in working on getting you the best possible result in your circumstances. You can reach out to Jay at Blass Law today to explore your legal options.
Call or text 713-225-1900 or complete a Case Evaluation form