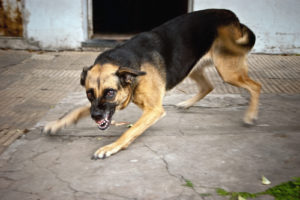 Depending on the circumstances, dog behavior may be unpredictable. Whether it is a dog that you are familiar with or one you encounter on the street, a sudden bite can leave you with serious injuries. Infection and diseases can cause the bite to develop into a harmful health condition.
If you experienced a dog bite due to a negligent pet owner, you may be entitled to compensation for your damages, including medical costs, lost wages, and pain and suffering. To learn more about your options for pursuing possible compensation, contact Blass Law now at 713-225-1900.
Common Reasons Why a Dog May Bite You
According to the American Veterinary Medical Association (AVMA), 38.4 percent of homes have at least one dog as a pet. In one research study of emergency room visits for child-victims of dog bites, it was shown that more than half of the dog bites were unprovoked.
A dog can bite you for a variety of reasons. It only takes a second for a dog, large or small, to turn from friendly to aggressive. Here are some common reasons why dogs bite people they know and strangers:
They feel scared or become startled.
They feel threatened.
They are protecting someone or something valuable to them.
They do not feel well or are in pain.
Most dogs love to play. A dog's gentle nipping can lead to a serious bite when the play gets out of control. Dogs bite primarily as a reaction to something or someone. Regardless of the cause, though, the pet owner is still responsible for the behavior of their dog.
When a neighbor or friend invites you to their home, and you experience a serious dog bite, the owner may be liable for your injuries. Premises liability law protects those who accept an invitation to visit a property. By accepting the invitation, you expect the pet owner to use reasonable care to keep you safe from harm.
For a legal consultation with a dog bite lawyer serving League City, call 713-225-1900
Health Dangers Associated with Dog Bites
Not only does a dog bite hurt, but it can also lead to dangerous diseases. The Centers for Disease Control (CDC) reports that up to 18 percent of dog bites become infected with bacteria. One of the most dangerous possible outcomes of a dog bite is rabies.
Rabies Associated With Dog Bites
An especially dangerous condition, rabies affects the brain and is almost always fatal once symptoms start. A dog infected with rabies can spread the disease through their saliva as they bite you.
The rabies virus is why it is imperative to seek immediate medical care for your dog bite wound. Ask your healthcare provider if it is necessary for you to receive the rabies vaccine. If possible, ask the pet owner for proof of the dog's recent rabies vaccination.
Muscle and Tendon Damage From Dog Bites
Other types of injuries from a dog bite are muscle and tendon damage due to their strong jaws and sharp teeth. Children are at risk for serious dog bites to the face and neck. Their curious nature can leave them with severe scars that require plastic surgery. The trauma from their experience may result in post-traumatic stress disorder (PTSD) and the need for ongoing therapy or counseling.
Pet owners have a responsibility to maintain control of their dog when it is around other people. No one should suffer physically, financially, and emotionally due to a preventable dog bite.
If you experienced a serious dog bite, we can help. Depending upon the circumstances of your case, you may be entitled to file a civil claim for damages. To learn more, call Blass Law now at 713-225-1900.
League City Dog Bite Attorney 713-225-1900
How a League City Dog Bite Lawyer From Blass Law Can Help
A dog bite is a traumatic and sudden event that is often painful and prone to infection and disease. After seeking immediate medical attention, it is important to discuss your case with our legal team.
Insurance companies may offer you a settlement that seems like a lot of money for you and your family. It is important to remember that they are looking out for the company's best interest and not yours.
Securing legal representation can provide you with the peace-of-mind you need during this difficult time. Dog bites are no small matter. Serious bites can require future surgeries and can lead to death in some cases involving rabies.
Do not speak with insurance representatives until you have contacted our team. Accepting and signing a settlement offer will likely prevent you from pursuing a civil claim in the future should your medical condition worsen.
While no one can predict a dog's behavior, responsible pet owners must control their dog when it is around others. The split-second a dog becomes agitated, feels threatened, or becomes startled, your life can change forever.
If you or your child experienced a dog bite that resulted in serious injuries, we can help. Our legal team can negotiate with insurance companies so that you can focus on the recovery process. If we are unable to secure compensation through negotiations, we are ready to go to trial.
At Blass Law, we understand what a traumatic experience this was for you. Upon review of your case, we can determine a course of action and proceed accordingly. We won't settle until we achieve the compensation you are entitled to receive for your case.
Time is of the essence due to the statute of limitations for filing personal injury claims. Texas law allows two years from the date of injury. While 24 months may seem like a long time, it can pass quickly when you are dealing with the stress of your injury.
If you experienced a serious dog bite, learn more about how a League City dog bite lawyer from Blass Law can help by calling 713-225-1900 now.
Call or text 713-225-1900 or complete a Case Evaluation form