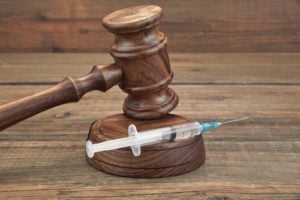 The Texas legislature amended Health & Safety Code §481.103 with the intention of outlawing  more synthetic drugs. In an attempt to sell a legal product, individuals have been producing synthetic drugs that have slightly different chemical structures than naturally occurring substances that are already outlawed.
These new drugs have a similar effect on the body and could be sold legally. Naturally, law enforcement and the legislature have gotten together to make their jobs more relevant, increase revenue, clog the court systems and prisons, and label more citizens as criminals. Lawmakers were more focused on patting each other on the back and giving high fives than drafting the actual bill.
For a legal consultation, call 713-225-1900
According to the bill, if a drug is approved by the FDA and listed in this penalty group, the penalty group does not apply, and notwithstanding any other law, a person may not be convicted for the manufacture or delivery of the substance under §481.113 or for possession of the substance under §481.116.
This resulted in a final change to the law that is counterintuitive and reduces the penalties for some substances from a felony offense to a misdemeanor. Specifically, amphetamine, its salts, optical isomers, and salts of optical isomers (more commonly known as Adderall), lisdexamfetamine, including its salts, isomers, and salts of isomers (more commonly known as Vyvanse), dronabinol, and nabilone.
Click to contact our Houston lawyer today
This law went into effect on September 15, 2015, however most prosecutors and defense lawyers were unaware of the change. Many people have been wrongfully charged and likely wrongfully punished for possession of these substances. This is another reason it is important to have a Houston criminal defense lawyer that focuses on drug charges so you can get the best possible result.
If you have been charged with, or convicted of, possession of adderall or vyvanse, contact Jay Cohen by calling 713-225-1900 to discuss your case.
Call or text 713-225-1900 or complete a Case Evaluation form