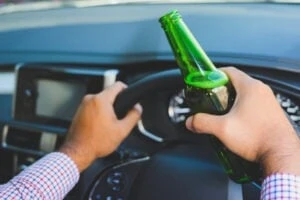 Drinking and driving don't just lead to DWI charges – it can also cause tragic accidents that harm all road users. These accidents are uniquely difficult, involving a mix of poor decision-making and dire consequences.
You could fight for compensation if a drunk driver injured you or a loved one. At Blass Law, we have your back. A Richmond DWI lawyer on our team can explain your next steps, go toe-to-toe with insurers, and negotiate for a favorable case outcome.
Drunk Driving Accidents and DWIs
In Richmond, driving drunk is punishable by DWI charges. Under local laws, an individual is considered intoxicated if:
They have a blood alcohol concentration at or above 0.08%.

Their intoxication causes a loss of their normal faculties and prevents them from safely operating a vehicle.
If the party that harmed you is charged with or convicted of a DWI, we can use this information as evidence in your case, as driving drunk is a clear form of negligence. We can also review police reports associated with your accident when we compile relevant evidence.
Similarly, you can still pursue compensation even if the responsible party isn't convicted of a DWI. To win a lawsuit or receive an insurance settlement, you only need to prove that:
The responsible party owed you a duty of care:

Roadway users are responsible for the safety of others.

The responsible party behaved negligently:

The responsible party acted negligently, failing to uphold their duty of care. Driving drunk is a form of negligence.

The responsible party's negligence caused your injuries:

By driving drunk, the responsible caused a car accident that led to your injuries.

You suffered damages:

Your medical records and expenses must show that you sustained damages after your accident.
What If You're Not Sure If a Drunk Driver Caused Your Accident?
It's possible that you don't know if a drunk driver caused your accident. If this is the case, our team can still investigate the details of your accident by reviewing the following types of information:
Traffic camera footage

Witness statements

Expert input

The police report

BAC test results

Your medical records

Images from the crash scene
Don't fret if you don't know the exact cause of your accident – a Richmond drunk driving accident lawyer from our firm can handle that task for you.
For a legal consultation with a drunk driving accident lawyer serving Richmond, call 713-225-1900
Common Drunk Driving Accident Damages You Seek in Richmond, Texas
After a drunk driving accident, you can qualify for two types of damages, economic and non-economic.
According to Texas Civil Practice and Remedies Code § 41.001, economic damages provide coverage for "actual economic or pecuniary losses." This includes the following types of losses:
Property damage costs:

It's likely your vehicle was damaged in the accident. This compensation could cover repairs or replacement costs.

Medical expenses:

If you were injured, you could receive compensation for your current and future medical costs.

Lost or reduced income:

Suffering a severe injury can force you to take time off work. If you were permanently disabled, you might be unable to work your previous job. Compensation for these losses can make up for the difference in pay.
Non-economic damages are less tangible, as they provide compensation for:
Pain and suffering

Mental anguish

Disfigurement

Physical impairment
Wrongful Death Damages
According to the Centers for Disease Control and Prevention (CDC), drunk driving fatalities account for roughly a third of all traffic deaths. If you lost a loved one in a drunk driving crash, we can fight for compensation, which may include:
Funeral and burial expenses

Your loved one's medical expenses

Pain and suffering

Loss of companionship or consortium

Loss of earning capacity
Remember, in wrongful death cases only select family members can seek wrongful death damages. If you have questions about your eligibility to file a wrongful death case, our team can address them during a case evaluation.
Richmond Drunk Driving Accident Attorney 713-225-1900
Hiring a Richmond Drunk Driving Accident Lawyer on Our Team
After a drunk driving accident, there are two standard ways to pursue compensation:
Filing a lawsuit

Filing an insurance claim
Neither of these approaches requires hiring a lawyer. However, as anyone who's been in a car accident knows, fighting for compensation is rarely straightforward. Insurers push aggressively against your claims, and filing a lawsuit correctly is difficult without a legal education.
We're here to make matters as simple as possible. These are the services our Richmond drunk driving accident lawyer can provide you with:
Gathering evidence that proves that the other driver was charged with a DWI

Explaining your next steps

Taking on all communication with the other parties

Negotiating with insurers

Filing a lawsuit if needed

Managing every aspect of your case

Protecting your best interests every step of the way
Click to contact our Richmond DWI Lawyer today
Don't Wait to Get Started on Your Drunk Driving Accident Case
In Richmond, you generally have a standard two-year deadline to file a drunk driving accident lawsuit, per Texas Civil Practice and Remedies Code § 16.003. While two years may sound like a long time, it's best not to delay getting started. Otherwise, you may no longer be eligible to sue the other party, making you responsible for your losses.
Our team can ensure that you stay abreast of your case deadlines. Let us fight for accountability and justice on your behalf.
Complete a Drunk Driving Accidents Case Evaluation form now
Get Help From Our Richmond Drunk Driving Accident Attorneys Today
If you or a loved one was hurt in a drunk driving accident, a Richmond drunk driving accident lawyer with Blass Law can help you build a case and seek compensation from the other party. Contact our firm for a confidential case evaluation today. You deserve total legal support during this trying time.
Call or text 713-225-1900 or complete a Case Evaluation form