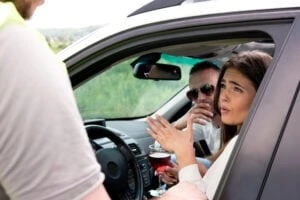 You can have your driver's license suspended simply for being arrested for driving while intoxicated (DWI). Every DWI arrest triggers an alert from the arresting agency to the Texas Department of Public Safety (TxDPS). Once it receives this alert, the TxDPS will automatically begin the process of suspending your license. In most cases, the suspension takes effect 40 days after your arrest.
You will still have your trial in criminal court, where your lawyer will fight every piece of evidence to prevent the judge from punishing you for this charge. Regardless of the outcome of the criminal trial, however, the TxDPS retains the statutory authority to suspend your license through a process known as Administrative License Revocation (ALR). Yet, you have options for maintaining your driving privileges. One of those options involves working with a lawyer.
Your License Could Get Suspended After a DWI
Shortly after your DWI arrest, the arresting officer or TxDPS will serve you with a written notice of its intent to suspend your driver's license via the ALR process. If you don't request an ALR hearing within 15 days of receiving the notice, your driver's license will be suspended automatically. The hearing will likely be held before your criminal trial, which is why it doesn't matter whether you are found guilty or innocent of the charges.
Can the Criminal Court Judge Intervene?
No, the judge in your criminal case cannot intervene or supersede the authority of the TxDPS to suspend your license. If you request a hearing, your DWI attorney can make a case for why you should keep your license at the hearing, but there will be a different judge at the ALR hearing. The Administrative Law Judge makes the final determination about your license.
There is no way to keep your license without having an ALR hearing. Your DWIattorney will request discovery and prepare to defend you at the ALR hearing. This is another area where a DWI lawyer could assist you. They can assess your case and possibly get your ALR case dismissed.
For a legal consultation, call 713-225-1900
How Does an ALR Hearing Work?
At the ALR hearing, the representative from the TxDPS will present the following evidence to support why your license should be suspended:
Your name

The facts of your arrest

The probable cause for your arrest

The results of the breathalyzer or blood test taken at the time of your arrest, or evidence of your refusal to take a breathalyzer or blood test.
The TxDPS will also note whether you consented to the forensic testing or not. Texas is an "implied consent" state, meaning you give consent for your blood or breath to be tested upon request by law enforcement (with probable cause) as a condition of having a driver's license.
If you refused the test, the arresting officer would note that refusal, then likely obtain a warrant for the test. The refusal to take the test could result in a longer suspension of your driver's license. If you consented to the test, your DWI lawyer can share that information on your behalf during any hearings, if suspended, the duration would not be as long.
How Long Will the License Suspension Last?
Several factors play a role in determining the length of your driver's license suspension. For a first-time DWI arrest, the suspension period can last up to 180 days. If you have prior DWI convictions, the suspension can last up to two years. The judge at your ALR hearing will determine the length of the suspension. Some factors they consider are:
Your blood alcohol concentration at the time of the arrest

Whether there was an accident in your case

Whether the accident led to an injury or fatality

Whether there was an open container in the vehicle

Whether there was a child under 15 in the car at the time of the arrest
Click to contact our Houston lawyer today
Is it Possible to Win an ALR Hearing?
Yes! The TxDPS has a lower burden of proof at an ALR hearing than the prosecutor will at your criminal trial. That doesn't mean you automatically lose your license. The state only needs to show that you were arrested for DWI and probable cause existed (e.g., weaving in and out of lanes, speeding) to file charges. While the burden is low, it isn't unwinnable. There is an additional benefit of an ALR hearing, it gives your defense lawyer the opportunity to question your arresting officer under oath, making a transcript of everything they say. This transcript can be used later, during the criminal case to impeach the officer.
With that said, an experienced DWI lawyer can advocate for you at an ALR hearing. There are also some other potential benefits of requesting an ALR hearing, such as:
They give your DWI lawyer an early look at the state's evidence before your criminal trial.

It forces the officers to commit to one version of the facts it can't change at trial.
An ALR hearing gives your DWI lawyer a chance to see weak points in the state's case and fight for a fair outcome.
Complete a Case Evaluation form now
You May Be Eligible for an Occupational Driver's License
Having your driver's license suspended can make it impossible for you to work and support yourself and/or your family. Under certain circumstances, you could apply for an Occupational Driver License (ODL). If granted, the ODL would allow you to drive back and forth to essential activities such as work and school. However, you may not apply for an ODL to continue driving commercial vehicles.
How Can You Get an ODL?
Your DWI attorney can file a petition for an ODL on your behalf. It must be filed in the same court that has jurisdiction over your case, and the petition must meet certain criteria. A DWI lawyer will know these criteria, and they can file your petition for you.
Consult With a DWI Attorney About Your Criminal Charges
It's perfectly natural to worry about the status of your driver's license after being arrested for DWI. The fact of the matter is, if you don't act quickly, your license will be suspended. The ALR process can be intimidating, but you still have a right to fight for your driving privileges. An experienced DWI lawyer will be familiar with both the ALR process and fighting the criminal charges against you.
Blass Law can help. Our firm's founding attorney, Jay Blass Cohen, knows both the law and the science behind fighting DWI cases. We've been fighting for our clients in criminal court since 2009. A DWI doesn't have to mean a license suspension. Reach out to us for a confidential consultation.
Call or text 713-225-1900 or complete a Case Evaluation form