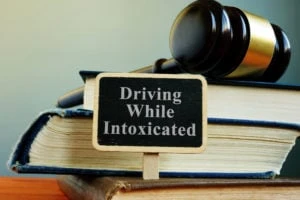 There are many pieces of evidence needed for a DWI conviction.
To try to prove that you are guilty of driving while intoxicated (DWI), the prosecutor will likely present:
The results of your blood or breath test
The results of your field sobriety test
Witness testimony
Statements from the arresting officer
The Texas Department of Transportation (TxDOT) states that you can be arrested for a DWI if your blood alcohol concentration (BAC) level exceeds 0.08%. You may also be charged with a DWI if your BAC level was higher than 0.04%, and you were driving a commercial vehicle at the time of your arrest. The law states that a person commits the offense of DWI if they have lost the normal use of their mental or physical faculties due to the introduction of alcohol or drugs.
Being convicted of a DWI can have serious consequences on your future. If you are facing DWI charges, you may be facing expensive fines, jail time, and the possibility of having your driving privileges suspended. To safeguard your future, you should consider the value of working with a criminal defense lawyer.
You Can Refuse a Blood or Breath Test
Many people believe that if you refuse a blood or breath test, you will be automatically convicted of a DWI. This is not true. You are innocent until proven guilty in a court of law. If you refuse a blood or breath test, this may work to your benefit; the results cannot be admissible in court if they do not exist. However, if you refuse a blood or breath test, the officer will likely obtain a search warrant and forcibly take a sample of your blood.
While law enforcement can obtain a search warrant that would require you to give a blood sample, they don't always do it correctly, or do it at all. If officers obtain a sample of your blood illegally, it cannot be used against you.
For a legal consultation, call 713-225-1900
The Consequences of a Texas DWI Conviction
Texas Penal Code §49.04 states that driving while intoxicated is illegal. Intoxication is defined as not having the normal use of mental or physical faculties by reason of the introduction of alcohol, a controlled substance, a drug, a dangerous drug, a combination of two or more of those substances, or any other substance into the body. This can even include drugs that are prescribed or sold over the counter. If you are charged with a first-time DWI offense, you may be facing a Class B or Class A misdemeanor.
However, this may not be the only offense you are facing. For example, if you were driving while intoxicated and in possession of cocaine, you could be facing a possession of a controlled substance charge in addition to your DWI charge. In this case, you may be facing serious penalties.
If you are convicted of a DWI and have no previous related offenses, you could be facing:
A fine of up to $2,000
Anywhere from three to 180 days in jail
The loss of your driver's license for up to a year
If you are convicted of DWI and have no previous related offenses, but you had a breath or blood concentration of 0.15 or greater at the time of the test, you could be facing:
A fine of up to $4,000
Anywhere from three days to one year in the county jail
The loss of your driver's license for up to a year
If you are facing the possibility of a second DWI conviction, the consequences increase in severity.
If this is your second DWI charge, you may face:
A fine no more than $6,000
Anywhere from a month to a year in jail
The loss of your driver's license for up to two years
Going through the legal process without representation can be intimidating. A criminal defense lawyer in Houston, TX can work to have the charges against you dropped, reduced, or dismissed.
How a Lawyer in Houston, TX Can Serve You
Your lawyer's goal is to minimize the impact this charge will have on your future. They will review the circumstances of your arrest to determine what strategies could work to safeguard your interests.
Your DWI lawyer from Houston, TX can:
Determine whether there was probable cause for the initial encounter with law enforcement
Review the officers' actions to determine if they administered the standardized field sobriety tests in accordance with the National Highway Transportation Safety Administration (NHTSA) guidelines
Take into account your criminal record and previous offenses
Interview witnesses who can testify on your behalf
Cross-examine the prosecution's witnesses
Determine whether any chemical analyses were performed correctly
You have the ability to represent yourself in court. However, it's well established that a person who represents themselves in court has a fool for a client.
Click to contact our Houston lawyer today
Appealing a DWI Conviction in Texas
You may have already been convicted of a DWI. If so, a criminal defense lawyer can help you file an appeal. When filing an appeal, your legal team must demonstrate there is new evidence available or your lawyer failed to perform an important task. Ultimately, you must show that you would have chosen to take a different course with your case if you had been appropriately informed.
A criminal defense lawyer can evaluate the circumstances of your conviction and determine whether it can be overturned.
Complete a Case Evaluation form now
Contact Blass Law Today for Help with Your Case
If you have been charged or convicted of a DWI, consider reaching out to Blass Law.
Our firm will handle the entirety of your legal battle and determine the best course of action to have your charges lessened, dropped, or dismissed.
Our goal is to get the best possible outcome for you. Everyone has different circumstances and we work together to get the best results. To learn more about working with an attorney from Blass Law, call us today at (713) 225-1900. We can also explain what evidence is needed for a DWI conviction.
Call or text 713-225-1900 or complete a Case Evaluation form