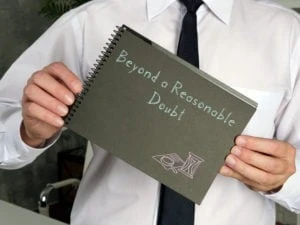 If you are facing any legal proceedings, you should know the answer to this question: What is proof beyond a reasonable doubt?
Proof refers to alleged proof of guilt. When one says there is "proof [of guilt] beyond a reasonable doubt," they have nodoubtthat the defendant is guilty. A juror may have some doubt but must be "virtually certain" that the defendant is responsible (Legal Information Institute (LII). If there is any reasonable doubt that the defendant is guilty, then a juror must rule not guilty.
Which Cases Does This Standard Apply to?
Proof beyond a reasonable doubt is the legal standard in criminal cases, which include:
Murder

Weapons charges

Manslaughter

Prostitution

All other alleged criminal offenses
The "proof beyond a reasonable doubt" standard is higher than others. For example, civil cases generally rely on the "preponderance of the evidence standard." In civil cases, juries may deem someone liable if they are more certain than not that the person is responsible.
Why do Criminal Courts Use the "Proof Beyond a Reasonable Doubt" Standard?
The U.S. Constitution's Due Process Clause establishes this standard. Per Constitution Annotated, "the Due Process Clauses of the Fifth and Fourteenth Amendments [protect] the accused against a conviction except upon proof beyond a reasonable doubt of every fact necessary to constitute the crime with which he is charged."
The standard is appropriate because of the great consequences of a conviction. Defendants in criminal cases may face:
Death

Jail time

Prison time

Probation

Significant fines

Loss of their livelihood

Loss of their children
The consequences of a criminal conviction can be devastating. By using the relatively high standard of "proof beyond a reasonable doubt," courts encourage jurors to make careful decisions. The jury must be certain of the defendant's guilt before issuing a decision.
What does the "Proof Beyond a Reasonable Doubt" Standard Mean for Defendants (and Their Lawyers)?
Knowing what proof beyond a reasonable doubt is can help defendants make crucial case-related decisions. A defendant may decide to accept a plea deal or proceed to trial based on this standard. If a lesser standard of proof were present, a defendant might be more likely to settle – though defense decisions are not always this simple.
Lawyers should always consider the standard of proof when advising a client.
For a legal consultation, call 713-225-1900
What Rights do Criminal Defendants Have?
The criminal defendant is presumed innocent until proven guilty. The burden is on the prosecution to prove guilt, not on the defendant to disprove guilt. The presumption of innocence is a right.
Criminal defendants also have the right to:
Hire an attorney (or accept a court-appointed attorney)

A trial by a jury of their peers

Be free from self-incrimination (as outlined by the Fifth Amendment of the U.S. Constitution)

A speedy trial

Due process

Equal protection, which prevents unfair rulings or sanctions based on a defendant's personal characteristics

Confront their accuser

Be free from double jeopardy, or being charged twice for the same offense

Reasonable bail
A lawyer can help their client exercise their rights.
Ineffective Assistance May Violate a Defendant's Rights
Defendants don't just have a right to representation – they have a right to adequate representation. If a court finds that a defendant's attorney was incompetent, then the defendant may have a path to restore their rights.
What Criteria Should You Seek in a Criminal Defense Lawyer?
A criminal defense lawyerserves a critical role: to secure the most favorable possible outcome to your case. Depending on the case, you may seek dismissal of charges or a ruling of not guilty. In other cases, the best outcome may be a favorable plea deal. You trust your lawyer to fight for you.
When you're looking for a lawyer, you may seek one who:
Handles your specific case type

Has experience in your jurisdiction

Has achieved favorable outcomes for defendants in similar circumstances

Has favorable client reviews

Has ample resources – paralegals, the budget to hire experts, and a strong team

Can speak knowledgeably about your case, showing that they take your defense seriously

Has a plan for your defense
Your choice of criminal attorney could be one of your most important.
Click to contact our Houston lawyer today
What does a Criminal Defense Attorney do for Clients?
Your criminal defense lawyer may:
Gather All Relevant Facts and Evidence
The right fact, piece of evidence, or witness account could make or break your defense. Your lawyer and their team will seek all relevant facts and evidence. They will safeguard all evidence that they obtain.
Create a Defense Based on the Facts
Your lawyer will prepare a defense regardless of whether your case goes to trial. They will need to argue for innocence or leniency depending on your circumstances. In either case, you need a defense.
Engage with the Prosecutor
A prosecutor is a key piece of any criminal case. Your lawyer may speak with the prosecutor about potential settlement offers. Depending on their interaction, the prosecutor may agree to resolve your case in a favorable manner.
Negotiate a Deal
If it is the right move based on your case, then your lawyer will negotiate for the best possible plea agreement.
Complete Your Trial
Your lawyer will lead your defense through a trial by:
Presenting evidence that serves your defense

Presenting and questioning witnesses

Rebutting arguments made by the prosecutor

Casting doubt on unfavorable evidence

Making a comprehensive argument in your defense
A lawyer is an invaluable resource. Consider the stakes of criminal cases, as you may want all the help you can get.
Complete a Case Evaluation form now
Call Blass Law About Your Case Today
Blass Law will work hard to get you the best possible outcome. It is important that you call the team as soon as possible. We will maximize every moment when crafting your defense – the sooner you call, the more time we'll have.
Our team is available 24/7 for you. Call Blass Law today at (713) 225-1900. We will review your case and explain the next steps for your defense.
Call or text 713-225-1900 or complete a Case Evaluation form