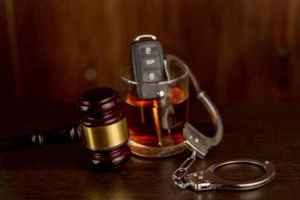 Since third-offense DWI is a third-degree felony, the penalties associated with this charge are steep. You are risking driving license suspension, jail time, and a fine. In addition, your right to vote or carry a firearm will also be revoked for a period of time. And you may face other serious repercussions that could impact your personal, social, and professional standing in society for the rest of your life.
Hiring an experienced DWI attorney can help you get your charges dropped or dismissed. If you are facing a third-time DWI charge, contact us to discuss your case as soon as possible. Your freedom is on the line.
What Does a Third Offense DWI Mean in Texas?
A third DWI is when a person with two prior DWI convictions is again charged for the same offense. A DWI in Texas is considered a misdemeanor until a third offense is reached, at which point a DWI charge is enhanced to a third-degree felony conviction.
The period between the prior convictions does not matter. So, for example, even if your second conviction was ten years ago, your current DWI charge will still be considered a third-DWI offense.
For a legal consultation, call 713-225-1900
DWI 3rd Offense Punishments
The punishment for a third DWI is significantly more severe than misdemeanor convictions, the penalties are much harsher since it is charged as a third-degree felony. So if charged with a DWI third offense, you are looking at:
Prison time:

A conviction for a third DWI will result in a minimum prison sentence of two years and a maximum of ten years in prison (not a county jail). Even if you are granted probation, you will have to serve at least ten days in jail as part of a plea agreement. This usually cannot be waived.
As part of probation, you will also have to complete up to 600 hours of community service, DWI education repeat offender class, and substance abuse evaluation called the TRAS. A good defense lawyer will fight to make the terms of community supervision work for you.
Fines:

You will be required to pay a fine not exceeding $10,000, although the judge is not required to fine you the whole amount. Besides the fine, do remember you have to pay court costs, interlock device lease, and more, which can add to the financial burden.
Driver's license suspension:

A third-time DWI conviction will result in up to a two-year driver's license suspension per the

Texas Department of Transportation (TxDOT)

. The court may even order an ignition interlock device in your vehicle when the suspension period is up

.
This device aims to prevent a person from operating a vehicle after drinking. It requires you to breathe into the device before turning on the ignition. If there is no alcohol detected, the engine activates. If there is alcohol detected, then the engine will not start. You will also be randomly prompted to provide a breath sample while driving.
All results will be recorded and accessible by the court. If it is found that you operated a vehicle while under the influence of alcohol, you will be given harsh penalties such as your probation being revoked.
Other Consequences of a Third DWI Charge
A third DWI on your criminal record can negatively impact many areas of your life, even when you are finished serving the court-ordered legal penalties. You may:
Face difficulties in finding jobs
Lose your current job
Face difficulties obtaining housing
Face difficulty getting a loan or mortgage
Lose your professional license
Barred from receiving government assistance or benefits
Lose your right to vote or own firearms
Defenses Against a Third DWI in Texas
When facing a DWI conviction, the state must first prove that you have two separate DWI convictions.
If any of the prior convictions happened outside of Texas, your lawyer might be able to use that state's DUI law definition to prevent having one or more of your previous DWI charges counted.
Some other defenses your lawyer could use include:
Challenging the results of field sobriety tests, blood tests, and breath tests
Challenging inconsistencies in police reports
Challenging police officer's testimony
Lack of probable cause
In your third DWI offense case, hiring an experienced DWI attorney in Houston will be the best defense. An attorney will review the facts of your case from start to finish and prepare a strong defense to eliminate or reduce your jail time and penalties.
The attorney will also offer you legal advice, protect your rights throughout the process, and guide you through the criminal justice system and court hearings, which can otherwise be a frightening experience.
Click to contact our Houston lawyer today
Contact a DWI Lawyer From Our Office to Learn More Today
If you face a DWI conviction for the third time, you should call Blass Law for help immediately. Texas takes DWI charges — especially a third DWI offense — very seriously.
The state will do everything to sentence you to the maximum penalties possible. Contact our office for a review of your case, learn about your rights and legal options. We will provide an aggressive defense against your DWI charges, so you receive the best outcome possible for your case.
Call or text 713-225-1900 or complete a Case Evaluation form