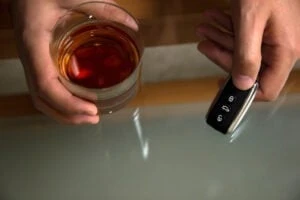 If you get a second DWI in Texas, the Texas Department of Transportation (TxDOT)notes that you could face fines, jail time, and the loss of your driver's license for up to two years. Generally, the law considers second-time DWIs to be Class A misdemeanors. Yet, certain factors could elevate the charge to a felony.
You have legal rights as someone facing the criminal justice system in Texas. For instance, you could hire a DWI lawyer to combat your charges and advocate for a fair outcome. You don't want to face this situation alone––not when your freedom is on the line.
The Penalties for a Second-Time DWI in Texas
As noted, you could face these penalties if convicted of a second DWI:
A fine of no more than $4,000

One month to a year in jail

The loss of your driving privileges for up to two years
If your second conviction is within five years of the date of your previous DWI arrest, you may also be required to install ignition lock-breathalyzer devices on all the motor vehicles you own.
Per the Texas Association of Counties, in most cases, you would be responsible for the cost of installing these devices, and you would also be forbidden from operating vehicles without an ignition interlock installed. No matter the circumstances, a DWI defense lawyercan help you fight DWI charges.
Can a Second DWI Conviction be Charged as a Felony?
Yes, a second DWI conviction can be charged as a felony, depending on the allegations made in the state's case. For instance, if you were pulled over and had a child under 15 years old in the car, you could face a state jail felony. Per Texas Penal Code § 12.35, this could result in:
Child endangerment charges

An additional fine of $10,000

The possibility of a two-year jail sentence

The loss of your driver's license for an additional 180 days
For a legal consultation, call 713-225-1900
Can You Avoid Jail Time for a Second DWI?
You can avoid jail time for a second-time DWI. Yet, it won't be easy. So, you may consider entrusting your case to a professional. A DWI defense attorney can represent you at trial and fight the charges. Their ultimate goal is to secure a "not guilty" verdict and minimize the arrest's effect on your life.
In addition to helping you avoid jail time, a lawyer can:
Represent you at trial

Refute the prosecution's case

Review the details of any blood alcohol tests

Evaluate the details of your arrest

Fight for your freedom

Partake in jury selection

Ensure your rights remain protected
You Could Temporarily Lose Your Driving Privileges After a Second DWI
The driver's license suspension that comes with a second DWI charge is issued by the judge in your case and sent to DPS. All DWI-related driver's license suspensions are handled by the Texas Department of Public Safety (TxDPS), which is the agency that originally issued your driver's license.
If you're charged with a second DWI, the TxDPS will move to suspend your driver's license via a process called Administrative License Review (ALR). At the time of your arrest, the arresting police agency will alert the TxDPS, and it will send you a notice of its intent to suspend your license. You will have only 15 days from the date of the notice to request a formal hearing.
If you fail to request this hearing, the TxDPS will automatically suspend your license. However, a DWI defense attorney can represent you at the ALR hearing and fight for your ability to continue driving. They can also request the hearing on your behalf and give you the best chance possible of a positive result.
Click to contact our Houston lawyer today
A Second-Time DWI Conviction Stays on Your Record Forever
Anytime you are convicted, the matter becomes public record. That means people conducting background checks for employment screenings, apartment applications, and other reasons (e.g., credit checks, firearms background checks) can see your second DWI conviction.
A second DWI conviction could permanently hinder your ability to access quality employment or housing opportunities. It also affects your personal reputation negatively and may impact the outcome of child custody hearings you are involved in.
Complete a Case Evaluation form now
Defenses Your Lawyer Can Use in a Second DWI Case
Although you're innocent until proven guilty, facing a DWI charge for the second time can resonate negatively with the judge, prosecutor, and jurors. That's why it's so important to have a DWI attorney who knows how to fight for their clients. No matter what the state alleges, you can combat the charges you face.
Some defenses your lawyer may employ include:
Contesting the validity of your arrest.

The police must have probable cause to pull you over. If they didn't have probable cause, we could move to suppress the arrest, if granted the state has nothing more and will likely dismiss the case.

Assessing your rights.

The police officer must have respected your rights at the time of your arrest. This involves clearly reading your Miranda rights, so you don't incriminate yourself. If they fail to provide Miranda warnings, any statements you made while in custody would be inadmissible at your trial.

Challenging the results of a blood or breath test.

The arresting officer must have properly used a breathalyzer or blood test to get accurate results. If we find an issue with the way the test was conducted or analyzed, we could move to suppress that evidence. Scientific evidence must follow specific protocols to be admissible.
The defense your lawyer employs depends on your situation.
You Should Consider Talking to a DWI Defense Lawyer
The only thing worse than getting arrested for a second DWI is getting convicted of a second DWI. The consequences can linger for years, even decades, after your conviction. When the stakes are this high, the legal counsel you choose matters. Blass Law has a strong recordof DWI defense, and we can fight the charges you face. Call our team now to explore your options.
Call or text 713-225-1900 or complete a Case Evaluation form