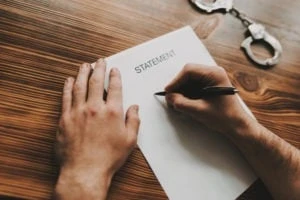 If you are accused of a crime or are under investigation for alleged criminal activity, you do not need to give a statement to the police. You have the right to remain silent and the right to have a lawyer present.
Wanting to explain your version of events is a typical natural response; many believe it can improve the situation. If you are innocent, or think you have a good explanation for what happened, you may think giving a statement is a simple way to clear your name. But unfortunately, this is not the way things work at all. Here, we discuss what can happen should you give a statement to the police.
Why do People Give Statements to the Police?
The government must prove that you are guilty. Under the 5th Amendment, you have the right to remain silent and not incriminate yourself. Police officers may use a variety of tactics that are effective in getting people to talk about their situation.
The Reid Technique is a widely used interview technique developed in the U.S. as a means of interrogation. We have all heard of 'good cop, bad cop' during police interviews. As such, you may hear questions or statements along the lines of:
If you have nothing to hide, why not answer these simple questions?

It will be much worse for you if you don't make a statement

Things will be much better for you if you tell me the truth

If you don't say something, you look guilty
Further, no law or rule prevents police officers from suggesting they have certain evidence against you or that another party has confessed, even if it is not true. Keep in mind, police interrogations are designed to produce confessions, so it is important to know what to expect and how to protect your rights.
While admitting to a crime does not make a defense impossible, it does make the legal process more difficult. Telling the police false information can get you in more trouble. What you say can be used against you in court later. Working with the assistance of a defense attorney can help shield you from police interview tactics.
For a legal consultation, call 713-225-1900
What Should I Do If I Am Asked to Give a Statement to the Police?
Police officers have hours and hours of training in interrogation techniques and have likely interviewed plenty of people. In contrast, this may be the first time you find yourself in this situation, placing you at an extreme disadvantage. If you are at a police station, it is easy to feel overwhelmed and intimidated in an interrogation room.
Remember, it is not the police's job to look for evidence of your innocence, nor do they have the power to negotiate deals – only the prosecutor can do this. What happens when you make a statement (verbal, written, nodding your head) is: you are effectively in the process of building a case against yourself. Therefore, if you are charged with or questioned about involvement in alleged criminal activity:
Calmly inform the police officer that you would like an attorney before making the decision as to whether you want to give a statement.

Invoke your right to remain silent and keep doing this if you are asked further questions.

Contact a criminal defense attorney
What You Need to Know About Your Miranda Rights
No matter what you are arrested for, or how minor or serious the resulting criminal charges might be, you have rights that must be adhered to. Chief among them is the Miranda Warning. At the time of your arrest, law enforcement officers are required to inform you of the following rights:
You have the right to remain silent

Anything you do say can be used against you in a court of law

You have the right to have a lawyer with you during any questioning

If you cannot afford a lawyer, one will be provided to you at no cost
If you were questioned without your criminal defense lawyers present, or were not informed of your rights at all, let your defense team know right away. These and any other violations of your rights can provide leverage in your defense. The criminal defense law firm that represents you can use rights' violations to suppress evidence that was
obtained illegally and this could result in a dismissal of your charges.
Click to contact our Houston lawyer today
How does a Criminal Defense Attorney Help?
Your attorney can:
Help you to decide whether it's in your best interest to speak to the police

Be your advocate who can protect you from possibly making a big mistake

Ensure you are fairly treated

Represent your best interests

Develop a strong defense strategy
In addition, a defense lawyer can help you understand the charges you face and work to determine the most suitable course of action for your situation.
Complete a Case Evaluation form now
What does a Criminal Defense Lawyer Do?
Your defense attorney will fulfill many important roles during a criminal case, which can include:
Meeting with the client to discuss the case in detail helps to determine possible defenses, strengths, and weaknesses of the case

Investigating the case to build a strong defense or ascertain possible avenues to have the case dismissed or charges dropped

Gather and analyze every bit of evidence against you to establish all legal arguments to fight the charges you face (possibly an illegal search and seizure or an unlawfully obtained statement)

Explain the state's case, the possible penalties, your chance of conviction, and the benefits or disadvantages of negotiating a plea agreement
We Fight to Protect Your Rights, Freedom, and Future
At Blass Law, we have a passion for criminal law, a solid understanding of litigation strategies, and exceptional communication skills. We thrive under pressure and always aim to resolve cases as quickly and favorably, with as little impact on your life as possible.
If you face charges or have been asked to give a statement to the police, call Blass Law at (713) 225-1900. Meanwhile, please review our previous case resultson our website.
Call or text 713-225-1900 or complete a Case Evaluation form