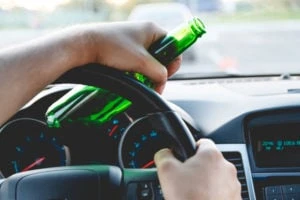 A commercial driver's license (CDL) is a must-have for anyone working in the trucking business. However, if your career aspirations include long- or short-haul trucking, you need to do more than take the CDL classes and pass a driving test. You may need a clean driving record to prove you are a safe and reliable driver.
If you have been arrested, charged, or convicted of driving while intoxicated (DWI) in Texas, you may still be able to get a CDL, but the process can be complicated. If you are considering seeking a CDL and have been arrested or charged with DWI, speak with an attorney to learn if you can get a CDL with a DWI in Texas.
Texas Has Strict CDL Qualifications
According to the Texas Department of Public Safety (DPS), your CDL privileges can be strictly limited or disqualified if you are convicted of driving under the influence of drugs or alcohol. This is true even if you do not have a CDL yet and were convicted of operating any motor vehicle while intoxicated.
Texas Transportation Code §522.081 states that you can be disqualified from obtaining a CDL or commercial learner's permit (CLP) if you have been convicted of DWI while driving any class of vehicle. The period for disqualification increases for each subsequent DWI conviction.
If you are convicted for the first time in violation of Texas Penal Code § 49 for driving while intoxicated, you are not permitted to obtain a CDL or CLP for 1-3 years following that conviction. After that, you can be banned from seeking a CDL for life for subsequent offenses.
Lifetime Disqualification Reinstatement
If you received a lifetime disqualification for CDL due to DWI, you may be able to request reinstatement after ten years. To qualify, you must voluntarily enter and complete a DPS-approved drug and alcohol education program. If your request for reinstatement is approved, you can apply for a CDL as a new applicant, including all training and testing requirements.
For a legal consultation, call 713-225-1900
The Federal Government Can Also Limit Your CDL
The Federal Motor Carrier Safety Administration (FMCSA) also limits your ability to obtain a CDL if you have been convicted of driving under the influence of drugs or alcohol. The FMCSA holds employers responsible for ensuring that their drivers meet federal and local requirements for holding a CDL and operating a commercial motor vehicle (CMV). This means that even if you have a one-time DWI offense on your record, employers may not want to risk hiring you.
A criminal defense attorney can help you seek a case dismissal or possibly reopen your case if you have been arrested, charged, or convicted of DWI. Consult with an attorney familiar with Texas and federal laws pertaining to CDL licensing and DWI cases.
Administrative License Revocation Hearing
If you are arrested or charged with DWI in Texas, the police officer will typically take your license and give you a notice of suspension under the Administrative License Revocation (ALR) program.
Your license can be suspended or revoked under the ALR program if:
Your blood alcohol concentration (BAC) was greater than 0.08% if you were driving a passenger vehicle
Your BAC level was 0.04% or greater while driving a commercial vehicle
You refused to take a blood or breath test
You have 15 days from the date of the arrest to request a hearing to prevent your license from being suspended or disqualified. If you do not request a hearing, your license will automatically be suspended 40 days after the date of your DWI arrest.
To suspend your license, the officer who filed the DWI and ALR must be able to prove that you either refused to provide a blood or breath test or that your blood or breath test showed alcohol levels above the legal limit. A lawyer who has handled DWI cases in Texas can help you compile the necessary evidence to defend yourself in the ALR hearing. In addition, they can use the information from the ALR process to defend your legal rights in your DWI case.
Click to contact our Houston lawyer today
How an Attorney for DWI Charges Can Help You
As a current or aspiring commercial trucker, a DWI conviction can be a life-altering event. Fortunately, an attorney can help you defend against DWI charges, fight for a dismissal, or potentially file an appeal if you have already been convicted. To convict you of DWI, the officer who pulled you over must prove that:
They had reasonable suspicion to pull you over
They had probable cause to arrest you
They did the right thing while performing standardized field sobriety tests and reading the statutory warnings when requesting a breath or blood sample
The blood alcohol concentration (BAC) blood or breath test was right
If any of the above items cannot be proven beyond a reasonable doubt, your attorney will fight to get the case dismissed or possibly file a writ to attempt to overturn your DWI conviction.
Complete a Case Evaluation form now
Call for a Case Evaluation of Your DWI Charges Today
If you have been arrested or charged with DWI in Texas, you have a legal right to defend yourself at trial. An attorney familiar with DWI and commercial trucking laws can build a defense on your behalf using documentation, video evidence, and expert testimony to ensure that you receive justice.
Blass Law is well-versed in DWI and commercial trucking laws in Texas. We will examine your case and provide an honest assessment.
Contact us today for a case evaluation to see if there is a way to pursue your CDL after a DWI.
Call or text 713-225-1900 or complete a Case Evaluation form