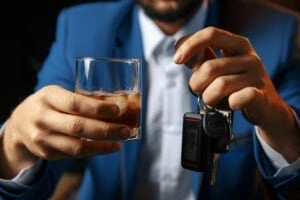 It may come as a surprise, but yes, you can be arrested for driving while intoxicated (DWI) on private property in Texas. Texas Penal Code § 49.04 notes that you could be arrested for a DWI while driving a car in an area that's private but accessible to the public.
For instance, let's say someone was intoxicated and driving around in the parking lot of a bar. Although the parking lot is private property, it's accessible to the public. If that person is pulled over by law enforcement, they could face DWI charges and other penalties. If this situation sounds familiar, you could benefit from partnering with a criminal defense attorney.
You Can Get a DWI on Private Property in Texas
Driving while intoxicated is illegal. Period. It doesn't matter whether you're on public or private property. Any time someone gets behind the wheel with a blood alcohol concentration level of 0.08 or higher, they run the risk of jail time, license suspension, and fines.
Here's something important: just because a place is private doesn't mean it isn't open to the public. Examples include:
Restaurant or bar parking lots
Apartment or condominium parking lots
Shopping center or mall parking lots
Stadium parking lots
Private gardens and estates
Cultural institutions
Private universities and colleges
Amusement parks, arcades, and golf courses
Texas' DWI laws are written to enhance public safety. Yet, that doesn't mean that police are always right when they make an arrest. Whether you have been arrested on private or public property, you have the right to a DWI lawyer to fight the charges and defend your good name.
For a legal consultation, call 713-225-1900
A DWI on Private Property Can Result in Serious Penalties
The penalties for DWI on private property in Texas are the same as they would be if you were arrested on a public street or highway. Most DWI arrests and convictions carry a range of penalties, which include mandatory jail time, fines, and the suspension of your driver's license.
For a first-time offense, you could face:
A fine of up to $2,000
Up to 180 days in county jail upon conviction
The loss of your driver's license for up to a year
These penalties can increase based on the details of your arrest. For instance, if you were pulled over with a child in the car, you could face DWI with a child passenger and child endangerment charges. Here, you could face other penalties than those listed above.
The Secondary Consequences of a DWI Conviction on Private Property in Texas
After being convicted, fines, license suspension, and time behind bars could just be the beginning. You could also face:
Problems retaining custody of your children
Issues getting approved for housing and loans
Red flags on any background checks employers conduct
The consequences of a second-time DWI (if convicted again)
You don't want to solely leave your future in the hands of a judge and jury. You want a criminal defense lawyer on your side who can advocate for your freedom and future.
A Texas DWI Lawyer From Our Firm Offers Comprehensive Legal Help
An arrest for a DWI on private property is an unwelcome introduction to the criminal justice system. Having to deal with license suspension is just one piece of a very complicated puzzle. By facing a trial alone, you risk irreversible damage to your reputation and quality of life.
Attorney Jay Blass Cohen has a reputation for clearing the names of DWI arrestees. He's more than a lawyer; he has special certifications that give him keen insight into field sobriety tests, breathalyzers, and other methods of measuring intoxication.
We Have a History of Defending Those Arrested on Private and Public Property
Attorney Cohen seeks "not guilty" verdicts for his clients and nothing less. Here are some of his most recent victories:
Things didn't look good when our client caused an accident. Things took a turn for the worse when he failed all sobriety tests at the accident scene and the police station. Still, despite the odds, Attorney Cohen secured a "not guilty" verdict from a jury in a Harris County court.
The police found our client asleep in his car, blocking a roadway. Testing at the police station revealed that he was also under the influence of various narcotics. Not a problem for Attorney Cohen; he cleared his client's name and secured a "not guilty" ruling.
The police pulled over our client (a lawyer) who was driving with one headlight on. He admitted to drinking beforehand but refused to take a field sobriety test. The jury returned a verdict of "not guilty" after presenting our case.
These are just some of the outcomes we've secured for people in situations just like yours. Whether this is your first, second, or third-time DWI arrest, you have the right to legal counsel.
We Employ Solid Defense Strategies to Secure an Acquittal
You're innocent unless and until proven guilty. After evaluating the details of your case, we may assert one of the following to secure a positive outcome:
The police improperly collected evidence.
The arresting officer did not properly conduct field sobriety tests. For instance, they may have improperly calibrated the breathalyzer, causing inaccurate results.
You were drinking but drove under the legal limit.
You were not guilty of the crime itself.
The police did not have probable cause to pull you over.
We may also raise questions about where you were arrested. As noted, the Texas Penal Code notes that you cannot drink and drive on private property that's accessible to the public. If you own property that isn't easily accessible to others, we could argue that this wasn't a public place under the law, weren't a threat to public safety and don't merit the charges you face.
Click to contact our Houston lawyer today
Get a Case Evaluation With A DWI Defense Lawyer
An arrest for a DWI on private property does not have to be the end of your life as you know it. Yes, it's a difficult situation. Yet, you have legal rights––one of which includes entrusting your defense to a DWI lawyer.
Contact Blass Law for a confidential case evaluation. We have helped DWI defendants overcome their charges since 2009. Now, it's your turn to get a shot at redemption and justice.
Call or text 713-225-1900 or complete a Case Evaluation form