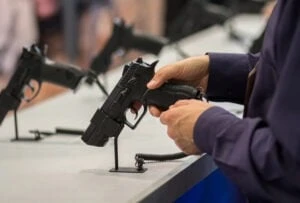 Depending on the circumstances, a DWI conviction can prevent you from buying or even owning guns in the state of Texas. As long as you're not currently facing a Class B or Class A misdemeanor charge (or a charge that may result in a one-year jail sentence), you can continue to purchase and own firearms. Federal law also prohibits anyone with a felony conviction from owning firearms.
A DWI lawyer can fight your case in court, allowing you to purchase guns lawfully. By overcoming your DWI charges, you can maintain your freedom, Second Amendment rights, and peace of mind.
You Can't Buy a Gun If You Were Convicted of a Felony DWI
In the eyes of the law, a Class C misdemeanor is one of the lowest charges you could face. First offense DWIs are generally Class B misdemeanors, and being convicted of (or facing) these charges could make you ineligible to buy guns.
As noted, felony charges could also impede your gun ownership. The state could charge you with a felony if:
You were arrested with a passenger under 15 years old in the vehicle.

Your alleged intoxication caused an accident that injured another party.

Your alleged intoxication claimed another person's life.
The state could also elevate your charges if this is your subsequent DUI arrest.
Other Circumstances of a DWI that Impact Gun Ownership
The Bureau of Alcohol, Tobacco, Firearms and Explosives (ATF) oversees many of the federal guidelines on gun ownership. In addition to banning gun ownership by convicted felons, the act also specifies that anyone who is an "unlawful user of or addicted to any controlled substance" is also prohibited from gun ownership.
So, if your DWI involved being under the influence of illicit drugs, such as cocaine or heroin, that could also impact your ability to own a gun. You may also be prohibited from gun ownership if you were arrested for DWI and have another recent conviction for DWI, or are arrested while possessing a controlled substance and there is reason to believe you are an unlawful user or addicted to any controlled substance.
For a legal consultation, call 713-225-1900
What Would Warrant DWI Charges in Texas?
According to the Texas Penal Code, it's illegal to operate a motor vehicle while you don't have the normal use of your mental or physical faculties while under the influence of any mind-altering substance.
In the case of alcohol, if you are caught driving with a blood alcohol concentration of .08 or more, you are subject to arrest for DWI. You can also be arrested for DWI if the arresting officer believes you lack "the normal use of mental or physical faculties" because of the alleged intoxication.
This gives police officers discretion to arrest and charge you for DWI, even in cases where your BAC is technically below .08. Additionally, combining alcohol with controlled substances and/or illicit drugs before getting behind the wheel could subject you to a DWI arrest, even if your BAC is below .08.
Does Boating or Flying While Intoxicated Affect Gun Rights?
Texas law governing boating while intoxicated (BWI) or flying while intoxicated are the same as DWIs. The basic offense is still considered a misdemeanor, but certain circumstances can see the charge elevated to a felony. Examples of those circumstances include, but are not limited to, the following:
You allegedly operated watercraft or aircraft while intoxicated with a child under 15.

Your alleged intoxication led to a boating or flying accident that caused someone's severe injuries.

Your alleged intoxication caused a fatal collision in which someone lost their life.
In these situations, the state would have reason to believe that because of your proclivity for driving while intoxicated, you would be unsafe to own a firearm.
Click to contact our Houston lawyer today
How does the Gun Prohibition Work After a DWI Conviction?
If you are convicted of DWI in Texas, the offense becomes part of your criminal record. If you try to purchase a gun from a licensed dealer with a felony conviction, the conviction will come up on the background check, and the gun dealer will be prohibited from selling you the weapon.
If you try to circumvent the gun ownership prohibition by purchasing a gun in a private transaction from a non-licensed dealer, the penalties can be severe. Under Texas law, you could face a Class A misdemeanor, which could result in one year in jail and a fine of up to $4,000. Combined with a DWI conviction, these penalties could wreak havoc on your life.
In the case of firearms you owned prior to your conviction, you must transfer ownership of those weapons to another party or turn them in to the police. If you are on probation after your DWI conviction, and your probation officer finds firearms in your possession during a home search, you may have your probation revoked in addition to facing federal charges of unlawful possession of a firearm.
Complete a Case Evaluation form now
DWI Charges don't Equal a DWI Conviction; You Have Options
Here's a good way to avoid the complications that come with a DWI conviction: avoid a DWI conviction. You have a constitutional right to fight these charges. A DWI lawyer can preserve your freedom, your reputation, and your Second Amendment rights.
There are numerous potential defenses against a DWI conviction, and your legal team will use the ones that best suit your situation. They can challenge the evidence the prosecution has, curate a comprehensive legal defense, and put your best interests first.
Begin Your Initial Consultation With the DWI Team at Blass Law
The consequences of a felony DWI conviction can last a lot longer than prison time. Your freedom and Second Amendment rights are both potentially on the line. When the stakes are this high, your choice of a DWI lawyer can play a big part in the outcome of your case.
Blass Law is a Texas law firm that believes in standing up for the rights of the accused. You don't have to plead guilty or accept a felony DWI charge. Contact us for a confidential case evaluation and find out how our criminal defense attorney can protect your right to gun ownership.
Call or text 713-225-1900 or complete a Case Evaluation form