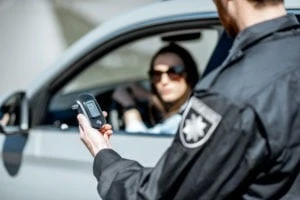 Wondering if you can get a DWI on a bicycle? As surprising as it seems, some states can prosecute cyclists for riding while intoxicated. Other states have dated ambiguous DWI statutes that do not make clear whether or not a cyclist is in jeopardy of facing a DWI arrest. Texas falls into the latter category.
The law that defines a motor vehicle is vague, and it could cover bicycles, skateboards, or even horses, depending on how it is read. Although there are overzealous prosecutors willing to file DWI charges against a cyclist, most will not. That does not mean that other, more appropriate, criminal charges won't be brought against an impaired bicyclist.
The Definition of a Vehicle Is Vague
Texas state law sets out the grounds for a conviction for driving while intoxicated. This definition can be found at Texas Penal Code § 49.04. According to the law, this offense occurs when a person operates a motor vehicle in a public place while intoxicated. The important issue here is the definition of a motor vehicle under the law.
The definition of a motor vehicle according to state law is at Texas Penal Code § 32.34. The statute defines a motor vehicle as "a device, in, on, or by which a person or property is or may be transported or drawn on a highway, except a device used exclusively on stationary rails or tracks." Given how broad this language is, it is not hard to see how a prosecutor could include a bicycle in that definition.
Facing a criminal conviction for DWI in this situation could have serious consequences. A conviction can lead to a monetary fine of up to $2,000. You could also face as much as 180 days in jail. These penalties will only increase if you have prior DWI convictions.
For a legal consultation, call 713-225-1900
Other Consequences for Bicycling While Intoxicated
Even if prosecutors in Texas opt not to charge cyclists with DWI, that does not mean there aren't criminal consequences for operating a bicycle on a public roadway while impaired. There could be other charges the state relies on, and these charges are routinely brought in these situations.
The most commonly used criminal statute in these cases is public intoxication. In Texas, public intoxication involves a person appearing in a public place while impaired to the degree that they could endanger themselves or someone else. There is little doubt that operating a bicycle while intoxicated could qualify for this offense.
Even if you do not face criminal charges for riding a bicycle while intoxicated, you could deal with civil consequences if you injure someone. If you cause an accident while bicycling under the influence of drugs or alcohol, you could be found negligent in a civil court. This could lead to a monetary judgment against you.
How Could a Lawyer Help?
The chances of getting charged with a DWI on a bike in Texas might be low, but that does not mean they are impossible. If you have been charged with DWI or some other criminal offense due to allegations of cycling while intoxicated, a DWI lawyermight be able to help.
One of the most helpful ways an attorney could assist with your case is by explaining the criminal justice process as well as the charges against you. If your charges are unusual or uncommon, your attorney could advise that you might be facing unfair treatment. Understanding the nature of the charges against you could alleviate some of the stress that comes with an arrest.
An attorney could also ensure that your rights are protected. Before you are ever arrested by the police, you enjoy specific rights thanks to the United States Constitution. When investigating your arrest, your attorney could work to determine if your rights were violated at any point. This could serve as the basis of your defense against these charges.
Finally, your attorney could help you build a strong defense strategy. The appropriate strategy will depend on the facts of your case. This approach could challenge the constitutionality of your arrest, just how stupid the charges are, or simply argue that you were not impaired at the time you were cycling.
Click to contact our Houston lawyer today
Call an Attorney Following a DWI Arrest
Although unlikely, the vague wording of the statute means you could get a DWI on a bicycle in Texas. Whether you were on a bicycle or in a passenger car at the time, an arrest for DWI can have serious implications for your life moving forward. In order to avoid these consequences, it is important to speak to legal counsel as soon as possible. The right attorney could help you develop a strategy for your case that results in an acquittal.
The team at Blass Lawcould help you prepare your defense and advise you of your rights. Before you consider a plea bargain or speak with prosecutors, you could benefit from discussing your case with our firm. Reach out as soon as possible for your confidential consultation.
Call or text 713-225-1900 or complete a Case Evaluation form