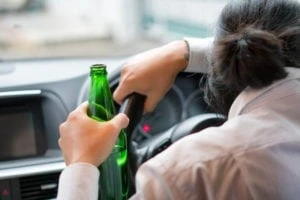 If you get a fourth DWI in Texas, you will be charged with a second-degree felony, per Texas Penal Code § 49.09. If convicted, you could pay fines as high as $10,000 and spend as many as 20 years in prison.
If you have been charged with a fourth driving while intoxicated (DWI) offense or are a habitual offender in Texas, it is imperative that you obtain the legal counsel of a DWI defense attorney. With multiple DWI convictions on your record, it is likely that you will face felony DWI charges and collateral consequences that could turn your life upside down. Don't hesitate. Call us so we can review your situation and help you start working on your defense strategy today.
Consequences of a 4th DWI in Texas
In addition to the criminal penalties, a person can face many other consequences for a fourth DWI, including:
Suspension or revocation of a driver's license for up to two years

Completion of random drug or alcohol testing

The assessment of monthly probation fees

Other probation requirements, including community service, court-ordered mental health counseling or group therapy, and abstaining from drug or alcohol use

Completion of a court-ordered drug or alcohol treatment program

Completion of a DWI court program for habitual offenders

Installation of an ignition interlock device (IID) at your expense
For a legal consultation, call 713-225-1900
Collateral Penalties of a 4th DWI
A fourth DWI in Texas does not carry only criminal penalties. There are many collateral consequencesyou could also face if convicted of a misdemeanor or felony offense.
Convicted felons often face far more severe collateral consequences, such as:
Difficulty retaining or obtaining gainful employment

Suspension or revocation of your professional licenses

Destruction of your professional reputation

Inability to leave the country

Trouble gaining admission to educational programs

Loss of federal student aid eligibility, including scholarships and grants

Issues with child visitation or custody agreements

Loss of rights to government assistance
More About Ignition Interlock Devices in Texas
It is more common for people convicted of a DWI for the fourth time to be ordered to install an ignition interlock device (IID) for further penalty. Generally, IIDs will be required if anyone has been convicted of two or more DWIs during the past five years.
An ignition interlock device is designed to prevent someone who has been drinking from being able to operate a vehicle. The IID will calculate blood alcohol concentration (BAC) levels the same way a breathalyzer would. If the device determines your BAC is at or over .08%, the vehicle will not start.
Click to contact our Houston lawyer today
Charges Related to a 4th DWI in Texas
If this is your fourth DWI, it is also possible that you could face other charges related to the DWI offense in question. For example, if someone was seriously hurt because of a DWI accident, you could be charged with intoxication assault charges.
If convicted of intoxication assault, this is a third-degree felony or greater if enhanced, of which you could face fines as high as $10,000 and as much as 10 years in prison. However, if someone died because of a DWI vehicle accident, your charges could be increased to an intoxication manslaughter charge, which is considered a second-degree felony. If convicted, you could spend up to 20 years in state prison and be ordered to pay fines as high as $10,000.
Other Related Penalties
Further criminal penalty enhancements will apply if the injury victim in your case is an emergency responder, peace officer, firefighter, or judge. In fact, if a judge or peace officer suffers serious bodily injury, your charges could be raised to a first-degree felony, which is punishable by fines as high as $10,000 in a maximum of 99 years to life in prison.
If you hope to avoid the fallout of a DWI conviction after your fourth offense, you must take steps to defend yourself. The prosecutor in your case may be less willing to allow you to enter a plea agreement because of your previous convictions. Make sure you have an attorney on your side who is ready to present a powerful defense at trial so that you can obtain a favorable outcome in your case.
Complete a Case Evaluation form now
Call Today for Help From Our Texas DWI Lawyer After a 4th DWI
If you have been convicted of a DWI, the penalties you will face for a subsequent conviction could be more severe. If this is your fourth offense, the consequences could be devastating. We can explain what happens when you get a fourth DWI in Texas and the legal options you have.
You can take steps to protect your future when you contact Blass Law for help from a Texas DWI lawyer. Start with a confidential consultation as soon as today when you fill out our secured contact form or call our office.
Call or text 713-225-1900 or complete a Case Evaluation form