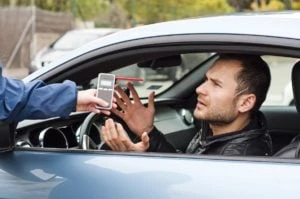 Were you or a loved one arrested recently for DWI (driving while intoxicated)? If so, you might wonder whether the police actually have sufficient evidence for a Texas DWI case, such as a reliable breathalyzer or blood test result or testimony from an eyewitness. You might also wonder whether there may be evidence of your innocence.
A DWI attorneyfrom our criminal law firm can find evidence that undermines what officers and laboratory analysts claim is true, introduce it in court, and challenge the state's evidence against you. They may not have a valid case, and even if they do, your lawyer will fight to have your charges dismissed or reduced.
What Are Some Kinds of Evidence in Texas DWI Cases?
In your Texas DWIcase, the prosecutor could use evidence against you to show your guilt. However, your attorney could introduce evidence to poke holes in the prosecutor's arguments to prove your innocence or reduce your charges. The evidence itself, how it was collected, and how it's presented can affect a jury's decision. Here are some examples of evidence often offered in DWI cases.
Chemical Test Results
One of the most critical pieces of evidence in DWI cases is the results from breathalyzer, blood, or urine tests. If a test shows a blood alcohol concentration (BAC) of 0.08 or higher, and they believe the test is accurate, a court will consider that evidence of guilt. However, if a law enforcement official administered the test improperly, or a lab analyst performed sloppy work, the court might not consider it.
Field Sobriety Test Results
In addition to chemical test results, a court will also consider field sobriety test results. Typically an officer will claim they are an expert in field sobriety testing because they have completed a short class. However, these tests are subjective and may be conducted in poor conditions, like poor weather or lighting. Police officers also routinely do the field sobriety tests incorrectly making them not very useful. As a result, your lawyer could contest the results.
Video Footage
Many officers wear body cameras or equip their vehicles with dashcams in Texas. Additionally, many bystanders have smartphones with cameras, and many businesses have security cameras. Video footage from these sources could show a person's guilt or innocence. Either way, video footage never looks as bad as the officer's police report sounds.
Testimony and Statements
In your case, testimony from an officer or eyewitness could be evidence that is beneficial or not. However, your attorney will solicit testimony that undermines someone who comes in and is merely a puppet for the state. The state has witnesses that are all on the same payroll and have one common goal, to convict you. We fight to keep that from happening. Also, if you gave a statement during your arrest, the prosecutor could use it against you at trial.
For a legal consultation, call 713-225-1900
How Do You Beat a DWI Case in Texas?
Any of the kinds of evidence we've mentioned, as well as how the police collected it and the attorneys presented it, could either harm or help you. A criminal defense lawyer from our firm will gather and present evidence on your behalf while discrediting the authorities' evidence against you. For instance, your attorney could:
Explain how the video presented only shows part of the encounter

Elicit and present testimony that brings to light how the officer testifying is biased against you

Show how a law enforcement officer did not conduct a chemical or sobriety test per guidelines, making it inadmissible

Show how there was a break in the chain of custody of a chemical test and there could be questions about the accuracy

Challenge the accuracy of an officer's statement during cross-examination

Discredit a witness's questionable testimony
On your own, you may find it very difficult to rebut a professional's statements to contradict the state's evidence against you. In addition, you'd be up against law enforcement officers and a prosecuting attorney. However, a criminal defense lawyer from our firm can stand up to these entities and help you beat your DWI case by discrediting evidence.
Additional Reasons to Hire a Lawyer From Our Firm for Your Texas DWI Case
You don't have to face your situation alone. Instead, a criminal defense attorney from our firm can handle your case while you take care of other matters, like your family or work situation. In addition, your lawyer will protect your reputation and rights, including your right to a fair trial. Finally, your lawyer will do everything in their power to protect your future, including refuting or reducing the charges against you.
Jay Blass Cohenis a dedicated criminal defense attorney and a Drug Recognition Expert. He's committed to helping you and understands precisely how to back you in your DWI case. Blass Law has successfully represented thousands of individuals facing criminal charges in Texas, and with this proven track record, we're very confident we can take your case on and get the best possible outcome.
Click to contact our Houston lawyer today
Contact Blass Law for an Attorney Experienced in Texas DWI Cases
If you believe you or your loved one need a DWI attorney, please don't hesitate to contact Blass Law. Even if you're unsure about retaining an attorney, you'll find a conversation with us helpful. We'll tell you more about how a DWI attorney from our firm would defend you against this charge by gathering evidence for you and fighting in court for your future. So, call us today to get started.
Call or text 713-225-1900 or complete a Case Evaluation form