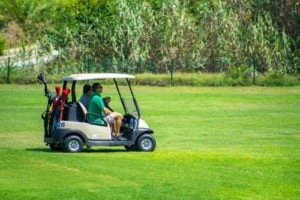 Houston is known for its warmer climate and is home to a number of golf courses, where residents can enjoy a round of golf for most of the year. It is not uncommon for golf enthusiasts to throw back a few drinks while playing 18 holes with a group of close friends. Driving around the golf course in a golf cart after consuming alcohol may seem harmless, but the truth is that it can result in grave consequences. Whether while playing a round of golf or while taking a ride through Galveston Beach, driving a golf cart while under the influence of alcohol is no joke.
Facts about Golf Carts
According to the Texas Department of Motor Vehicles, a vehicle is considered a "golf cart" if it:
· Has 3 or more wheels;
· Drives at a maximum speed of 15-25 mph; and
· Is made for the primary use of operating in a golf course.
However, according to Texas state law, golf carts can be driven in certain planned communities and on public or private beaches. Additionally, golf carts can be driven within two miles of a golf course or where the owner typically parks the golf cart. Finally, golf carts can be used to cross an intersection of a road that has a maximum speed limit of 35 mph or less.
Driving a Golf Cart Drunk Can Result in a Serious Offense
For a legal consultation, call 713-225-1900
Golf carts may travel much slower than other vehicles, but according toTexas Transportation Code, a golf cart is defined as a motor vehicle and is subject to the same driving while intoxicated (DWI) rules as any other vehicle on the road. Therefore, as set out by theTexas Penal Code, if a person is charged with a DWI while driving a golf cart they will be subject to a class B misdemeanor and can be punished with a fine of up to $2,000 and a maximum jail term of 180 days. It is also important to note that if their alcohol concentration level is above a 0.15 percent, the offense turns into a Class A misdemeanor and is punishable with a fine of up to $4,000 and a maximum jail term of one year. When the DWI results in an injury to a victim, the consequences become even more severe.
Galveston Man Causes Injury to Passenger After Operating a Golf Cart while Under the Influence
According toKHOU 11 News, a man was arrested in Galveston and charged with a DWI after his passenger in the golf cart he was driving was seriously injured. The victim suffered severe head trauma after he fell out of the golf cart when the driver turned into the driveway of the home they were staying at. The driver told the police that he had been on a boat all day with his passenger, and the officers soon discovered that the driver had been drinking. After participating in several field sobriety tests and consenting to a blood test, the driver was arrested and charged with a DWI.
Contact a Houston DWI Attorney
If you have been charged with a DWI in the Houston area, contact an experienced criminal defense attorney today. We know how serious a DWI arrest can be and will work hard to represent your interests.
Call or text 713-225-1900 or complete a Case Evaluation form